Emerging from the 1960s and '70s, experimental musicians and sound artists have employed sustained sound, chance, found sounds, and a fluidity between art and life. Curated by Barbara London, "Seeing Sound" at KADIST presents three sound-based works that deviate from normative sonic experiences to explore sound as sculptural material and bodily experience.
Fittingly installed at the entrance of the exhibition, Aura Satz's discrete "Dial Tone Drone" (2014) poignantly serves as its conceptual and historical framework. Discretely blending in with the gallery's reception desk, Satz presents two chairs, a coffee table, and a rotatory dial phone. Visitors are invited to pick up the telephone receiver to listen to the voices of Pauline Oliveros (1932—2016) and Laurie Spiegel (1945-)—whose pioneering work is beautifully addressed in Lisa Rovner's 2020 documentary Sisters with Transistors.
In Satz's work, Oliveros and Spiegel thoughtfully discuss modulating sound as sculptural material and how human perception searches for variation within sustained sound, like dial tones and drones. With Oliveros' and Spiegel's compositions playing in the background, words and sounds bounce off each other as two aural modalities.
With viewers cradling an old-fashion telephone receiver, the work established an intimate bodily relationship with the voices of sound history. Moreover, being sourced in Satz's own phone and Skype interviews, the work positions conversations an artifact of the sonic, personal, and artistic relationships.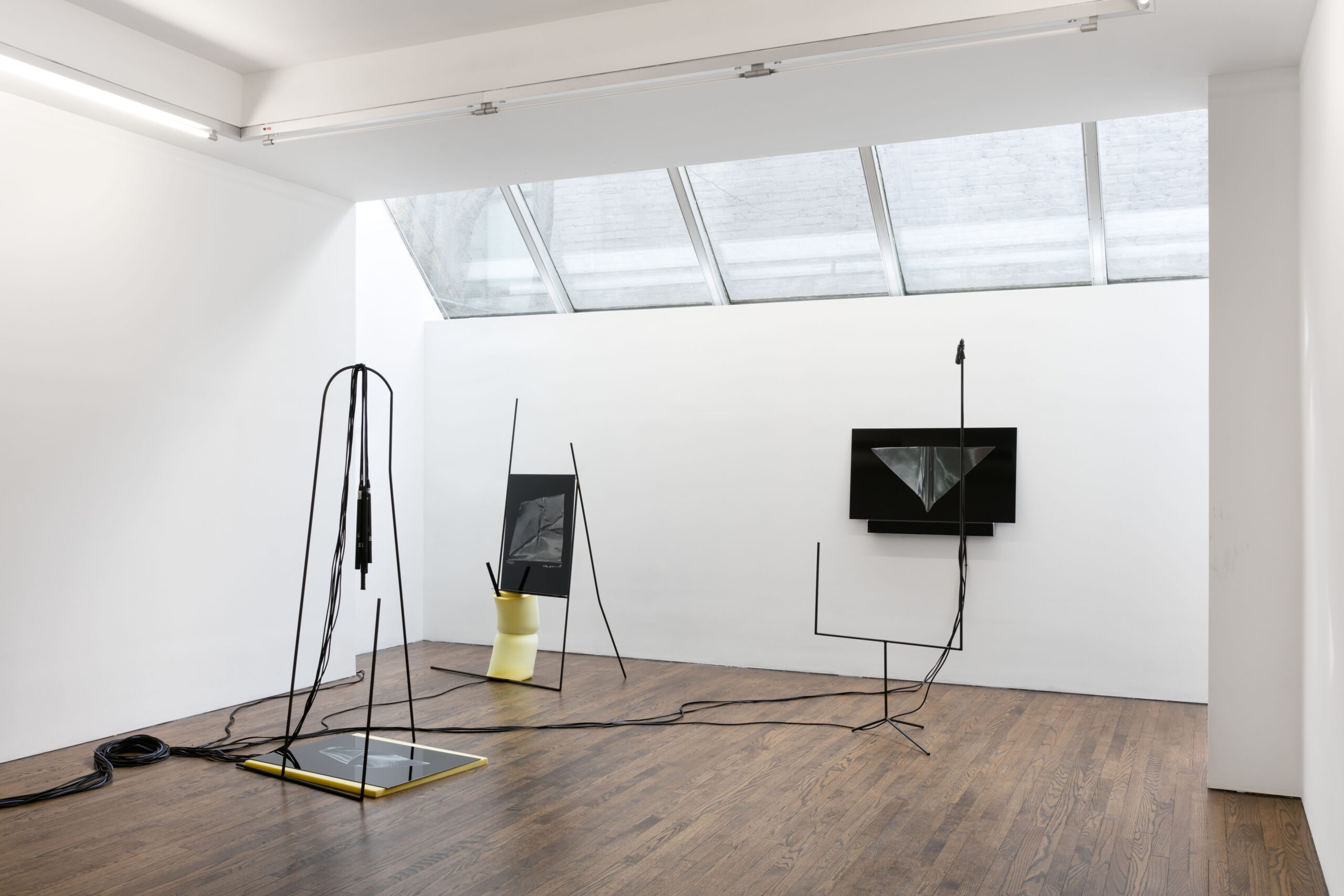 Expanding the themes of drones, feedback loops, and sustained tones in Satz's work, Marina Rosenfeld's "Music Stands" (2019) presents sound as physical space. In a largely black color palette, the graphically strong installation features gray-toned photographs of folded paper installed with clusters of dangling microphones, speaker bars, thick audio cables, and a laptop. As Rosenfeld reveals her process and tools, the artist renders them a sculptural network of inputs, outputs, and processing. With the sound bouncing between speakers and microphones, the gallery acts as site and container for sound.
While formally and technically successful, Rosenfeld's work provokes questions about the sum of its endeavor. With the work manipulating sound through multiple levels and modalities, it's challenging to piece together the relationship between image, sound, and viewer. Moreover, as Rosenfeld's work extends the themes of abstract sound processing began in the 1960s, it raises questions about how this trajectory rebuilds itself, or morphs, into a way that doesn't leave audiences afloat in an infinite regress of abstraction.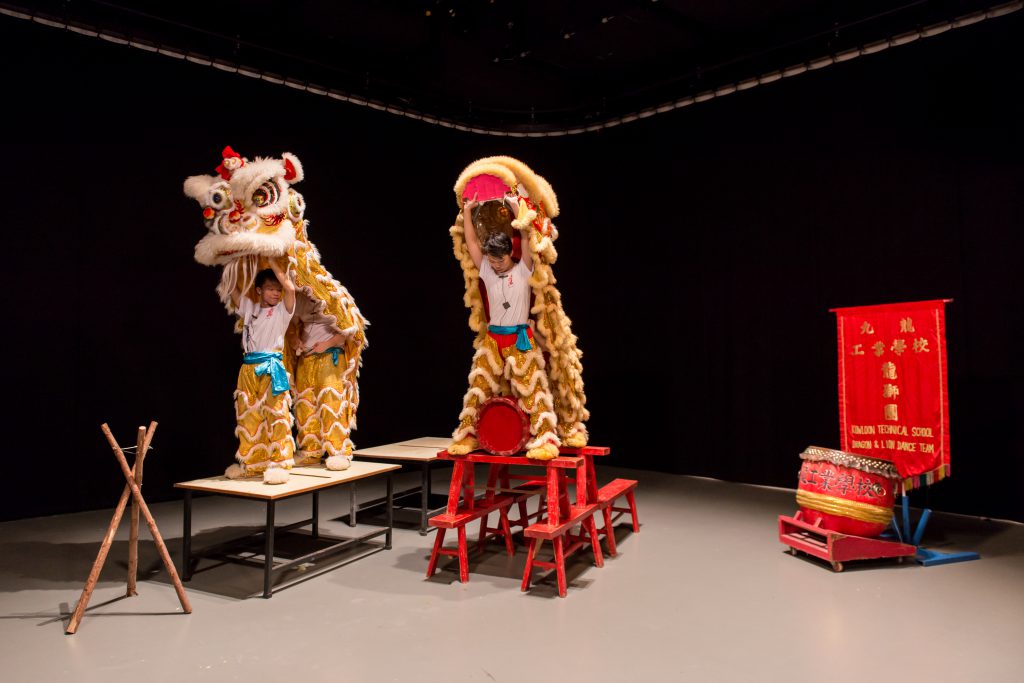 Samson Young's, video "Muted Sitution #2: Muted Lion Dion" (2014) also pursues ideas of auditory disruption and sound as physicality. With their colorful costumes and energetic movements, lion dances are visually stunning performances typically accompanied by cymbals and drums. As part of the artist's "Muted" series, Young documents four performers—two for each lion—without music on a soundstage.
Requiring intense physical labor, the lion dancers coordinate their gestures to jump on the tables, stand on their hind legs, and briskly dance. As the dancers move without music to cue them, the thump of their feet and sound of their immense costumes transforms movement into sound and posits another, and disregarded, level of sonic reality. Concluding the video with a shot of the tired performers stripped of their costumes, Young suggests the labor and guise of performance.
In Satz's work, Oliveros most poignantly argues that because humans are the only creatures who make electronics, technology is not dehumanizing, but in fact the most human thing. "Seeing Sound" elegantly explores our distinctly human understanding of sound and technology to present alternative auditory realities and spaces.
SEEING SOUND: CURATED BY BARBARA LONDON is on view through July 24. Kadist, 3295 20th St., SF. More information here.