The Sound of Music was a favorite movie of Liesl Tommy's mother, which is how the director of the new Aretha Franklin biopic Respect came to be named after a von Trapp sister. As it turned out, the name was also a kind of omen: The woman named for a character in a movie musical would come to direct musicals on stage and now screen.
"I think my style of directing and my aesthetic are quite consistent," says Tommy during a recent visit to San Francisco in support of her debut feature. "I was Associate Artistic Director of Berkeley Rep for a few years and I did a play called Ruined and also a play called Party People, which was about the Black Panthers. Both productions were very musical. There is a kind of raw aesthetic to the performances that I really love and I think I brought that into the film.
"Working on so many musicals influenced the way I wanted to structure this leap, because I love music and I think that biopics don't have enough music in them. I wanted to structure the screenplay with the writer Tracey Scott Wilson, so that we could let music play, we could let the lyrics function as vehicles for storytelling."
The film stars Oscar winner Jennifer Hudson, handpicked for the role by the late Queen of Soul herself. After a few scenes introducing 10-year-old Aretha (Skye Dakota Turner) as a gifted young performer with a complicated childhood, the film largely takes place from Franklin's late teens when she signs her first recording contract with Columbia Records through her phenomenal years as a rising superstar at Atlantic Records, ending before she turns 30.
Keeping Respect focused on a limited period of its subject's life was part of Tommy's pitch when she interviewed for the director's job. She is a Tony-nominated theater director who has also directed television series episodes, but she had zero experience on a movie set. She knew going out for a production this big for her first film meant she had a big sales job in front of her. She came to that first meeting with producer Scott Bernstein and MGM executive Adam Rosenberg prepared.
"It was meant to be just a kind of a casual, getting-to-know-you call, but I was determined to get this movie, and I knew that because I've never directed a film before, it was going to be a little bit of a long shot," says Tommy.
"I didn't waste time. I told them the time period that we should cover. I told them the songs I thought we should have and kind of the style of the film. I even like did some brief casting. I just went for it… They got back to me two weeks later and said, 'We are really excited about this idea and we'd like to build this film around this vision of it.'"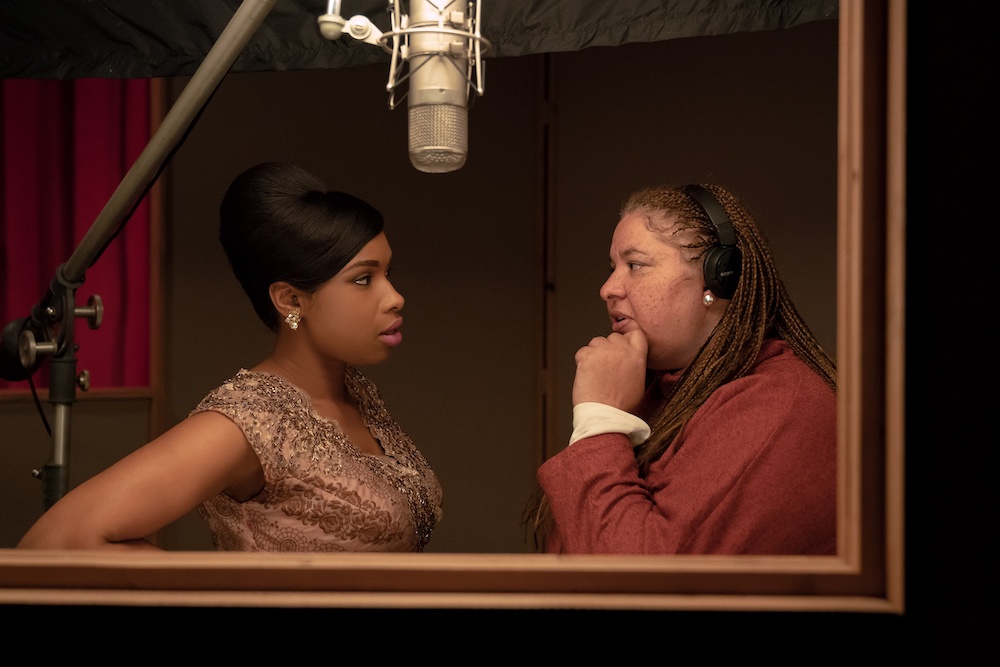 Having a vision and fulfilling it are two different things. Tommy remembers her nervousness before shooting the scene in which Franklin performs her signature tune before a packed crowd at Madison Square Garden.
"Shooting 'Respect' in a movie called Respect, you'd better get it right, or your career is over," Tommy says.
It didn't help that—as the crew dressed an Atlanta arena to resemble the Garden in 1968, Hudson and her backup singers practiced their choreography, and extras started filing in—a producer sidled up to Tommy and said, "Expensive day."
"But once we started, when Jennifer started singing, it was just magical," Tommy remembers. "The hundreds of background artists acted like they forgot they were in a movie; they were at a concert. It was so joyful. It was a privilege to be there. Even the jaded grips were crying after she sang the song for the first time."
Not merely the biography of an entertainer, Respect also delves into Franklin's civil rights activism, first in association with family friend Rev. Martin Luther King Jr. and then in support of Angela Davis when she was charged with conspiracy to murder for her alleged involvement in the 1970 armed takeover of a Marin County courthouse. For Tommy, a Black woman who grew up in apartheid-era South Africa, this political dimension was vital.
"I came from a very political family," Tommy says. "Activism has been part of the culture my whole life. Like Aretha Franklin as a child, I was privy to really complex conversations around civil rights, around the struggle for freedom in South Africa, and around the concepts of institutional racism and colonialism.
"Like Aretha, I grew up to be a person who incorporated advocacy and activism in everything, every part of my life. I was very inspired by her journey and I felt close to her because of that parallel. As a filmmaker, the work you do is not actually objective, it's extremely personal. And there were many things in Aretha's life that I really connected to and so that's why they ended up in the movie."
RESPECT opens nationwide Fri/13. More info here.