Dozens of cars formed a caravan Thursday outside the Pacific Heights home of DoorDash's CEO, Tony Xu, to demand pay equal to 120 percent of California's minimum wage, more transparency around how tips are paid out to drivers, called "Dashers" by the company, and better working conditions.
The demonstration comes after an August 20 ruling by California Superior Court Judge Frank Roesch, which found that Prop 22 violated Calfornia's state Constitution. In the ruling, Roesch said that Prop 22 bars the state Legislature from deciding whether affected drivers can be deemed eligible for worker's compensation, which Roesch says is a "plenary power" of the Legislature, or has no limitations, making any infringement unconstitutional, and therefore the entirety of Prop 22 "unenforceable."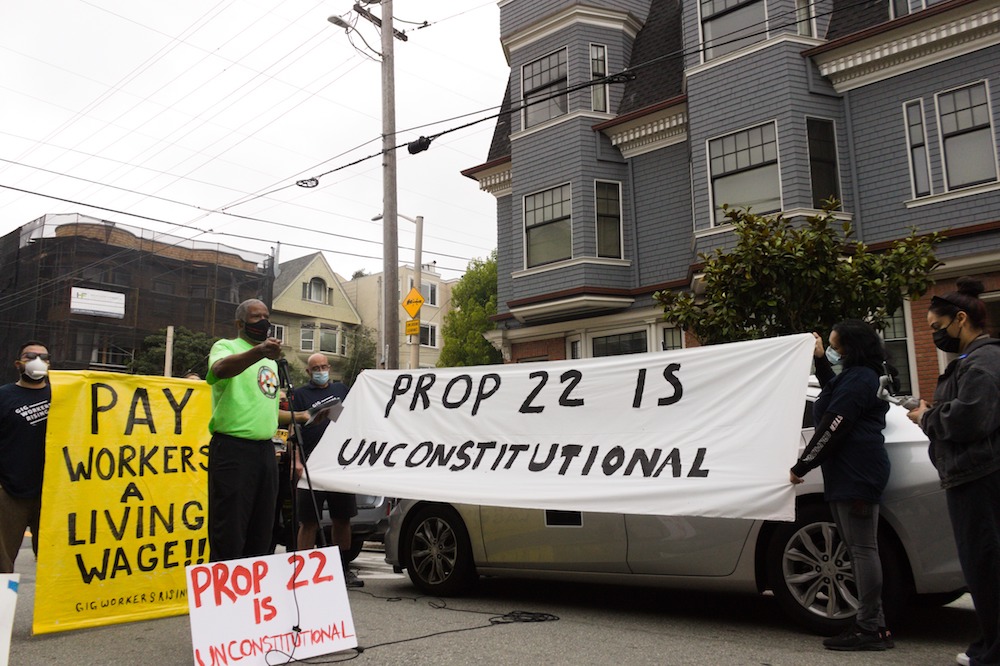 Prop 22 was a ballot measure passed in November that exempts food and rideshare drivers from state law requiring contract workers to be treated as employees.
"When the People adopted Proposition 22, they expressed their intention that its provisions be severable, except that, if Section 7451 is held to be unconstitutional, the whole Act should be stricken…Because Section 7451 is not severable from the remainder of the statute, the Court finds that the entirety of Proposition 22 is unenforceable," said Roesch in the ruling.
Drivers said during the protest that they often earn less than minimum wage while on the job, despite promises made during the campaign to pass Prop 22 that drivers would receive guaranteed earnings equal to 120 percent of the minimum wage.
Companies who sponsored Prop 22, including DoorDash, which paid $48 million towards the Yes on 22 campaign, said during that drivers would be guaranteed earnings equal to 120 percent of California's minimum wage during "engaged time," or when drivers are transporting a passenger or a delivery, but not during the drive over to pick them up or when a ride is suddenly canceled.
Because gig companies don't reimburse drivers for car expenses such as maintenance or fuel, nor are drivers paid for time spent driving to pick someone up or during wait times, drivers can potentially earn far less, with a 2020 UC Berkeley Labor Center study finding that drivers would likely earn an average wage of $5.34 an hour under Prop 22.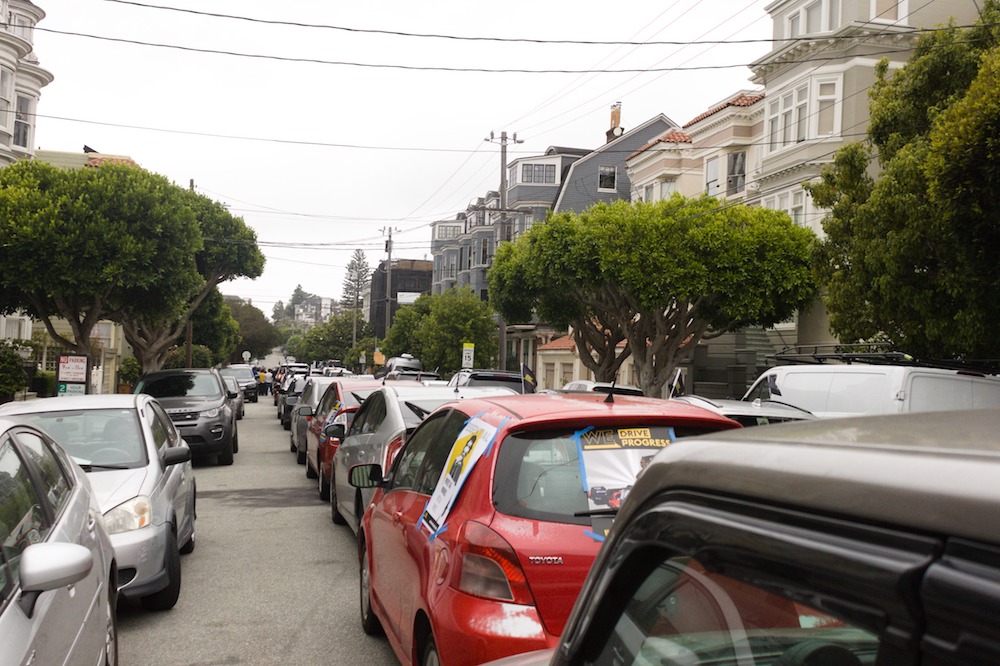 One driver, Saori Okawa, who has driven for DoorDash since March 2020, said that she often earned around $4 a delivery in San Francisco, and those deliveries would often take between 15 and 25 minutes, which, after subtracting the cost of gas, can result in earnings below California's minimum wage.
"It happened pretty frequently," said Okawa. "That's a ridiculous price."
Supervisor Gordon Mar addressed drivers at the rally, expressing his support for drivers' calls for higher pay, calling Prop 22 a "power grab" by gig companies.
"I fully support drivers fighting for better wages, treatment, and benefits. People providing essential food delivery services deserve the peace of mind of earning a living wage," Mar said. "Prop 22 was a shameless political power grab, spending $200 million so that they won't have to follow rules that other businesses do. Now we know that Prop 22 is unconstitutional, and it's time for DoorDash to do the right thing, to comply with AB5 and reclassify their workers [as employees] and treat them with the respect they deserve."
Drivers also said during the demonstration that the amount that they earn in tips is not consistently disclosed to them, either through the driver's app or by DoorDash directly, making it impossible to know if they are keeping 100 percent of their tips or much less than that.
"One day I got ten notifications at the same time, you got this tip from a customer, you got this tip from a customer, and I never got notifications before, and they were all from past deliveries, and the next day it didn't happen, it was only one day," said Okawa.
Skepticism around DoorDash's paying out tips to drivers comes after the company paid $2.5 million to settle a lawsuit filed last year by Washington DC Attorney General Karl Racine, which alleged that DoorDash was stealing drivers' tips and deceiving customers into thinking that their tips were going directly to the drivers.
"DoorDash misled consumers, who reasonably believed that their tips would go to workers, not the company's bottom line," Racine said in a 2019 news release. DoorDash has denied the allegations made in the lawsuit.
Drivers also said that DoorDash's customer rating system, where customers rate drivers on a scale from one to five based their experience, and is used as a justification to terminate drivers if it drops to low, is unfair, because low ratings can result from reasons outside of the driver's control, such as a restaurant being late with an order, or putting the wrong food or drink into the take-out bag, and cost a driver their job.
"Sometimes the restaurant will forget their food, and the food is sealed now, so there's no way to see if their items are all there," said Barnes. "If you get into a line for an order and you have to wait 30 minutes and you can't do the order, that's a ding against you, if a customer complains with you, that's a ding, all of that plays a role."
Other than the driver rating, there is another metric which can be used to justify termination, called the drivers' "completion rate," which is the percentage total of completed deliveries not canceled by the driver. If the "completion rate" falls below 80 percent, the driver will be "deactivated."
Drivers say that the completion rate system does not fairly account for reasons leading to uncompleted orders that fall outside the drivers' control, such as if a restaurant is behind in preparing an order, during which time drivers will often pick up other orders to avoid being stuck spending unpaid time waiting for an order to finish.
"Sometimes the restaurant will say 'oh the pizza is going to take another half hour, another half hour… Oftentimes you want to cancel so you can do other deliveries, and those things happen frequently. I want to just go ahead and do the next delivery if I have to wait a half an hour. It's not our fault, but our completion rate goes down…so now I'm at 89 percent [completion]," said Okawa. "It seems like a lot of control, I thought independent contractors were supposed to have freedom."
When asked for comment regarding drivers' complaints of poor earnings, working conditions, and a lack of transparency around tips being paid to drivers, a DoorDash spokesperson reiterated that Dashers receive 120 percent of their local minimum wage and 100 percent of their tips.
"Dasher concerns and feedback are always important to us, and we will continue to hear their voices and engage our community directly," the spokesperson said. "However, we know that today's participants do not speak for the 91 percent of California Dashers who want to remain independent contractors or the millions of California voters who overwhelmingly supported Proposition 22. The reality is, the passage of Prop 22 has addressed in law many of the concerns raised today through its historic benefits and protections: workers earn 120 percent of their local minimum wage per active hour in addition to 100 percent of their tips, receive free PPE, and enjoy access to healthcare funds."
DoorDash also said in an email that Dashers who are deactivated can appeal the decision, and that drivers are sent an email with instructions on how to do so upon notification of their deactivation.