A sizable crowd showed up on a warm, sunny Saturday morning for the kickoff rally for Sup. Matt Haney's run for state Assembly—and the largest delegations were from the building trades unions.
The Tenderloin Chinese Rights Association Choir opened the rally with several songs.
Three elected officials spoke—Sups. Shamann Walton and Ahsha Safai and BART Board member Lateefa Simon. So did the secretary/treasurer of the Building Trades Council, Rudy Gonzalez, and Olga Miranda, the leader of SEIU Local 87, which represents janitors.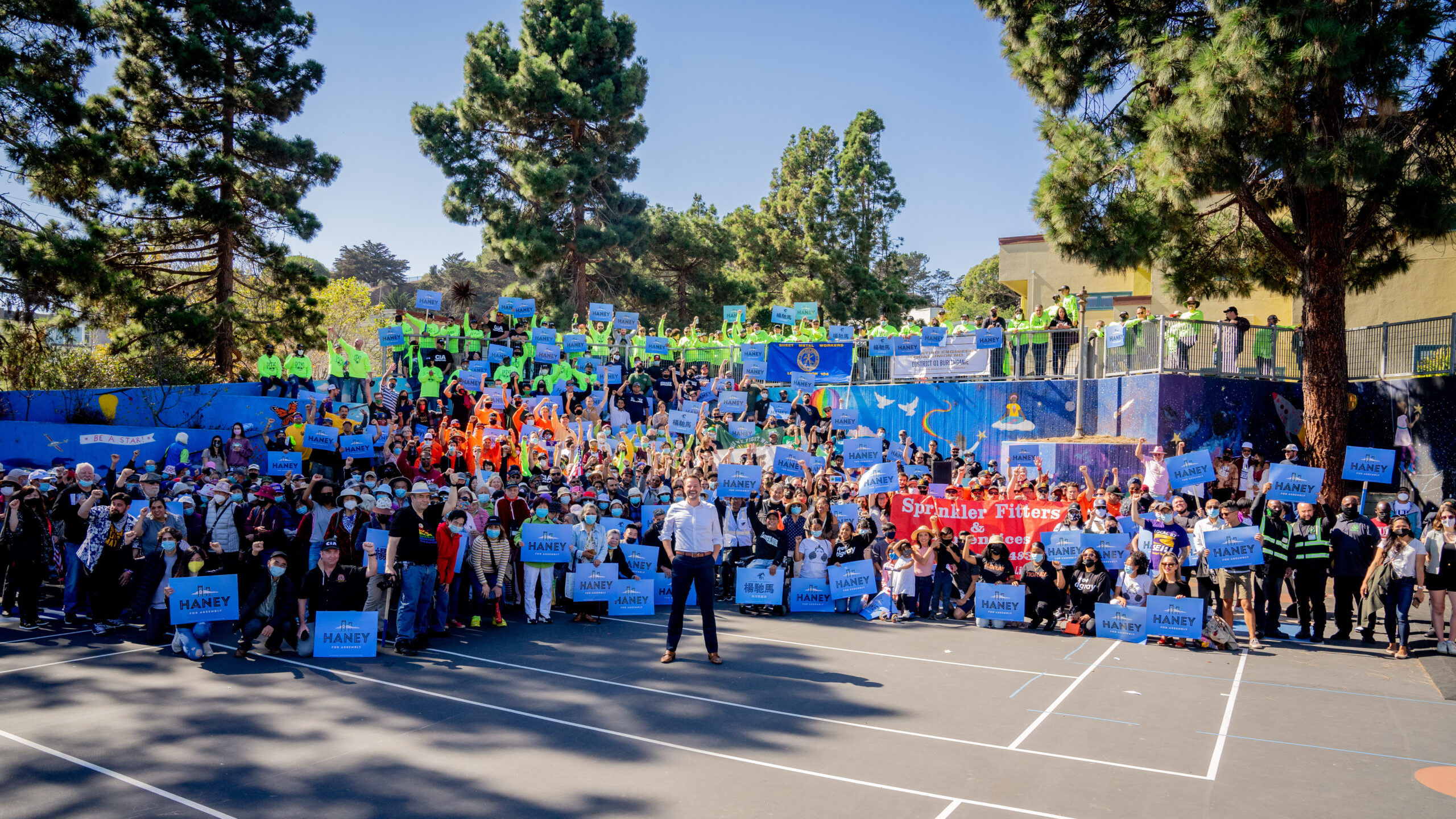 Miranda is a close ally of Safai, and according to the SF Examiner, directed union members to work on his campaign. She was a contender for a Police Commission seat, but after some press reports on her residence and behavior was not appointed.
Rudy Corpuz, who runs United Playaz in Soma, spoke and praised Haney's support for "the last, the lost, the least of us."
Haney talked of the need for better wages for low-paid workers, union contracts for all construction projects, better support for schools, and "over a million homes we still have to build."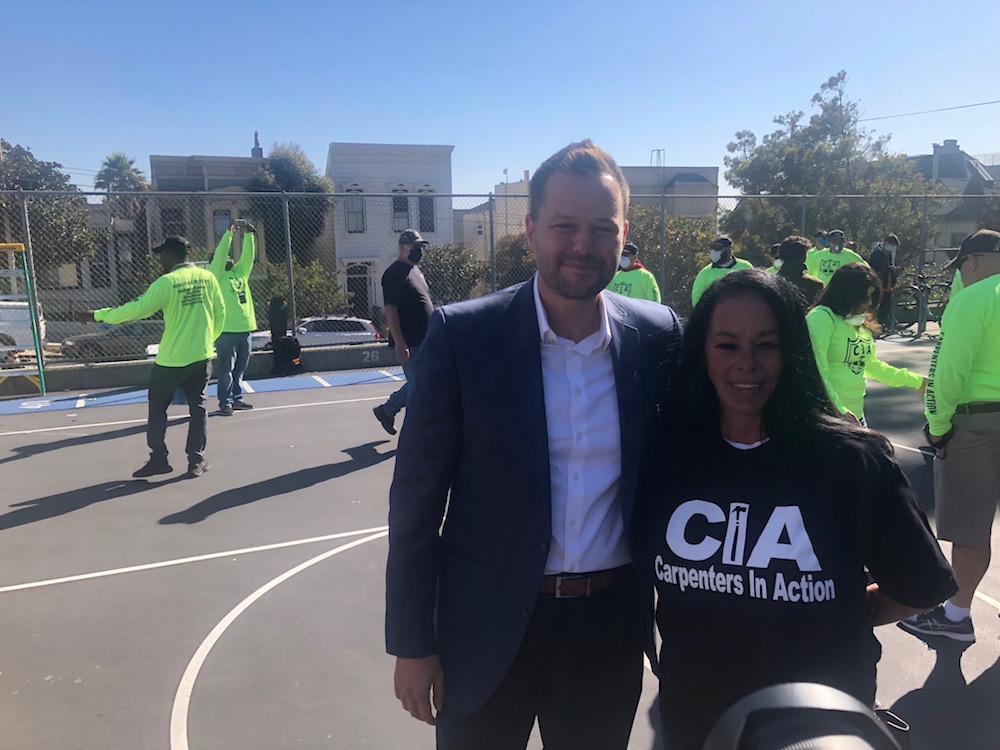 (I will, as I always do, add my asterisk here: "We," meaning the city or the state, builds no homes these days. Private developers build homes.)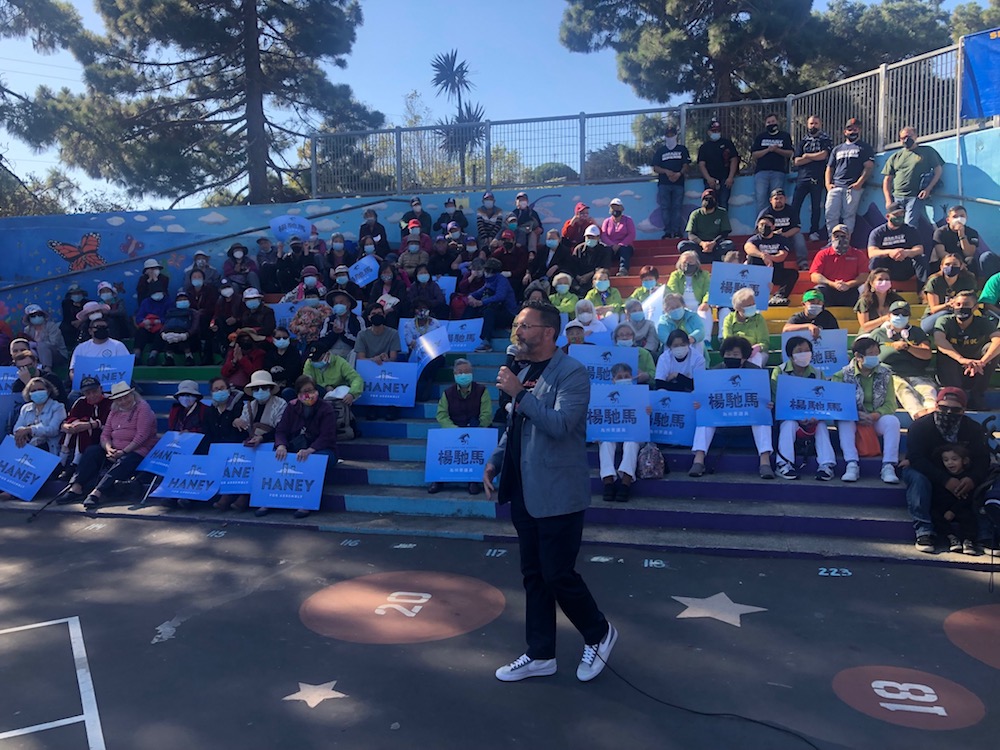 That aside, housing is going to be one of the big issues in this race. Haney is now a supporter of the Scott Wiener approach to housing; he told the Chron he backs SB 9 and SB 10, which deregulates some local control over land use, and he supports Sup. Rafael Mandelman's proposal to allow fourplexes in what are now single-family lots.
Community College Board Member Thea Selby, who will schedule a campaign kickoff soon, told me she also supports SB 9 and SB 10.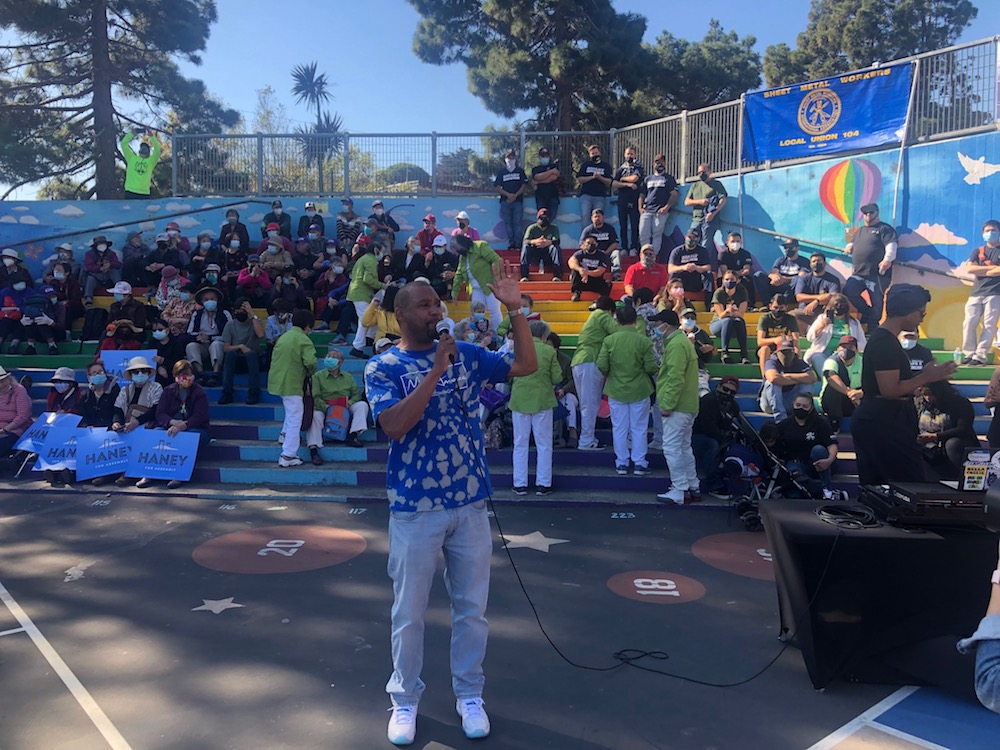 David Campos, who announced his candidacy back in August, hasn't yet set a date for a kickoff event. He already has the endorsements of six supervisors—Connie Chan, Aaron Peskin, Gordon Mar, Dean Preston, Mandelman and Hillary Ronen, as well as former Sups. Norman Yee, Sandra Lee Fewer, Eric Mar, Jake McGoldrick, Matt Gonzalez, Christina Olague, Jeff Sheehy, and Sophie Maxwell.
Campos told me he supports the concepts of SB 9 and 10, "but we need to include more funding for affordable housing."
Assemblymember Phil Ting, who represents the West Side of town, has endorsed Campos, as has former state Sen. Mark Leno and former Assemblymember Tom Ammiano.
With no Asian candidate in the race, the Chinese vote could be critical—and so far, Campos seems to have a lot more Chinese community leaders, particularly elected officials, endorsing him.
The Building Trades were out in force for Haney, including Carpenters In Action, LiUna (the Laborer's Union), the Sheet Metal Workers, the Operating Engineers, and the Sprinkler Fitters.
The more progressive unions—including SEIU Local 1021, the United Educators of San Francisco, and the California Nurses Association—have not yet made an endorsement.
We don't know the exact date of the election; that will depend on when Chiu formally resigns. But it's likely to be in February or March. I am not often in agreement with Ahsha Safai, but I think everyone on all sides will agree with a statement he made at the rally:
"Most campaign are a marathon. This one is going to be a sprint."