Lately, SF Indiefest has been producing new festivals at such a rate, someday it might need to get its tubes tied. But this week brings Decibels Music Film Festival, which is a particularly welcome newborn in that unless you count Noise Pop's annual film/video sidebar, or the recent Mill Valley Fest's usual generous tilt towards music-themed titles, the Bay Area hasn't had a film festival dedicated to the 4th art. (Cinema is officially the 7th art, and the sole addition to that since the Renaissance.) 
Of course there always have been and will continue to be music features and shorts (as well as some live performances) in other Indiefest events. Decibels provides a wallow in that terrain during its first edition this Wed/27 through November 7. In-person screenings are limited to the first five days, kicking off with documentary The Rise of the Synths (narrated by original Halloween director/composer John Carpenter) followed by a DJ dance party, both at SOMA's historied DNA Lounge. 
On Thurs/28 things move to the Roxie Theater with a great double bill, Penny Lane's Listening to Kenny G, and last year's Sundance hit Dinner in America. The first is both a portrait of the best-selling instrumentalist recording artist ever, and a bemused examination of why such a popular guy is also so widely loathed—particularly by jazz "purists" and critics. The tenor saxman himself (nee Kenneth Gorelick) is geniality itself, even as the occasional jaw-droppingly egotistical utterance springs from his mouth. Indeed, he seems very eager to please, not just his audience but the filmmaker as well. Yet we almost never see him interacting with collaborators, or even friends/family: For the camera, as onstage, he is a soloist—which is one reason skeptics of his "wallpaper" music don't consider it real jazz, a form founded on active interplay between musicians. 
But Kenny G doesn't mind, not even being called "easy listening." (His music was so popular, the "smooth jazz" radio format was virtually invented to accommodate it in the early '90s.) He may feel "underappreciated" in some quarters, but in others he is ubiquitous. And not by accident, either—he is a relentless self-promoter whose ambition knows no bounds, or shame. At one point here he muses on possibly writing some soundtracks, and it is obvious he cares far less about the film projects themselves than whether he might win an Oscar. Lane clearly finds Kenny G entertaining, and you will too, although I have to admit that by the end of Listening I found his carefully self-packaged personality as exasperating as the "musical furniture" (as one critic puts it) he's been selling for decades now. 
Very much kicking against such pricks is the protagonist in Adam Rehmeier's Dinner in America, an anarchic comedy set in the middle-class suburbs of Detroit. Simon (Kyle Gallner) is a musician, drug dealer, drug enthusiast, and punk rock band leader in the masked guise of John Q. Public. He's kinda-sorta on the lam, too, creating a situation in which he is happy to pose as a very unlikely, Mohawk'd missionary in order to hide out under the roof of oddball pet store worker Patty (Emily Skeggs) and her parents.
Applying Repo Man's surreal tenor to a (just) slightly more conventional fish-out-of-water, feel-good almost-romcom, Dinner is simultaneously rude, whimsical and headbanging, It's good fun—and lead Gallner is fantastic. Other Roxie shows this coming weekend include docs about a format's resurgence (Vinyl Nation), a new generation of SoundCloud-bred hip-hop talents (American Rapstar), a local rock-journalist legend (Like a Rolling Stone: The Life and Times of Ben Fong-Torres) and Fishbone's Angelo Moore (ForeverMoore). There will also be a 20th anniversary screening of Groove, the SF-set best narrative feature about the underground rave scene ever. (Well, alongside the more recent Scottish Beats.) 
Decibels Film Fest will continue for another week as a virtual event, with a wide range of on-demand titles (available Oct. 28-Nov. 7) encompassing  everything from a world air guitar contest (French Kiss Goes to Oulu) to Native American shreddage (Rez Metal), spanning locales from Afghanistan to Arkansas, from Indonesia to Lisbon. Virtual programs can be watched on various devices, including your home TV. For full program, schedule and ticket info, click here.
Of related interest, the United Nations Association Film Festival's sole day of programming in San Francisco this year (at the Roxie on Wed/27) offers two music documentaries that also shed light on recent sociopolitics. Marcia Jarmel and Ken Schneider's Los Hermanos is two Afro-Cuban brothers whose high-flying careers as virtuoso musicians have been separated by the US/Cuba divide. Bobbi Jo Hart's Fanny: The Right to Rock chronicles the largely Filipina-American band that made a conspicuous splash in the early 1970s, though without achieving much commercial success—the world wasn't ready then for an all-women hard rock act. The directors of both features will be on hand for post-screening Q&A's, and Fanny's Brie Darling and Ruby Ibarra will also play a live set. UNAAFF continues in South Bay locations through Oct. 31. (More info here.) 
The Pacific Film Archive is ratcheting up its in-person screenings at BAMPFA in downtown Berkeley, to nearly pre-pandemic levels, and one series starting this week has significant musical components. "The Black Film Ambassador: The Ecstatic World of Albert Johnson" is a tribute to the late film scholar, curator, and educator best known as program director for the SF International Fest (1965-72), as a UC Berkeley lecturer, and as cofounder of the publication Film Quarterly. His catholic tastes will be represented by one of his beloved musicals (Jacques Demy's The Umbrellas of Cherbourg), films by Satyajit Ray and Julie Dash, and a rare screening this Sun/31 of Larry Clark's Passing Through.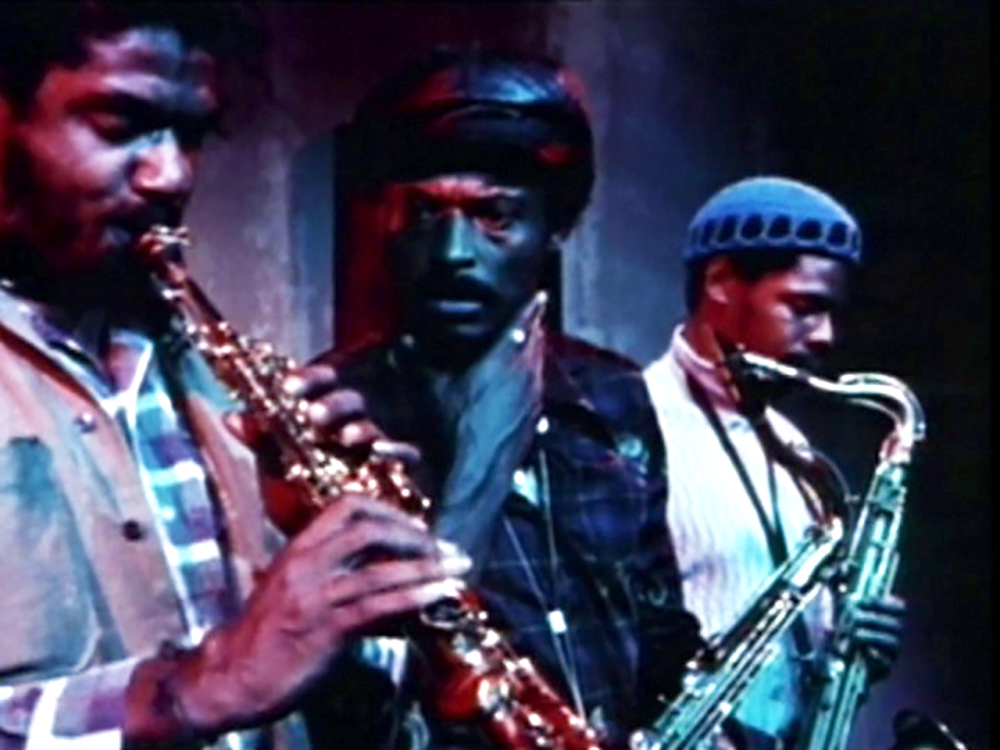 That 1977 feature was one of the flowerings of the "LA Rebellion" movement among African-American directors in that era, in that city. It stars Nathaniel Taylor as a musician just out of prison, welcomed back into the local jazz scene, but also disgusted anew by the corruption and exploitation of the music business those players endure. Often as richly textured visually as it is sonically, with both classic tracks and performances by the Pan African Peoples Arkestra, Passing is a priceless memento of the time, even if its narrative aspects are haltingly developed. Clark (not to be confused with the same-named photographer and maker of movies like Kids) will be present to discuss the feature with current Film Quarterly contributing editor Josslyn Luckett. The Albert Johnson series continues through Nov. 26, more info here.  
Another new BAMPFA series is "The Future Is Feminist," offered in conjunction with Berkeley Art Museum's gallery retrospective "New Time"—both offering surveys of feminist art in different media. This Fri/29 there's Delphine and Carole, Callisto McNulty's recent documentary, which examines the collaborative friendship between movie star Delphine Seyrig (Last Year at Marienbad) and Carole Roussopoulos.
The two women met as the Women's Movement was making waves in France; they were energized by that as well as new portable video technology, which they used to record protests and marches on behalf of women's rights, as well as the decriminalization of abortion and prostitution. They also generated their own projects, like Be Pretty and Shut Up (which interviewed well-known actresses about their experiences of sexism in the industry), while Seyrig became a huge supporter of emerging women directors like Marguerite Duras, Chantal Akerman, and Ulrike Ottinger. Both she and Roussopoulos (who was basically working on this documentary when she died in 2009) are no longer with us, but McNulty's film commemorates their zesty contributions to public dialogue around feminism. 
Later films in the Future is Feminist series (which continues through Jan. 29) include titles from China, Syria, the Philippines, Germany, Belgium and the US, plus a program of experimental shorts. More info here.