The Chron and the Yimby world are going crazy over the supes decision not to allow a market-rate housing project to gentrify a low-income neighborhood in Soma. Mayor London Breed has joined the chorus. There is talk of a state investigation.
So let's take a moment to look at the actual facts of the situation.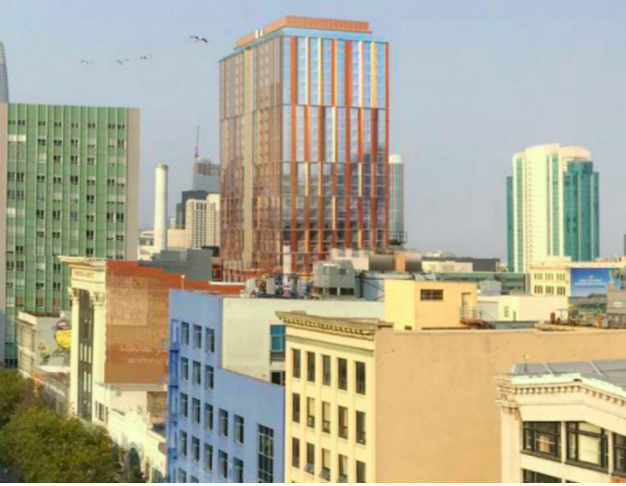 First: The supes aren't "blocking" new housing. San Francisco has already approved far more market-rate housing than the state (and our own local reports) say we need.
I will quote Sup. Rafael Mandelman, who is not by any means a Nimby:
And for the record, market-rate housing creates a demand for more affordable housing. If the percentage of affordable housing in a project is below 40 percent, the city's own studies show the crisis gets worse.
So let's look at the affordable housing numbers.
From Sup. Matt Haney:

The project included 73 on site affordable units + 57 in-lieu equivalent off site units + a land parcel given to the city with capacity for 15-20 units. That's 145-150 affordable units, plus the Helen Hotel SRO leased with an option to buy (a few dozen more units).
The actual document that the developer filed with the city lists only 66 on-site units.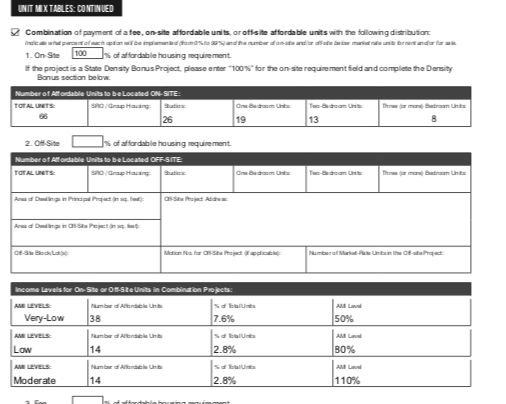 From John Elberling, who led the opposition to the project and who is in the business of building and managing affordable housing:
When Build says the project has x affordable units, or y percent, it must be guesstimating what the city inclusionary housing ordinance fee for the project's 147 state bonus units would produce in some other affordable project someplace else, and adding that to the project's 66 actual on-site units, which are just 13 percent of the total project. The city fee now is $217/ft applied to 30 percent of a project's total floor area.

This form submitted by Build in May says the project got a 42.5 percent state density bonus. Its total residential floor area is 436,000 ft, so dividing that by 1.42 to determine the base area and subtracting that amount from the total, the bonus area is 128,958 ft. Then 30 percent of that is 38,697 square feet, Multiplied by $217/ft, the fee for the bonus units will be $8,397,249.

The Mayor's Office of Housing now estimates it takes $260,000 in city gap funding for an average affordable unit in a 100 percent affordable project. So that fee amount could possibly fund about 33 more affordable units today someplace. So 66+33=99 affordable units possibly for the entire Build project. That would be 20 percent of its total 499 units, which is the same as the 2020 inclusionary housing requirement, not 24 percent.
Either way, it's not the 40 percent the city needs to prevent the housing crisis from getting worse.
The currently homeless population would, for the most part, be unable to afford any of the "affordable" units. Most homeless people who have any income at all are on SSI, which pays a disgracefully low amount of money:

They would be unable to pay any of the rents in the new project: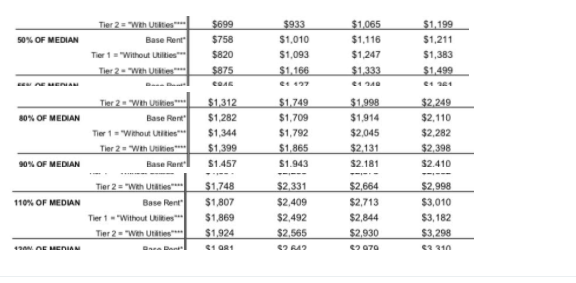 Haney argues, as do others, that the SRO housing in the Tenderloin is so well protected by city law that a new luxury housing project can't lead to gentrification.
But the city rules that protect conversion of SROs don't mention anything about rents. It's entirely possible for an investor to buy an SRO, invest money in upgrading it, find ways (and there are, sadly, many) to drive out existing rent-controlled tenants, and turn the place into tech-worker dorms. It would still be, by law, an SRO; its residents would be very different.
Elberling calls this "renoviction" and said this is "the real threat, all at once or one at a time."
And the situation on the street would be radically different.
Small businesses that serve the residents of a low-income neighborhood would face immense pressure. The state bans commercial rent control, so when richer people move into the area around 6th Street, and look for different types of businesses (oh, and start calling the cops more on homeless people) rents will go up.
That's the definition of gentrification. It's not a matter for debate; it's reality, proven over and over again.
If you allow a market-rate housing project in a low-income neighborhood, some people will be displaced.
This is described as housing near jobs, which is a good thing—except that nobody knows where the jobs are going to be in five years, and quite possibly they won't be primarily downtown.
Also, please let's not forget: The developer, Build Inc., doesn't own the land, and has no financing for the project. This is quite possibly part of a common scheme, where developers get an "entitlement" for a project and then sell it.
And whatever gets built might have nothing to do with what was approved.
This is no way to address the housing crisis.