Just hours before the Police Commission was set to potentially order Chief Bill Scott to drop his opposition to a deal that lets the District Attorney's Office take the lead in police shooting investigations, the chief and the DA announced they are extending the arrangement for 60 days.
Police Commission President Malia Cohen cancelled the special meeting set for tonight.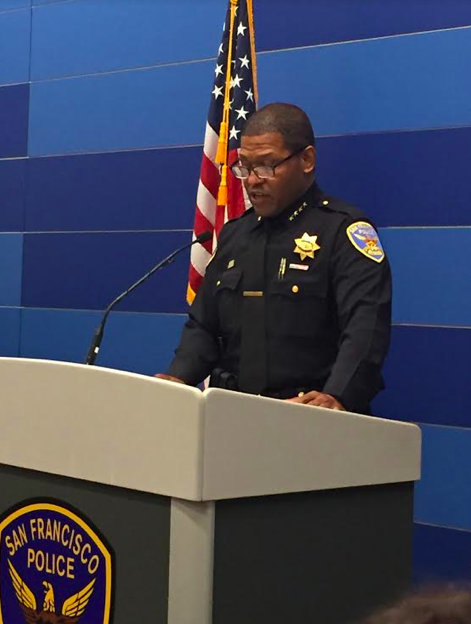 In a press release sent out this afternoon, Mayor London Breed announced that, with the support of the attorney general and the city attorney, negotiations would be continuing:
California Attorney General Rob Bonta, San Francisco Mayor London Breed, and San Francisco City Attorney David Chiu today announced a 60-day extension to the MOU between the District Attorney's Office and the Police Department governing the investigation of officer-involved shootings, in-custody deaths, and certain uses of force resulting in serious bodily injury. As part of the extension, the District Attorney's Office and the Police Department have agreed to engage an independent mediator, such as a retired judge, to review and resolve any current or ongoing disputes. The existing MOU with the addition of the independent mediator is currently set to remain in effect through May 20, 2022, providing the parties an opportunity to renegotiate and strengthen the MOU.
Several things about this are worth noting:
Although most of the media haven't reported it, this extension deal amounts to a clear and direct rebuke to the chief, who has so far refused to acknowledge that the civilian Police Commission has the ultimate authority over these sorts of deals and that he should never have done this on his own.
If the two sides agree on changes to the Memorandum of Understanding that keep the DA's Office in charge, the policy that independent investigations are a key part of police reform will remain in place.
The decision also, for now, demonstrates that the commission, and the rest of the city's leadership, doesn't want the San Francisco Police Officers Association driving policy decisions. The chief moved to drop out of the MOU the day before the POA had scheduled a no-confidence vote in his leadership.
And yet, it's impossible to sever this from the efforts to recall DA Chesa Boudin. There are clear links to a dark-money group that supports the recall and a new website that encouraged people to address the commission Feb. 16 and "support the chief."
And under the current schedule, if the parties can't reach a new deal, the MOU will again expire—on May 20, 18 days before the voters will decide on the recall, and just when most people will be getting and paying attention to their ballots.
So this could all blow up again, right in the middle of a key political campaign that is in significant part about police accountability.
So this isn't over yet, not by a longshot.