The first draft of new lines for SF supervisorial districts got a lot of attention—mostly negative. But the Task Force is still working on the final lines, and a final version will be released early in April, and the Task Force will approve it shortly after.
Version Two was just released Friday, and you can find it here. It's not a lot different from Version One.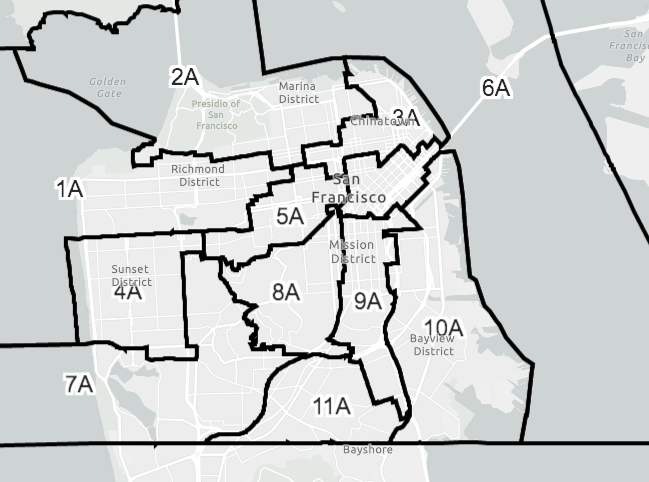 So there's not a lot of time—but there's a chance for the public to weigh in Wednesday/23. The Task Force will discuss its overall mapping strategy and possible talk about moving some of the lines. You can find the agenda and instructions to call in here.
You can also find the Community Unity Alternative map here.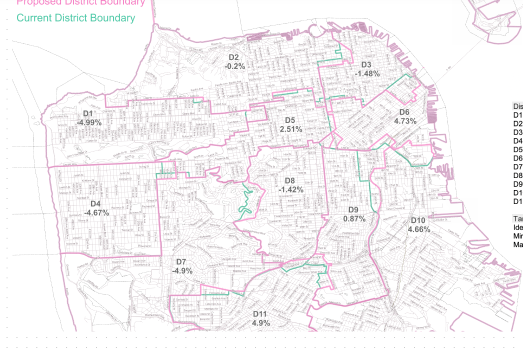 Amazon has bought a plot of land at the foot of Potrero Hill and wants to put up a new distribution center. There's a lot going on with this story, starting with the sale by Recology, which might involve ratepayer money.
It's a site that at one point was supposed to be housing, 1,000 units. That, some neighbors said, would be a loss of a piece of land that's zoned for production, distribution, and repair (PDR), which translates to blue-collar jobs.
And yes, an Amazon distribution center is a PDR use.
But it's also a giant, anti-union corporation that has helped destroy plenty of small retail business, particularly bookstores, which used to be a favorite part of San Francisco streetscapes. Amazon brags that its jobs pay $15 an hour, which is $600 a week, which pays for exactly zero housing in San Francisco. And they treat many of their drivers as independent contractors with no benefits.
And unlike a lot of other PDR uses, this one would involve huge amounts of new car and truck traffic.
Some of the supes aren't so sure this is the right use right now, and they want to slow down the process.
Walton told me that the legislation would apply to any delivery service, not just Amazon. But, he noted:
"When someone like Amazon comes into a community, we want to make sure the project is responsible. We want to be sure that they are respecting the community and the environment and labor. If they are not treating their workers right, their drivers right, then we want to seriously consider that."
The Land Use and Transportation Committee will hear Monday/21 a proposal for what amounts to an 18-month moratorium on new Parcel Delivery Service outlets. The measure, by Sups. Shamann Walton, Hillary Ronen, Dean Preston, and Connie Chan, would give the Planning Department the time to conduct a full study of the future of parcel delivery in SF (presumably the planners can also look at proposals for robot and drone deliveries).
Meanwhile, Amazon's plans would be on hold.
That hearing begins at 1:30pm.
On another note: Gov. Gavin Newsom is talking about giving some of the state's surplus back to the taxpayers to help cover the high cost of gas.
This is entirely the wrong approach to the state's money.
Let's look at some facts here. The average price of gas in this country, and even in California, is actually lower, adjusted for inflation, than it was when GW Bush was president. The price of oil is fluctuating a lot, and prices at the pump may come down anyway.
But most important, the pump shock isn't primarily because of the war in the Ukraine, or because of California taxes and environmental laws. It's because the big oil companies, which operate like a cartel and don't really compete, are taking advantage of the situation to rake in huge profits.
Even as the price of a barrel of oil has fallen, by a lot, retail prices remain high.
Robert Reich has been talking about this for weeks. (He's also explained why we are seeing such high inflation.) Even CNN has now figured it out.
There's talk in Congress of a windfall profits tax—which used to be a common thing in this country in times of war. And let's remember that California is the only oil-producing state in the US that doesn't charge an oil-severance tax.
Meanwhile, just when it's needed most, public transportation in California is in dire shape, with local bus and rail systems cutting back and struggling to regain customers after Covid. That might be a better place to put money than into subsidizing gas purchases.
More important, California today, with a $40 billion budget surplus, has two massive crises that can only be solved with large investments of public money: Education and housing.
Public education has been devastated by Covid, and desperately needs to be rebuilt. Homelessness and high housing costs are devastating major cities. If Newsom put $20 billion of that surplus into each, right now, it would have a dramatic, lasting impact.
You want lower gas prices? Tax the oil companies. You want better schools and an end to homelessness? For once, we have the money. Let's not waste that opportunity.