Ten years ago, the massive American Steel building in West Oakland was a bustling central hub for Burning Man art, a colorful and collaborative art scene without equal. Today, its new owner is evicting artists, artisans, and small businesses as it redevelops the space into a high-tech campus for big corporate manufacturing, technology, and research and development tenants. 
If artists are the shock troops of gentrification, as has often been said, then perhaps the success of Burning Man's brightest luminaries in bringing this sprawling but underutilized old industrial space to life sowed the seeds for their own displacement—as well as worsening economic pressures on the area's longtime Black residents.
But that irony offers little comfort to artists like Carolynn Haydu, who must soon vacate her Metal Haus Gallery to make way for a microbrewery. Or artist Katy Boynton, whose 30-day eviction notice means moving 69,000 pounds of Bay Bridge steel bound for her next project.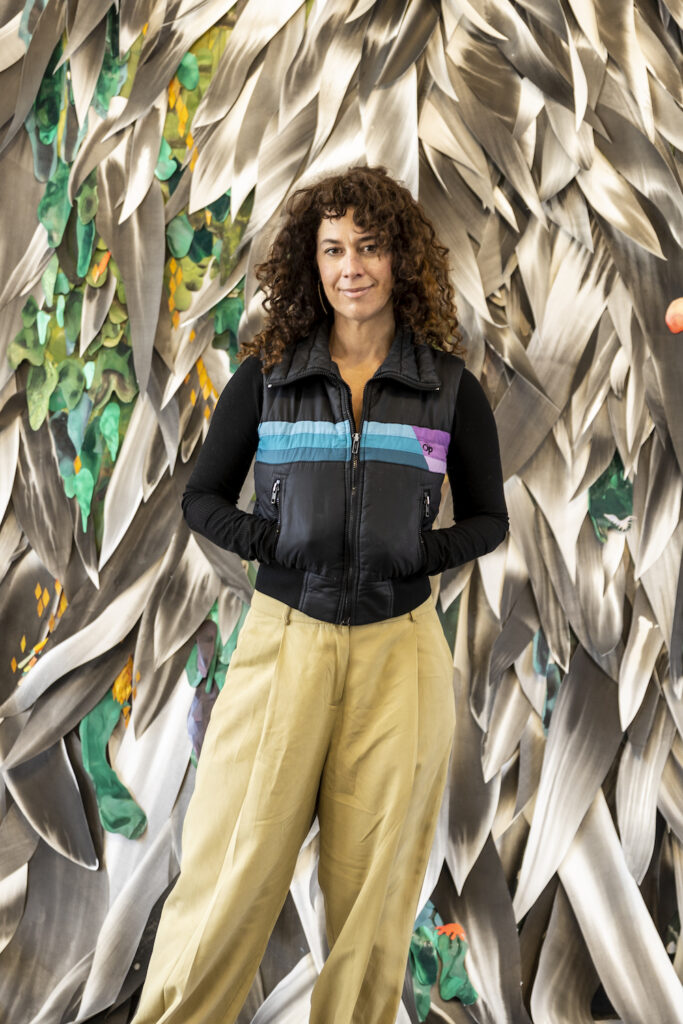 Or Day Pollini, who's desperately trying to finish a contract building custom steel trashcans for Oakland's Laurel District as she lobbies city officials and organizes American Steel's displaced artists into a collective. Or artist Zach Coffin, who was told to move his gigantic steel and spinning boulder sculptures from the lot behind Pacific Pipe by last month, which he calls physically impossible until he can secure them new homes.
Last September, Portland-based developer ScanlanKemperBard (SKB) paid $82.5 million to buy the 14 acres of industrial buildings and land along Mandela Parkway that includes the American Steel and Pacific Pipe buildings, which were once part of the area's vibrant economic history of railyards, shipbuilding, canning, steel production and metalwork.
"We envision it to be an advanced manufacturing campus. Just as artists and makers need a place to create art, large manufacturing companies also need a place to be," SKB President Todd Gooding told us. "There are certain parts of the building that we're asking tenants to vacate."
SKB has accelerated the displacement of American Steel's small artisans and artists that began in 2016 under previous owner 11 West Partners, or even earlier, back when San Francisco entrepreneur Maurice Kandar (who created Skyy Vodka, among other ventures) first allowed Burning Man artists to flourish in American Steel before selling the building.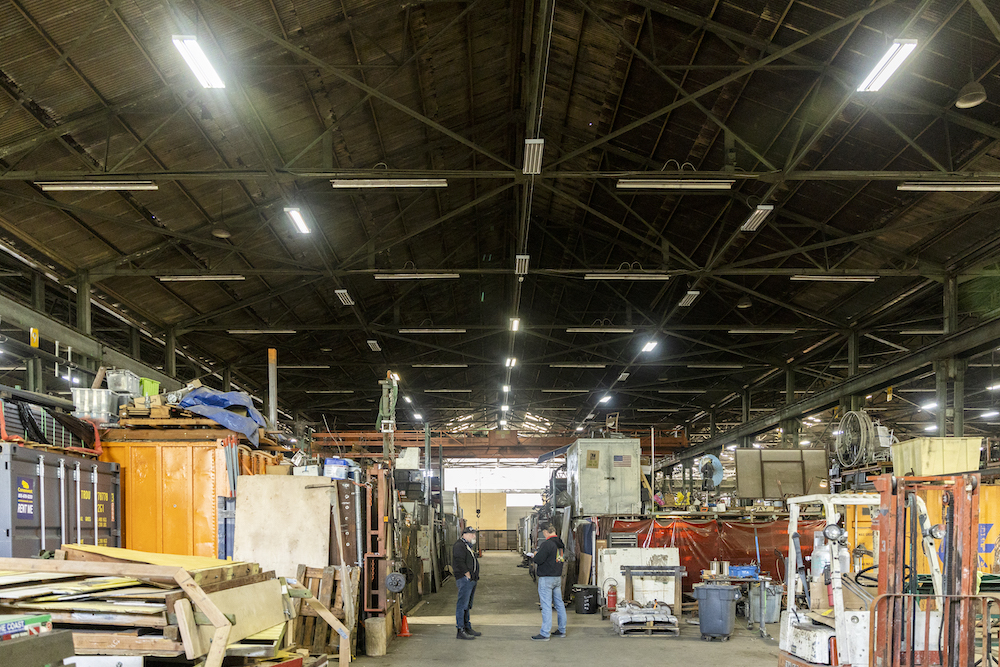 Artist Karen Cusolito, who built massive steel sculptures for Crude Awakening and other legendary Burning Man projects, leased space in American Steel starting in 2007 and by 2010 had leased the whole building. She created subleases with 220 individual artists and collectives, building what she called "a community of art, innovation and industry."
"It was a seven-day-a-week, 15-hours-a-day job, which left very little time for me to make art," Cusolito told us. "But it opened up a lot of doors for me. I made dozens of presentations about American Steel all over the place."
It was like a little Burning Man everyday, as artists and volunteers worked, collaborated, and partied together in this vast, dark, high-ceiled space with industrial power and overhead bridge cranes for moving the heaviest of creations. And it was embraced by community groups who threw events there and even politicians such as Oakland Major Libby Schaaf, who celebrated her first inauguration at American Steel with a big party.
"And suddenly it was gone, and it was just heartbreaking," Cusolito said of artists being forced from the building, including her departure in 2017. "Now it's over. As far as having the heartbeat and the energy it used to have, that's stopped."
Mayor Libby Schaaf, through her spokesperson Justin Berton, told us she's disappointed by the artist evictions: "Mayor Schaaf is disheartened that SKB didn't heed her call to preserve this vital artist community. She has fought to keep artists housed, working and performing in Oakland long before she ever ran for office."
But it's a struggle that Oakland's artists are currently losing.
COFFEE AND DONUTS
SKB has held monthly coffee-and-donut information sessions for American Steel tenants, displaying a board showing the approximate start and finish times for the six renovation phases, some already out of date. The most recent meeting on April 21 seemed to confirm tenants' complaints that the information they're being given is vague and uncertain.
"I guess everyone is tired of hearing the same thing over and over," SKB rep Greg Scharlemann told me shortly after the meeting started at 9 am, when their four dozen donuts sat mostly untouched. But folks soon started trickling in with questions about their fates.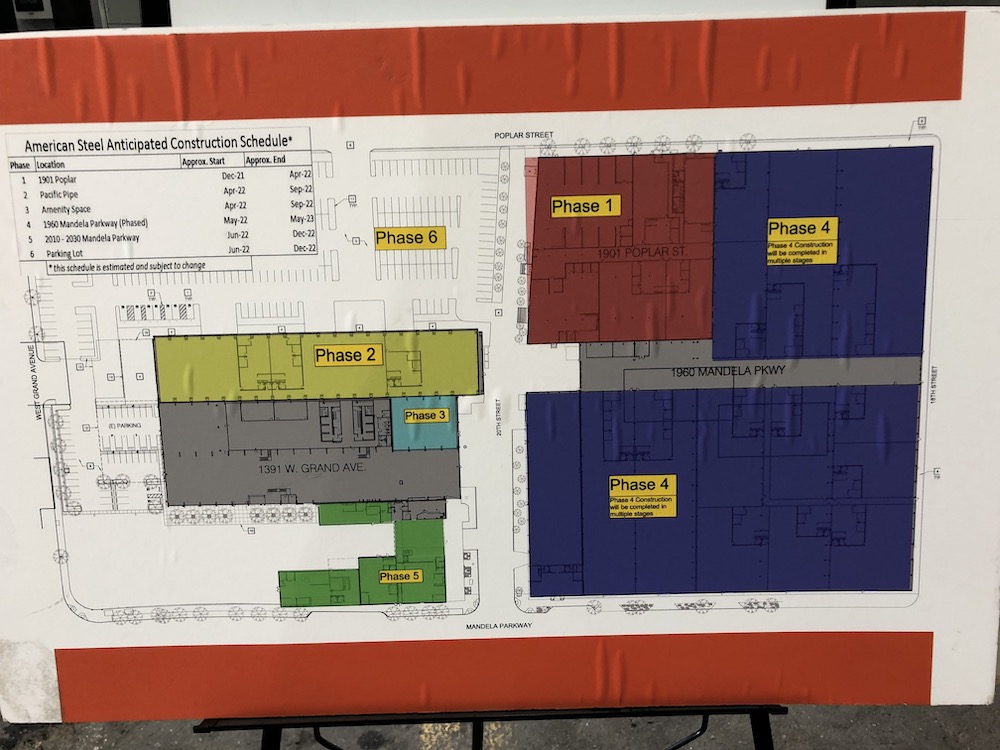 When one artist tenant complained about not being given enough notice to vacate his space, Scharlemann responded, "This is notice. This is notice that it's going to happen at some point. Plan on June and we'll give you more months if we can."
Geoff Gate, who manages Driven Garage, which restores custom cars, attended and said he was just learning for the first time that he'll probably need to move by October. "So what you're saying is our nine employees will have to be laid off," Gate said.
He asked about opportunities to lease some of the renovated new bays and was told it would be at least $2 per square foot, more than double what's he's paying now.
Amber Blackwell, executive director of Higher Ground Neighborhood Development Corp., which runs afterschool programs for Oakland's elementary schools, showed up to learn when she needs to leave and was told by August, probably.
"It's disappointing, but it's a relief to finally know," Blackwell said, noting the bad timing for their summer programs that will still be underway. She asked if they could extend that by a few weeks and was told probably not, although it's possible replacement space might become available.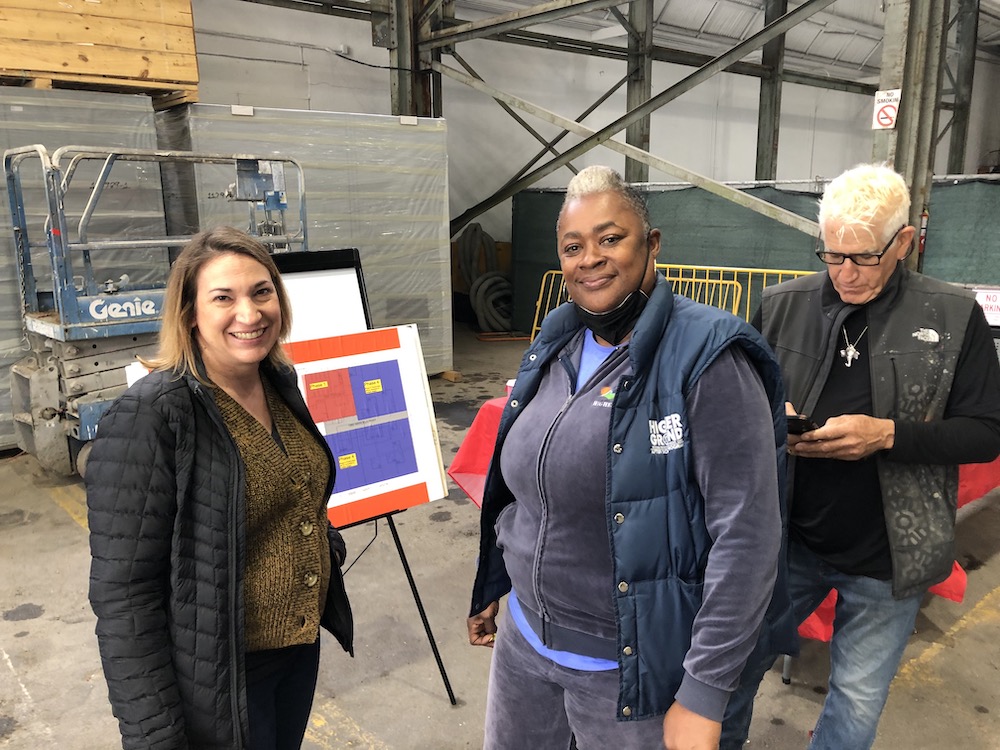 "Phase 1 should be done by August, so we can show it to you," SKB rep Tina Lampenfeld told Blackwell, although she acknowledged both the uncertain timing and substantially increased rent involved.
"It is gentrification. It is changing West Oakland on historic Mandela Parkway," Blackwell said when I asked for her reaction to the news. "Soon there will be no more people of color along Mandela Parkway."
Her family moved here from Mississippi in the 1930s, when West Oakland was a thriving Black community and they've watched it hollowed out, slowly and in quick spurts. For example, the Nimitz Freeway opened in 1955, cutting through the community, then it collapsed in the 1989 Loma Prieta earthquake and was replaced by an attractive greenway that's now Mandela Parkway.
"First it was the trees and grass, then came the artists and the lofts for the artists to come and enjoy the trees, then the big corporations come in," Blackwell told me, describing the area's gentrification process. "It's becoming a white city, and you'd never know Black people were here except the murals on the wall."
Richard Art Felix, a longtime American Steel tenant, founded Art Catalyst and the Everybody Can Paint project, brings a paintable bus and large walls into underserved communities, to festivals and to civic events to promote creative expression.
"The story for today is displacement of creativity," Felix told me and the SKB reps at the meeting, expressing disappointment with his pending eviction. "I don't think you should have displaced all these people. This is a real community and it would be better if you'd kept the artists."
NOTICE TO VACATE
Steel sculptor Katy Boynton has long-loved the collaborative art scene at American Steel, even before she moved here a few years ago after losing her old art space on Treasure Island to redevelopment.
Boynton, also known as Big Red, even brought her traditional "TI Tuesday" artist potluck dinners to the new space, a great way to socialize and attract volunteer labor.
She has lots of work to do these days, including a major commission for Hornblower Cruises to build an artistic new San Francisco dock using steel she acquired from the old Bay Bridge before it was replaced, a work she calls "Pier into the Past."
So it was especially disappointing to get a 30-day eviction notice at the beginning of April after previously being given only vague communications from SKB about when she'd need to vacate her space.
"It's stressful. If I knew where I was going it would be easier," Boynton said. "I have 69,000 pounds of steel here that are going to be a real pain in the ass to move."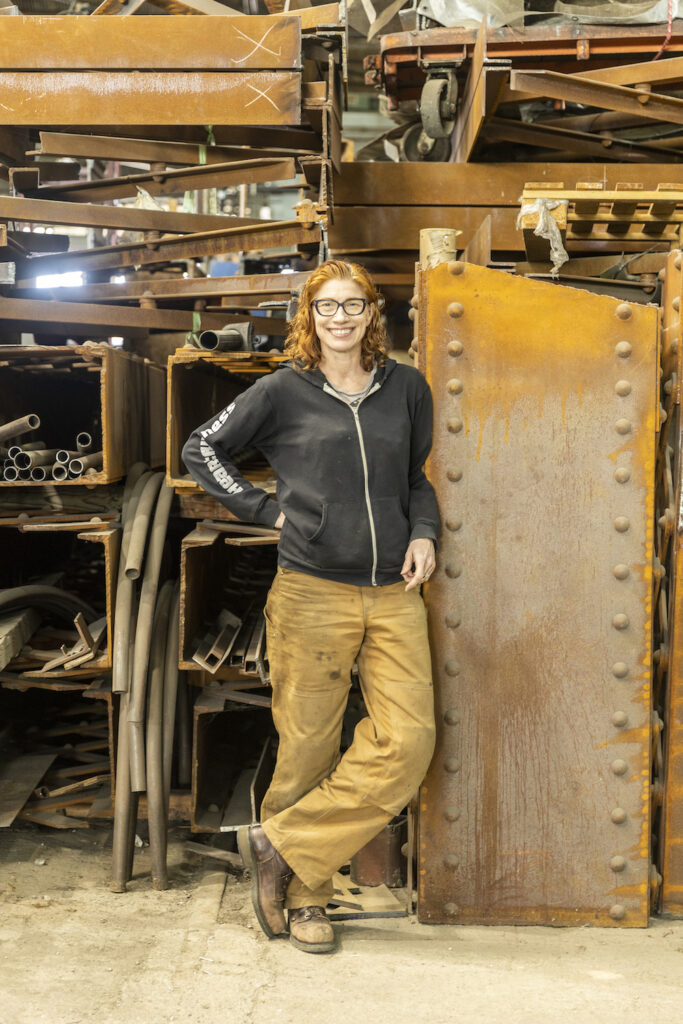 But Boynton's Hornblower Cruises commission means she has it a little easier than some of her fellow artists who have to move at their own cost with no place to go. "They are paying for my move and my space," Boynton said of Hornblower, adding the company also has property to store her Bay Bridge steel.
"They called me the other day to say 'how's your search going?' and 'what can we do to help you out?'," Boynton said of SKB. "Uh, how about not kicking us out?"
On April 21, Boynton got an email from SKB offering to let her move into Bay 4, next door to hers. But that space is only guaranteed through June, so Boynton is continuing to look for a new, more stable studios.
Boynton concedes that SKB has "every right to do what they're doing" and that commercial tenants don't enjoy the same rights and protections as many residential renters do.
Boynton's neighbor and fellow Burning Man artist Zach Coffin was also fatalistic about being displaced from his longtime studio. "It was quite the place to be. It was just phenomenal," said Coffin, an American Steel tenant since 2012. "But I knew if wouldn't last here in the Bay Area."
With real estate prices soaring and technology industries awash in venture capital, Coffin said it was only a matter of time before the small artists, artisans and Burning Man collectives got kicked out of American Steel.
Coffin embodies that changing dynamic as he works to transition from his career of building big art to starting a company called Dragon Wings, building massive mobile solar arrays and high-end batteries on trucks to replace diesel generators—a concept that started as a Burning Man project.
"I'm going to shut down my art career because it just doesn't make sense financially anymore, particularly with two kids headed to college," Coffin said.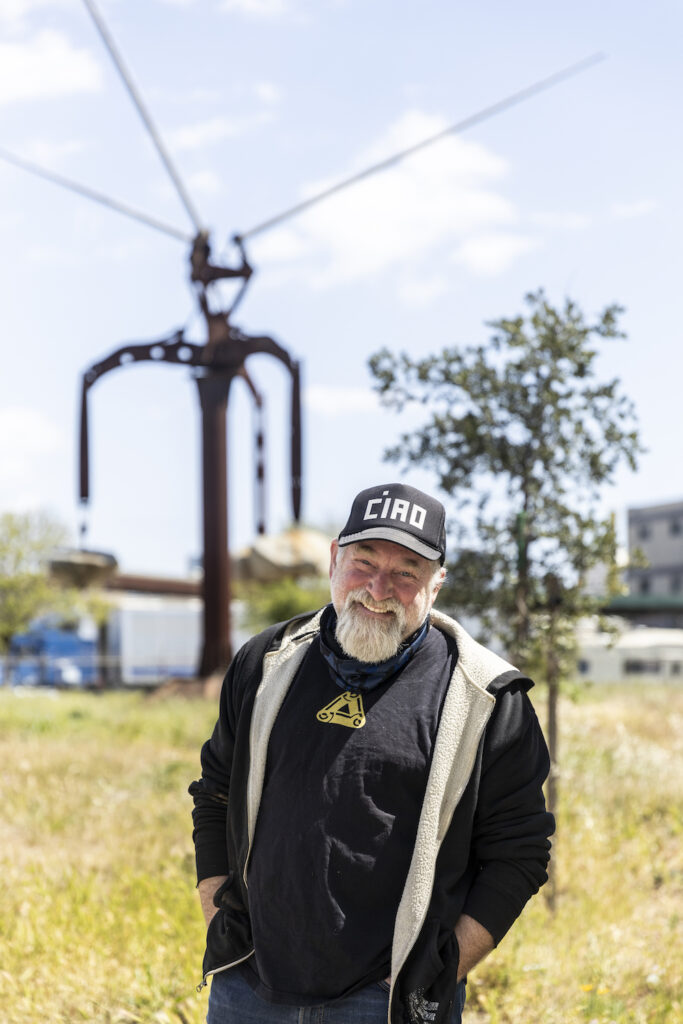 But first, he needs to finish three big sculpture commissions—for Google, Alameda and Stinson Beach—and figure out whether he'll be able to remain here with his new business. But SKB has told him to move his three massive sculptures from their yard.
"There are 500,000 pound of materials there, and it's rusting, so it isn't easy to just move," Coffin said. "They're kind of an albatross now."
"But the new owners paid a lot for this place and they'll need or balance their spreadsheets," Coffin said. "I understand what they 're doing and they can't really work around tenants. But it would have been nice to have a little more communication."
COMMUNICATION BREAKDOWN
It's a common complaint among American Steel tenants that they've been left in the dark by the new owners, something Gooding denies, citing their monthly meetings with tenants.
"All tenants were on month-to-month leases and we've been pretty transparent about what we're doing," Gooding told us, later adding, "All of these people chose to be on month-to-month leases."
Gooding also said all evicted tenants are being offered temporary replacement spaces, either in American Steel or as recommendations to other properties they don't own, including in Petaluma or San Leandro.
But several tenants say none of that is true and that they've been left hanging with little communication or clarity on their options or eviction timing.
"That is false. Absolutely no offer of replacement space has been given to us," said Carolynn Haydu, of Metal Haus. "The talk of relocating us with nothing in writing and no follow-up is completely bullshit."
She also said few tenants have been offered long-term leases, particularly after the building was sold to 11 West Partners: "11 West changed all of us to very short-term leases so the building would be easier to sell."
Gooding admits that his plans for American Steel don't allow for the building of big Burning Man art pieces that were once the hallmark of American Steel Studios: "If someone needs 4,000 square feet to create large art, I don't think that's in the cards."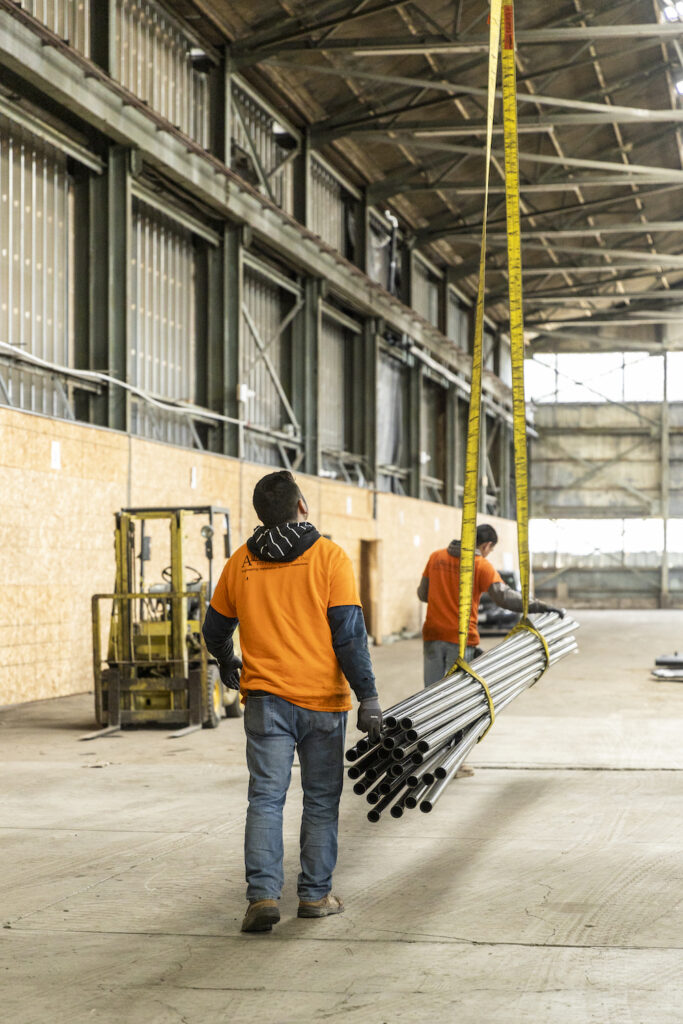 Gooding envisions a major economic transformation for this West Oakland neighborhood. SKB's press release announcing the purchase said West Oakland was "quickly becoming one of the Bay Area's leading manufacturing, bioengineering, and research locations."
Asked about the statement, Gooding conceded, "It's an aspirational statement."
The tenants say they're being harmed by SKB's ambitions. "It's not the center of R&D, it's a place with families, artists, and people struggling to say in the Bay Area," Haydu said.
Oakland City Councilmember Caroll Fife, who was a housing activist advocating for West Oakland's longtime Black residents before running for office, represents the district and told us it's disappointing to see what's happening at American Steel.
"The American Steel building is an amazing space for Oakland art creatives. It also provided a home for critical organizations in the city who need space and affordable rents to offer the services they do," Fife said, referring to groups like Higher Ground. "The current situation is really sad and indicative of a larger trend where there is little concern for the people that do the work to make Oakland a place for everyone."
Fife said she'd like to see SKB reserve more space in its sprawling new properties for community-based organizations and artists.
"I would like to see the buildings used for organizations who are struggling to stay here. Organizations that serve the population that has been left behind," she told us. "The tech boom and subsequent changes in our neighborhoods always leave certain people left out."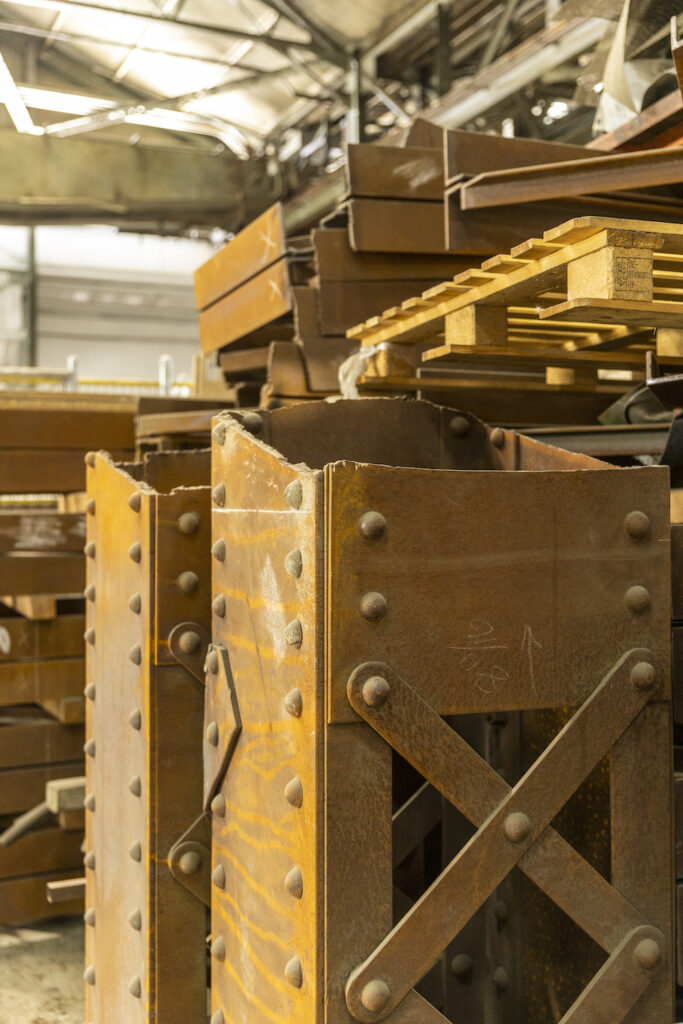 Some tenants say the out-of-town owners are just interested in making money. Pollini cited SKB's description of the project on its website as calling for a four-year holding period and flipping the property for an 18.3% return on investment, calling it proof that the new owners are recklessly seeking short-term profits rather than investing in West Oakland over the long term.
But Gooding disputed that, claiming he intends to hold the property for at least 25 years. "We have one set of investors to buy and want to get out, but others want to invest long term," he said. "We acquire and redevelop and then buy them out to continue operating it."
Oakland's "West Oakland City Plan" identifies the American Steel properties and others around Mandela Parkway's intersection with Grand Avenue as the lion's share of the city's industrial land, covering about 175 acres of the West Oakland's 270 industrial acres.
The plans call for aggressive policies to protect that industrial land from conversion to our uses, such as residential or commercial, writing "industrial land is a scarce resource in Oakland" and "preservation of industrial land is vital to future economic growth."
Yet the massive industrial space of Pacific Pipe is now a huge climbing gym, some is now being converted to a coffee house, and Gooding said the industrial space being vacated by Metal Haus Gallery is in the process of being converted to a microbrewery—though a lease has yet to be signed with anyone—in a city that's now teeming with microbreweries.
WALKING PAPERS
For its final exhibition, Metal Haus Gallery is now showing Haydu's work, all of it art she's made since last September, when SKB bought the building.
"We are living in a time of uncertainty and loss. The catastrophic is the new normal and entire systems seem to be unraveling," Haydu began her artist's statement on the wall of her exhibition, going on to explain that the gallery is being evicted.
The biggest artwork in the gallery is Haydu's Cloak of Night, a 20-foot-tall tower of colorful painted paper feather patterns. "I wanted to create a protective cloak around artists as the capitalist worlds swallows us up," she said.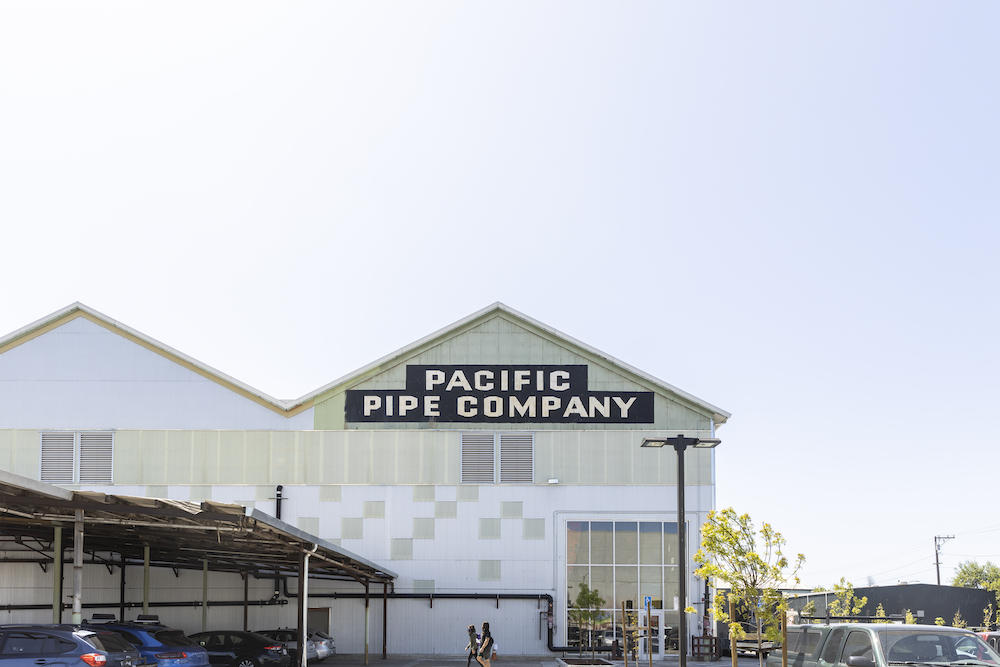 But the cloak hasn't protected Haydu and her fellow artists in American Steel. Haydu said she's long been told she'd need to leave by June, although the owners now insist they haven't evicted her yet and it's likely she'll be allowed to stay through June.
"We were all told end of May in one of their meetings," Haydu said. "That is why three tenants in my building have already moved."
Haydu also disputed the claim that tenants were offered alternative spaces.
"None of us would be scrambling like this if there was an offer on the table," Haydu said. "They are missing a real opportunity to work with the Oakland arts community."
"It was a complete gentrification of the space," Haydu said of the climbing gym, coffeehouse, and proposed microbrewery. "They're kicking us out for another brewery. It's what rich white guys like, they go climbing and then get some beers afterward."
Pollini, the steel fabricator, has been in American Steel since its Burning Man pinnacle and she's perhaps doing more than anyone these days to keep it all together, petitioning city officials and trying to organize the tenants into a new collective.
She's written to Mayor Schaaf and Councilmembers Fife and Rebecca Kaplan, kept tabs on SKB permit applications at City Hall, and researched all the relevant city documents and plans. She's frustrated that nobody is trying to help, particularly Mayor Schaaf, who hasn't acted on her calls for better city policies to protect artists.
Berton noted that Schaaf created an Artist Living & Working Space Task Force after being elected, which has made some progress preserving artist spaces. "It is deeply disappointing that these changes weren't enough to preserve the special creative community of American Steel Studios, along with the personal appeals she made to the new owners in November 2021," he told us. "The Mayor will continue to fight to protect the contributions artists make to Oakland's vibrancy."
But for now, Pollini is taking matters into her own hands, trying to organize about 25 of American Steel's displaced artists into a collective and launching a GoFundMe campaign called "Bay City Artisans & Creative Seek Stability" to raise $50,000 to help find a stable new home.
"I'm feeling hopeful, with a little anxiety," Pollini told us.
Pollini says she's cheered by the recent success story of artist Sean Orlando and his 5-Ton Crane crew—builders of many iconic Burning Man projects and art cars—buying and renovating the Seaport Studios space in Richmond and creating a stable home for artists.
"That's the happy ending, and it's something I'm looking for us to do, but we don't have equity investors," Pollini said of the capital needed to convert a big artists workshop into a sustainable venture. "That's something the city could do."
By which she means Oakland putting up the seed money to help its artists secure stable new homes. In lieu of that, she's looking for three big investors and to use that investment to get a Small Business Administration loan.
"These are unique small businesses created by hands-on artists," Pollini said. "Our goal is to find a place in Oakland because we really want to stay here."
RISE AND FALL
Few dispute that American Steel could use some work. The renovations will light up the dark and cavernous space with skylights and a new roof, improve safety with modern sprinklers and level floors, partition the studio spaces and build restrooms in each bay to replace the nasty, decaying central one there now.
But the transformation has sparked bittersweet memories of the days when Burning Man artists and volunteers brought this dormant space to life. I'm among those who will miss it, having worked on the Temple of Flux project at American Steel in 2010, writing about the experience first for a Bay Guardian cover story and then my book, The Tribes of Burning Man: How an Experimental City in the Desert is Shaping the New American Counterculture.
Peter Sheridan also started working at American Steel in 2010, just as it was hitting its peak occupancy and artistic relevance in the Burning Man world.
"Back then, it was inspirational just to be there because there was all this Burning Man art being built out there," he said. "What a great resource to have welders, LED guys, carpenters and other artists under the same roof. As a longtime burner, it was great to see all these art projects being built from the ground up."
His Dusty Rhino art car crew is all paid up and hasn't been evicted yet, Sheridan said, "but it sounds like we'll be removed at some point this summer."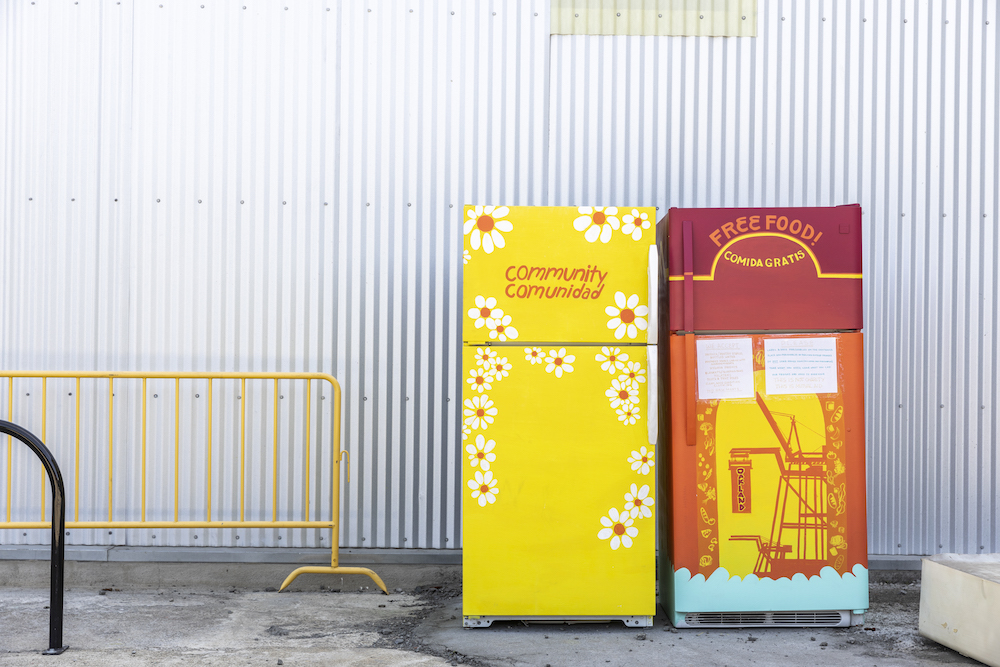 Sheridan said it not so simple for a Bay Area Burning Man crew that relies on volunteer labor to build its projects to just move to Petaluma or San Leandro: "It would be nearly impossible to keep that community engaged and volunteering," Sheridan said. "Art is essential to the character of cities."
Metal artist Simon Sutherland, who works with the Ardent Heavy Industries collective, followed a chain of shuttered burner workspaces, including the Craftery in San Francisco and NIMBY Warehouse in Oakland, to American Steel Studios. He loved the scene here created by Cusolito and her then-partner artist Dan Das Mann.
"It has been a vibrant space for a lot of people who couldn't have a space of their own. It's almost impossible to quantify how important and life-giving this place was," Sutherland said. "It was an amazing space and it's a shame what it's become."
He's frustrated by the lack of clear communications that he and his neighbors in Bay 4 have received from SKB. "They haven't given us a timeline and they've been very vague in what they're telling us."
Sutherland said he and the Ardent folks are scrambling to find a new space and looking at all their options.
"We've been talking with Katy (Boynton). Everything is on the table and nothing is ruled out. We're looking at Day's proposal," Sutherland said, who's about ready to start work on "Charismatic Megafauna," a project which has received an art grant from Burning Man.
"The plan is to build it in our shop, but we're also looking at contingency plans because of the uncertainty," he said. "There's a lot of uncertainty here."