Building a new neighborhood almost from scratch is a prodigious task, especially in these times of inflation, high interest rates, and supply chain delays. Then there are the challenges that are unique to Treasure Island:
—Configuring transportation from an island in the middle of the bay
— Installing new infrastructure to replace the existing dilapidated setup while people are already living there
—Cleaning up the toxins and radioactive waste the Navy left behind and
—Navigating all this with a current population that is disproportionately low-income.
It's almost surprising that anyone would ask to be responsible for this. And yet four people have thrown their hats into the ring to be the District 6 supervisor, who will represent Treasure Island, along with Soma and Mission Bay, for the next, crucial, four years.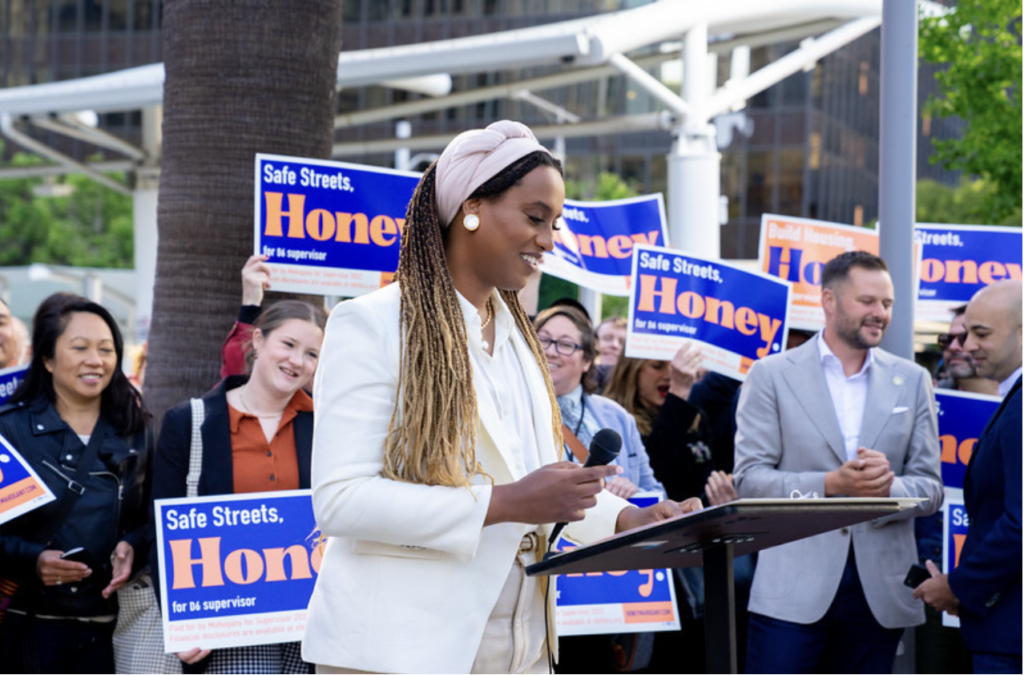 One of those is Honey Mahogany, a Black transgender performer and former chief of staff to then-Supervisor Matt Haney. She is well known in the LGBTQ community, having co-founded the Transgender District of San Francisco, and was elected chair of the San Francisco Democratic County Central Committee last year.
She is challenging the appointed incumbent, Matt Dorsey, who also talked with us recently.
Mahogany claims to have the most experience of any of the hopefuls, particularly when it comes to the work of a supervisor. She helped run Haney's office for more than three years, assisting in his legislative work. Her master's degree in social work and years of experience working with the homeless, dealing with the mental health and drug addiction problems in the district, and her time running a small business in Soma (she co-owns the Stud bar) lends her credibility.
But with that experience comes baggage. Haney had won his board election campaigning against the Treasure Island toll, and walked onto the island as a conquering hero, famously saying there would never be a toll on TI as long as he was around. Then he abruptly flipped on the toll, got a slew of construction trades union money, and left for an Assembly seat in Sacramento.
Not surprisingly, many TI residents feel burned. Mahogany inherits that too, especially since she is echoing Haney's last position of support for the toll in the campaign as both a "practical" and "progressive" measure, since it exempts current residents.
She said several times during our Oct. 14 interview that a supervisors' role is to ensure their constituents are heard and to advocate for them. Her time in the District 6 office means she has to know there is near unanimous opposition to the toll among the island's residents and business owners.
Defending her position, she said she worked on adding exemptions for people living on TI, and that she would look at expanding that to cover family members of and caregivers for residents.
"We know there are a lot of seniors and people with disabilities on the island that rely on family and caregivers and we certainly don't want to prevent that from happening," she said. "We can also talk about the small businesses that have employees, etc., that need to get on and off the island, and how the toll is going to impact their businesses, and mitigate that as well."
She also proffered an idea that could be the most effective anti-bridge congestion plan yet — free public transportation on and off the island for all TI residents. She added that the toll exemption should be extended to all TI residents, especially those low-income ones who moved there before people knew they would have to pay a toll.
Of course, the vast majority of low-income people who will be living in the affordable housing units won't be on the island until they are built over the next seven years. Extending the free public transit to all those thousands of people is where Mahogany's principled fairness and generosity hit practicality.
"We need to look at how much it's going to cost and what we can afford," she added.
Yes, that is the sticky part. As more and more worthy exemptions are made, as more subsidies for island businesses and nonprofits as well as for the otherwise prohibitively expensive ferries, are added, less money is in the toll fund to cover the expenses, including the costs of the expanding administration of the currently proposed complicated systems of exemptions and discounts.
Mahogany said she was dismayed to learn that the city and the Treasure Island Development Agency, which oversees the project, has no data estimating what the toll will raise or what the costs of operating the system will be.
When trying to devise a just and equitable transit system for this new neighborhood, one inevitably hits the brick wall of the agreement the city made with the developers. The developers aren't paying for operating all this transit stuff. They negotiated a contract with the city that sets strict maximum limits on their contributions, raising the age-old question: Who pays?
Mahogany suggested that the city could cover it. That's a logical idea. Her opponent Dorsey has suggested as much as well. After all, why should Treasure Island be the only neighborhood in the city that is required to pay for its own transit? Why shouldn't the property taxes its residents pay and the sales taxes its businesses generate be its contribution to the city's overall transit fund like any other neighborhood?
But San Francisco officials and TIDA have been saying for years that the operational costs of transportation for TI has to pay for itself, that it must be cost neutral to city coffers. That has all along been the justification for the toll, along with the dream/fantasy of moving the TI's projected 20,000 residents to other parts of the Bay Area without bridge congestion withonly more Muni buses and ferries.
The optimists like to refer to the ferries as the solution, without any data on the costs of ferry subsidies or recognizing what little data is in the city's own traffic study. It shows that at best ferries would relieve only about four percent of the car traffic on the bridge.
The entire city, through the decisions of its Board of Supervisors, approved this project and promoted it. The very first strategy plan for TI commissioned by then-Mayor Willie Brown and the city of San Francisco in Sept. 1996 warned that it would be a huge project that would require a "substantial public investment to secure and restore the property for any reuse."
Yet city officials, at the behest of the developers, proceeded to make the development larger and larger as the only way to make it profitable. And then they shifted the costs to the residents through the toll proposal and later expanded that to the general public. But it's still the city's responsibility to make it work.
But like all the other Treasure Island politicians that have come before Mahogany for the last 26 years — including her former boss Haney and her opponent Matt Dorsey—Mahogany lacks a deep understanding about the finances of a TI transport system, and isn't looking for data to support plans or asking staff to develop and present that. They all display the illusion (delusion?) that this project is too big to fail. Somehow, somebody will find a solution.
The flailing of the San Francisco County Transportation Authority and the Treasure Island Mobility and Management Agency over the last eight years should have proven by now that is not the case.
Barring that, we are left with a lot of pretty ideas about a just and environmental paradise on an island — except for all the radioactive waste and toxins the Navy left behind.
The fart of the deal
Unlike Dorsey, Mahogany did know of the legally binding agreement the City and County of San Francisco negotiated and signed in 2014 with the state agency the Bay Conservation and Development Commission, which regulates the development of California's coastal regions and tidelands, including Treasure Island and Yerba Buena Island. But she did not know the details or the serious consequences of it.
Here's the deal: The state gave San Francisco permission to build this huge residential development, and in return the city promised to steward these public trust lands and give the public unobstructed access to a 100-foot-wide strip of land along the entire shoreline of TI and most of Yerba Buena Island.
In 2016, the city negotiated a detailed amendment to the 2014 agreement, literally getting into the weeds about what structures along that strip had to be removed, how that perimeter strip would become part of the Bay Trail, what plants could be planted, etc. The negotiators relied on the project's 2011 Final Environmental Impact Report that made no mention of the toll. Charging the public to visit public lands is obstructed access and a violation of the city's obligation. A toll could make the whole deal — and the entire development — crash and burn.
In late 2021 BCDC learned that TIMMA had scheduled a vote to pass the toll. In a Nov. 15 letter BCDC advised TIMMA it should hold off until the two parties discussed the legal situation that was about to be triggered. The city was told in that same 1996 reuse study that the issue of the public trust tidelands needed to be resolved or it would cause problems for the development in the future.
For years, the city and TIDA have kept telling us that the contract between them and the developers is sacrosanct and cannot be changed. But they and the City Attorney's Office have made no such claim about their agreements with the state of California.
To be fair, they've said nothing at all about the matter, like anyone else facing pending litigation. This may also be the reason neither TIMMA or the Board of Supervisors have yet taken a vote on imposing the toll even though they signaled they would nearly a year ago, and haven't said a word about it since they cancelled their last scheduled vote in February 2022. They know that as long as they haven't instituted the toll, BCDC has no grounds to sue them and stop the development. But it could if and when the city makes the move. As of now there is no word of whether talks between BCDC and the city have been held or are scheduled.
The word at TIDA is that the TIMMA Board (i.e. the Board of Supervisors wearing different hats) plans to vote on the toll in the next couple of months— when everyone else is too distracted with holidays to be paying attention. The whole thing doesn't pass the smell test.
Gimme shelter
Mahogany is on the "build-more-housing" bandwagon, with special emphasis on affordable units. The question on TI is: how do you get it done, and done within state policy and its deadlines?
The state has set quotas for cities and counties on how many housing units they must build, and has recently added hammers for recalcitrant communities. Those that don't meet their goals stand to lose state funds for affordable housing and transportation projects. San Francisco's assigned target is 82,000 units in the next eight years. The TI project represents nearly ten percent of that, but where does the other 90 percent come from?
"A supervisor's role is to fight for as much affordability as possible out of any project," Mahogany said. "We're never going to build the amount of affordable housing we need just through private development. Both state and federal governments are going to have to get more involved investing in subsidized housing."
Mahogany points to the social-housing model where everyone pays only 30 percent of their income for rent. She said it provides flexibility, with the people making more subsidizing the rents of those making less.
"I'm not under any illusion that affordable housing as we define it as a city currently is affordable to people making minimum wage," she said. "So we can't continue to rely on the usual methods if we're going to build the type of housing working class people can afford. Government has to step up its game."
To date, nobody in any elected or appointed office in San Francisco has given any indication of where the $19 billion the city will need to meet is state affordable housing goals is going to come from. Dorsey at least was honest when we asked him: He said "I don't know."
Crime and punishment — or not?
Drugs and crime on the streets in some parts of District 6 and the city have shaken up politics and local alliances in San Francisco, as different approaches to public safety and police and criminal justice reform bump heads and ballots.
Mahogany said she believes police are part of a public safety solution, but only part. A more comprehensive strategy is needed as well as more police accountability, she said.
She told a story echoed throughout town and in media reports. A shopkeeper's store is broken into. He calls the police, they arrive and nab the suspect, but don't arrest him.
"There needs to be a real reckoning with the police department on why they are not doing their jobs," she said. "I recognize they are down 600 officers and feeling overwhelmed. That's why we created a street crisis response team so police no longer had to be the first response to people experiencing psychotic breaks or mental health crises in the streets."
Mahogany was a proponent of the Mid-Market safety plan, using urban community ambassadors to maintain calm on the streets, prevent drug dealing, refer people to services and help keep the streets clean.
"It's really about crime prevention," she said.
She did not support the recall of District Attorney Chesea Boudin, a big proponent of criminal justice reform.
"I was against all the recalls," she said, "just on principle mostly. I think that when people are elected, they should be allowed to serve their term. That's true for the governor's race, for the school board and for the DA."
She is staying out of this November's DA race too, not endorsing the mayor's new appointee Brooke Jenkins now facing the voters for the first time.
"I don't feel like there's a perfect candidate for district attorney by any means," she said. She did note the ethics complaint filed with the State Bar by a retired judge against Jenkins, alleging impropriety and dishonesty in her financial reporting and in her public statements about it.
Lottery evictions — Behind the Magic 8 ball
Unlike Dorsey, Mahogany knew about the "eviction lottery" issue on TI.
About 170 residents on TI are long-timers who have an incentive to stick around. Many of them have been living in temporary Navy housing since the 1990s and have been promised one of the affordable units that are just now being built.
Last May TIDA held a lottery among them. They were given numbers and a place in line, but they don't know when the numbers will start to be called, how quickly the queue will move, whether the unit they will be offered will be comparable in size and cost to what they have now, and whether it will work for all members of their households — or if instead they will have to accept a minimal payoff and relinquish their rights to a home on TI.
In the meantime, their lives on are hold. Rumors run rampant through the island like an anxious game of telephone. Among the most prevalent is that those selected first don't get first choice of units. Instead, they are offered a unit by TIDA that it deems appropriate, according to their arbitrary and ever-changing rules and timelines. They get to be first to choose to take it or leave it and leave the island.
Anxiety and dread are the emotions du jour. Second guessing themselves is the local parlor game. Have they wagered on this so long only to come up with nothing?

Tenants fear the system is set up to get rid of them so the new housing can be offered to non-islanders the city has no obligations to and can charge higher rents, effectively fulfilling their greatest fear — that TI will become a wealthy, gated, bedroom enclave. The latest rumor is that they will find out this spring.
Mahogany turned back to her role as an advocate for her constituency.
"If the residents are unhappy with the accommodations they are being offered in place of where they're currently living, then I will advocate for a better deal," she said. "That is something we should try and iron out and get on paper. It should be happening now."
She added that the residents who moved to TI after the 2011 deadline for a housing guarantee should get an opportunity for the affordable units that remain.
With a projected 8,000 housing units, 500 hotel rooms, 20,000 residents,and 300-acre park system, the TI development is the single biggest project with the most money invested (adding up what the developers and the city have put in) that San Francisco has ever attempted. Yet some in the city treat it like an annoying little sibling. You can almost hear them mimicking WC Fields: "Go away, kid. You bother me."
But if the rest of San Francisco doesn't take the island's financial and environmental issues seriously, if they don't step up to save what they have created, the massive investment in it could be a failure.