There's a lot of great live music out there. We want to help you make good decisions: Stretch that burrito buck into a gourmet cheeseburger live show.
This February marks the start of the most jam-packed live show lineup, heading directly into the summer, for the Bay Area in a couple of years. Big shows provide more opportunities to eat for our smaller venues still trying to keep the damn lights on. I had a local booker of a prestige venue in The City tell me just last week, especially coming off the three-year reset: "It's tough out here being independent."
So get ready. Fire up your fave Cocaine Bear Tik-Tok dance. We gonna throw a ton of spaghetti at the wall.
Here are some great, amazing, and WTF shows going on in all types of venues and spaces around town that deserve your attention.
FEB 11: YOI TOKI SF: A FUTURE FUNK/VAPORWAVE PARTY FEB 11
City Pop, the genre of analog synth-laden R&B arrangements properly connected to saccharine-sounding Japanese vocals, has not only fueled the vaporwave movement but has also spilled over into '80s funk and boogie club nights. That's fine. Isn't a groove supposed to move?
Welp, DJs Valentine, Jak Syn, and Meikee Magnetic will be landing at Rickshaw Shop with their own crowd-pleasing tunes when their future funk vaporware party YOI TOKI SF takes flight.
And if this Future Funk mix up top is any indication of the vibe they bring, it's going to be a beautiful night. 9pm, Rickshaw Stop, SF. Get your tickets here.
FEBRUARY 12: THE SOUND OF BED-STUY SCREENING & AFTER PARTY
It's one thing to see The Sound of Bed-Stuy, a short but very insightful documentary that provides proper context on Sound System culture in New York through the lens of Dub-Stuy, a local music collective. Having live DJ sets from Dub-Stuy's Q-Mastah, Edica+, Jonny Gofigure, and Blakkamoore plus Dub Mission's DJ Sep following it, to solidify all points presented, is a compelling reason to attend this major event.
The documentary was shot in the latter stages of the pandemic, focusing on key members of the crew as they plan an outdoor event using their sound system as a community microphone.
However, the timing is flawless. This film speaks to other artists such as UK phenoms Nubya Garcia and Theon Cross, who present contemporary jazz through a Soundsystem lens.
Do not miss this. 10pm-2am, Elbo Room, Oakland. No cover with RSVP, get it here.
FEBRUARY 16: TRIBE JAZZ
TJ Gorton, one of the key figures who run this special nite on a boutique Soundsystem at Phonobar, I ran into last summer at the Emma Jean Thackray show at Cafe Du Nord, rocking out, feeling the vibe, taking in the crowd, young and old, uncontrollably high on the gusto fusion/club/jazz business erupting from the stage.
THAT'S the DJ I want to hear firing up that spiritual jazz to cosmic grooves combo. Making that dancefloor jazz to jazzy house connections. Not a blowhard, faking the funk who collects records for the sake of cool points. But a believer, playing those Lonnie Liston Smith joints that move ffolkes in a certain way.
Earl Biggers and Mustafa Popal co-host the nite with Gorton, and in the past, serious weight has appeared as guests. We're talking about Jon Blunk and Guillermo from Sweaterfunk.
So post up and pick up a new trading card ( it's provided as part of the free nite), with information on the back, celebrating an iconic jazz great or a boundary-pushing jazz artist shaping the music's future.
Get hip peoples; all you have to pay for is your time with some knowledgeable music heads. 7pm-1am, Phonobar, SF.
FEBRUARY 16, 17, 18: CON BRIO
Let me ask you a question. What's better than seeing a hardworking band live and in person?
I'm talking about sweating, testifying, and giving it all up for the sake of performance. Putting it on folk' so hard that your/those annoying concertgoers—the ones talking, texting, and video chatting during all the damn guitar solos—have to shut up because they're taken aback by the band's rawness at the moment.
I've got an answer. NOTHING.
While I have yet to see Con Brio perform live, their EP "Seasons" from last year gives all the impressions they don't play when it comes to playing music. It makes no difference whether it's rock, stylized disco, or chest-out soul. They gonna get you.
Portland vocalist Sarah Clarke leads this modernized line-up that is versatile and you'll dig whatever genre they dip into.
I recommend attending one of their three Bay Area shows this February before the new album drops in the summer. And if the lead single "Traunch" up top is any indication of what's to come from this 14-year veteran Oakland band, prepare to sweat for the funk and roll one mo gin.
Feb 16 At Moe's Alley In Santa Cruz; Feb 17 At Hopmonk, Sebastopol; Feb 18 at The Independent, SF. Grab tickets here.
MARCH 12: NON PLUS TEMPS
A quick listen to the massive "Facts Sound Like Myths" by the mighty Non Plus Temps, a Bay Area post-punk collective, reveals that the polyrhythms speak of a fictitious meet-up for a Compass Point lost weekend where Adrian Sherwood, Sly & Robbie, with a cameo by Augustus Pablo, play dub tricks in the studio on Tom Tom Club.
If you're getting those vibes, you're vibing. Correctly.
Analog recording produces slanted bass lines, nervy atmospherics, and a consistent groove.
Go see Non Plus Temps perform this highwire act live and in person. 7pm, Thee Stork Club, Oakland. Get your tickets here.
MARCH 28: BIG JOANIE
The self-described "Black Feminist Sistah Punk band" will play Rickshaw Stop in March to promote their most recent album Back Home, which was released last year on the legendary Kill Rock Stars label. The iconic band was formed in London's DIY punk scene and first gained international recognition by transforming the Solange classic "Cranes in the Sky" into its own heavy, muddy leaning anthem.
This release frames the concept of home, whether physical or mental, through a mingling of electronic and modal soundscapes, pushing into new musical domains.
It's fantastic. But to see them live, in person. That's the prize. 8pm, Rickshaw Stop, SF. Secure it, grab tickets here.
MARCH 28 + 29: UNKNOWN MORTAL ORCHESTRA
You never know which version of UMO you're going to get, which is why the first show of these SF concert dates is already sold out. Rubian Nielson released the commercially successful Sex & Food a few years ago that did everything he's a G at. The Prince soul-rock thing, the grooves for days….
Then he released a non-linear instrumental record IC-01 HANOI—abstract fusion ideas at the height of UMO commercial success, delivering a low-key masterpiece.
Whichever of him shows up to play (hopefully both entities) will add to the already illustrious history of the venue. The Fillmore, SF. Grab ya popcorn here.
MARCH 28: EZRA COLLECTIVE
This UK jazz group formed in 2012 as teenagers at Tomorrow's Warriors, a music education initiative at London's South Bank Centre, has spent years improvising together on stage.
A sweat-producing beast of a band, they take jazz into the bass bin and swings it through grime, Afrobeat, and more, hitting contemporary electronic music in their taste clusters.
The Bay Area is fortunate to have them. 8pm, Cornerstone, Berkeley. Get tickets here.
APRIL 15: LALIN ST JUSTE
After seeing Lalin St Juste lead the Afro-futurist Oakland funktronica band The Seshen in support of Brijean last summer, I'm want to make more people aren't aware of this multi-talented creative. You should definitely check out this performance, part of a "Jazz and Social Justice" series at SFJAZZ.
The Haitian-American singer-songwriter and producer maintains a forward-moving trajectory that will not be deviated from. An autodidact who intuitively knows how to unlock an audience, and shift the momentum of a packed venue from first gear to turbo in a short period of time, has sought out multiple avenues for expanding the bandwidth. While maintaining residency with The Seshen, St. Juste began releasing solo music on 7000COILS, a black + queer focused record label, last year.
7pm & 8:30pm, SF JAZZ. Grab some tickets here and prepare to be amazed.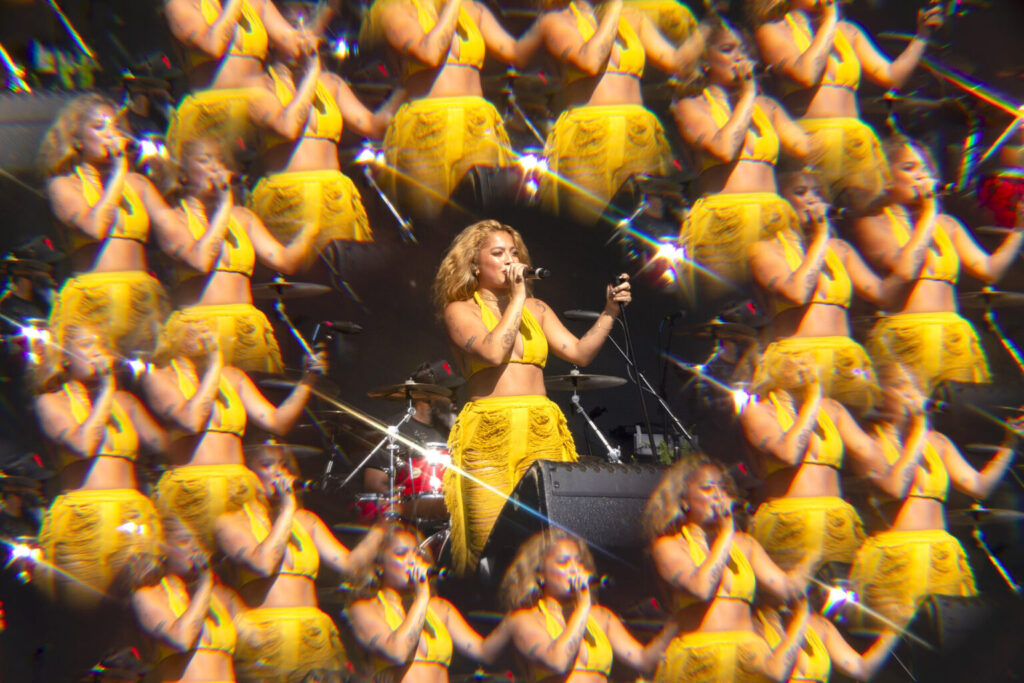 APRIL 29 + 30: SOL BLUME MUSIC FESTIVAL
The celebrated R&B hip-hop-soul music festival founded by two first-generation African immigrants began as a one-day music festival at Cesar Chavez Plaza in Sacramento many years ago.
Sol Blume Music Festival has evolved. Levelled up. Into a two-day extravaganza with established and emerging acts you have too hear. It makes a well-earned return in 2023, after more than 40,000 people enjoyed performances by Jorja Smith, Jhené Aiko, Summer Walker, and Jazmine Sullivan last year.
Who's on deck this time around? Kehlani, Brent Faiyaz, Ella Mai, Jessie Reyez, Pink Sweat$, Isaiah Rashad, Teyana Taylor, and others are among those performing.
Alas. If only SF could have such nice things. Discovery Park, Sacramento. Purchase a ticket here.
MAY 13 + 14: MILL VALLEY MUSIC FESTIVAL
Rinse the cooler once more, vacuum the dog hair from under the backseat of the car, and pack some warm blankets: The Mill Valley Music Festival is back for a two-date run this year.
The independently produced multi-music genre family event returns after a sold-out one-day debut last May. This year, Sacramento's Cake headlines alongside Michael Franti & Spearhead and Tank and the Bangas. Orchestra Gold, an Oakland-based African psychedelic rock band fresh off their Bandcamp store performance last month, was invited by festival organizers to bring together Northern California rockers of all genres.
REMAIN IN LIGHT, a special concert series produced by Jerry Harrison and Adrian Belew, features former members of Talking Heads, Seattle seven-piece The Dip; retro-soul revivalist Durand Jones; southern soul singer Black Joe Lewis and his multi-talented backing band The Honeybears; and Grammy-nominated Valerie June, a folk-soul singer known for her personalized blend of Appalachian music are on the Noise Pop produced bill.
Purchase tickets here.