Originally exhibited at the Buffalo AKG Art Museum in 2021, "Difference Machines: Technology and Identity in Contemporary Art" now comes to San Francisco art and technology incubator Gray Area (through September 2). Riffing on Charles Babbage's difference engine—the first mechanical calculator and antecedent to the computer, circa 1822—and difference as multi-cultural identity, the exhibition's installations and videos interrogate the presumed neutrality of our algorithmic world.
While many of the museum-quality works, drawn from a roster that includes nationally and internationally recognized artists, are impressive for a local nonprofit, the venue and curatorial decisions pose several serious questions about how institutions and exhibitions address complex Black, Brown, and queer identities in a deep and impactful way.
In the exhibition, artists like Zach Blas, Hasan Elahi, Sean Fader, Rafael Lozano-Hemmer, Mendi + Keith Obadike, Joiri Minaya, and Keith Piper poignantly point out how BIPOC and LGTBQ+ bodies continue to be subject to erasure, quantification, surveillance, commodification, and violence. While the individual works are strong and important, they require extensive background information to understand their social, cultural, and political contexts; technical processes; and conceptual strategies.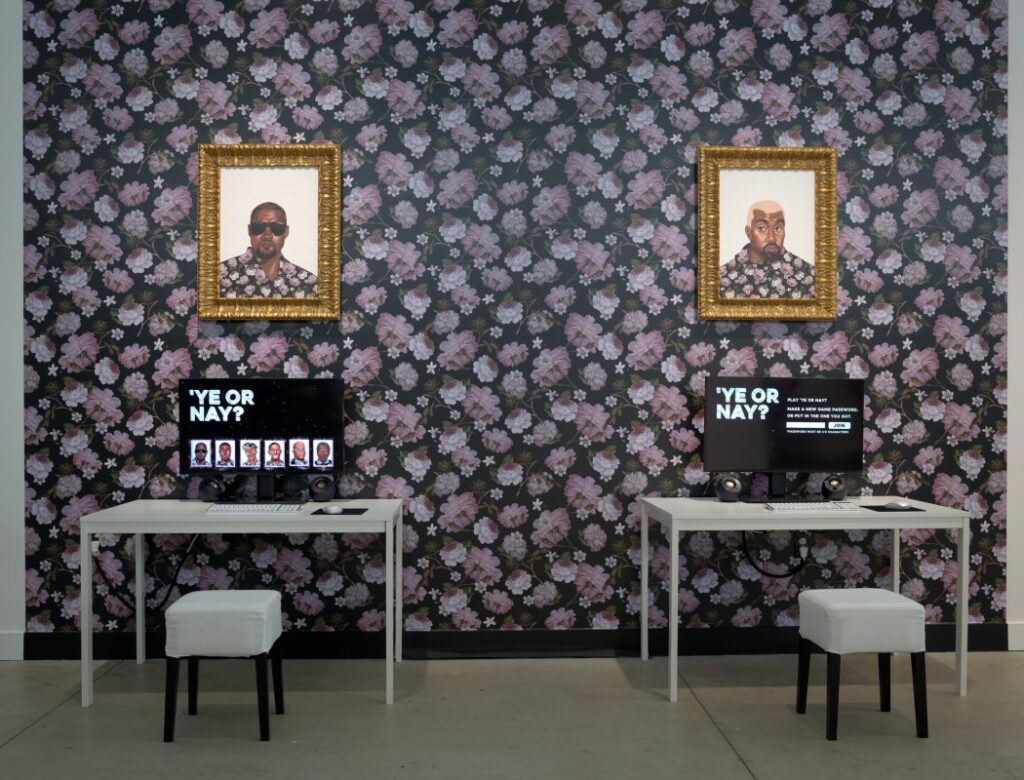 Unfortunately, with the sheer quantity of dense works, the exhibition at times feels like a speed race through big data's errors, biases, and blindspots. The exhibition could have benefitted from a tighter checklist, where deeper engagement with the individual works would do them justice, allowing viewers to tease out the nuances.
However, the curators have nicely included several works that move beyond pointing at errors to ones that pose literal and metaphorical questions. Starting the exhibition off strongly, a video at the entrance to the gallery documents a lecture given by Morehshin Allahyari where she asks if open source data is ever really "free." The artist explains her naiveté in thinking that making her 3D files of recreated monuments destroyed by ISIS publicly available was a democratic gesture.
With Allahyari's frank self-scrutiny, she concludes that free access is not necessarily equity when not everyone has a computer or a 3D printer and internet access itself can be an obstacle in lower-income regions and places where government censors the web.
In a more surreal conversation, Stephanie Dinkins' videos "Conversations with Bina48: 7, 6, 5, 2" (2014-present) depict the artist posing questions to Bina48, a Black female-appearing AI bot modeled after a collaborator. Dressed in similar clothes and facing each other, Dinkins and Bina48 uncannily mirror each other with awkward head nods and eye contact. As Bina48's incomplete and uncomfortable answers about race reveal the limitations of AI and its source data, Dinkins' appears to be striving to make a connection to an almost catatonic mirror image of herself.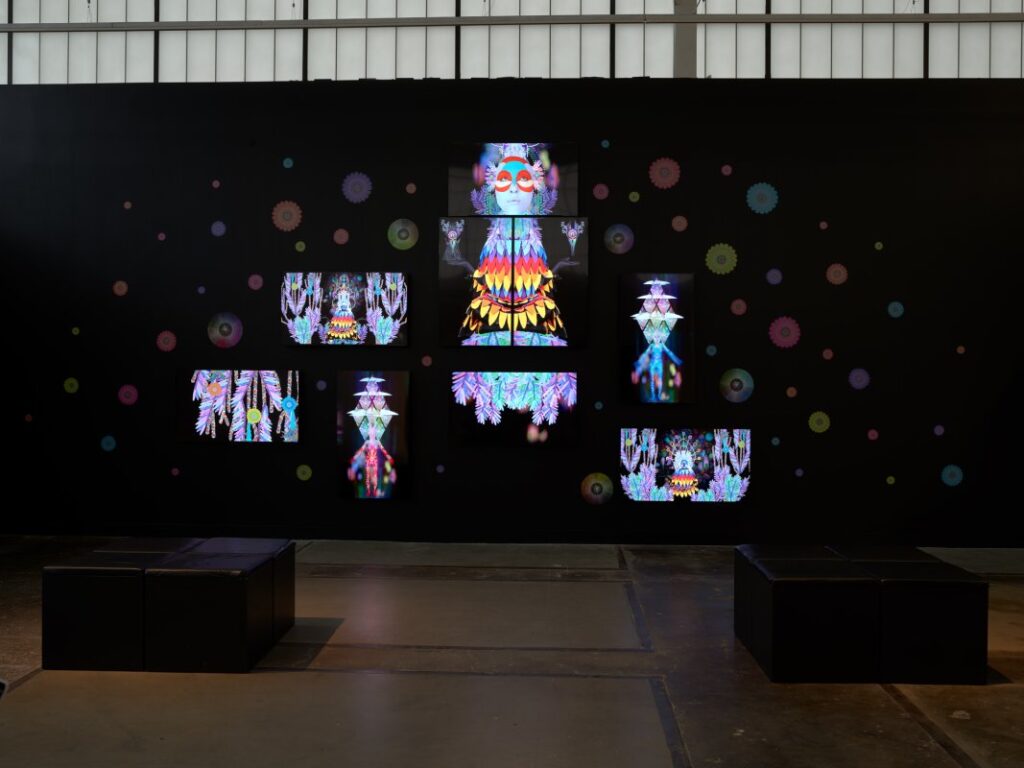 Even more fantastical, Saya Woolfalk's multi-channel video installation, "Landscape of Anticipation" (2021) produces a dreamy atmosphere that suggests a mythology of hybrid beings in a DayGlo palette. As fragmented body parts merge with flowers and masked figures appear in ritual-like poses, viewers are left to wonder about the nature of these chimeric creature and her/his/their/its origins.
Since the show addresses some very pressing issues for BIPOC and LGBTQ+ individuals, Gray Area should be able to substantially and earnestly engage in public programming and community building. Aside from weekly Friday happy hours, "'MACHINES' & Mingle," Gray Area has two substantive events closing events: a conversation with artists Morehshin Allahyari and Stephanie Dinkins and a conversation with curator Paul Vanouse and artist Skawennati.
Indeed wide-spectrum support of the arts and historically marginalized communities can be a welcome gesture of allyship; Gray Area appears to have missed the opportunity to take significant, concrete actions towards building equity and inclusion in their immediate community, the historically working-class Latinx Mission district, or within the larger Bay Area.  While "Difference Machines" achieves increased representation in the number and diversity of represented identities, the exhibition and venue may fall victim to the same errors of big data, where quantity is prioritized over nuanced and deeper engagement with the creative and difficult-to-quantify questions. 
DIFFERENCE MACHINES: TECHNOLOGY AND IDENTITY IN CONTEMPORARY ART runs through September 2 at Gray Area, SF. More info here.