In most industries, professionals peak between the ages of 35 and 54. But at just 34, San Francisco's Genie Cartier says career advancement in her chosen field is improbable since her skills are already on a steady decline.
That's because Cartier is a circus performer.
"In a way, an acrobat's career is continuously ending after their physical abilities peak, which, for me, was in my late teens," she told 48 Hills. "Since then, it's been a slow progression of changing how I train and what I'm comfortable doing on stage."
After almost three illustrious decades in the spotlight—studying Chinese acrobatics at San Francisco Circus Center, performing gymnastic feats in burlesque shows organized by Hubba Hubba Review and Fishnet Follies, and co-creating and starring in her own performance pieces—she's starting to slow down.
Her new solo variety show, the Curve, playing Sat/12, and August 25 and 26 at the San Francisco Fringe Festival, may be one of her last hurrahs.
The autobiographical work, which includes acrobatics, dance, physical comedy, and spoken word, details the highs and lows of the performer's circus career and the toll it's taken on her body and soul.
I spoke to Cartier about bringing her playful and poignant story to the stage, the fleeting nature of her physical abilities, and the Pink Floyd-inspired project she's turning her attention to next.
48 HILLS They say everyone has a book or show in them. What made you decide to finally tell your story?
GENIE CARTIER When I attended SFSU's MFA program in poetry, my thesis was a collection of poetry called Circus Poems, all about different experiences I've had as a circus performer since I was six.
In workshops, my fellow poets always commented on how interesting it was to read insider stories of such a small community and its workings—the jargon, comedy, and unique situations that arose were all fascinating to them. That surprised me because I have always been so immersed in the circus world that it seemed ordinary.
I am always looking for ways to combine my writing with my circus skills, and a couple of years ago, I had the idea to adapt the book into a solo show. So in a sense, I had both a book and a show in me at once.
48 HILLS What are some of the pits and peaks of your circus career?
GENIE CARTIER You'll have to come to see the show to hear some of the funniest performing stories. But, in general, performing can lead you to some weird places. I've performed everywhere, from awkward teenage birthday parties to the Malibu mansion where Brad Pitt married Jennifer Aniston.
One time I was in a little late-night cabaret, and a performer had a live chicken backstage. Turned out he used it to cover his crotch as an ending to his burlesque act. Another time I was backstage at a show in LA and was introduced to David Silverman. You may recognize the name because it pops up at the end of every episode of "The Simpsons." He plays the fire tuba—literally, fire comes out of his tuba. Who knew?
On the flip side, I've seen some pretty horrific things happen. Injuries can be brutal. I've seen a person's bone sticking out of their skin more than once. Circus performers are risky athletes and sensitive artists—and many of us struggle with depression and insecurity. And a few people I've known have lost their lives; it's rare, but the circus is dangerous in more ways than one.
48 HILLS It's ironic that you confront the fleeting nature of your skills in a very demanding show. How does that work?  
GENIE CARTIER I think it's an interesting irony that a show about the fleeting nature of athletic ability is not one I'll be able to perform forever, precisely because it requires so much athletic ability.
Live performance is already fleeting; every show is a unique experience between the performer and the different audiences they play to. But in this case, the audience is also witnessing temporary skills.
I have friends who will miss my shows and say, "I'll catch the next one"; in this case, I've been telling people they better catch this one because I don't know how long I'll be able to do it! At this stage, you just never know how much time you have left. One badly rolled ankle—and you're done.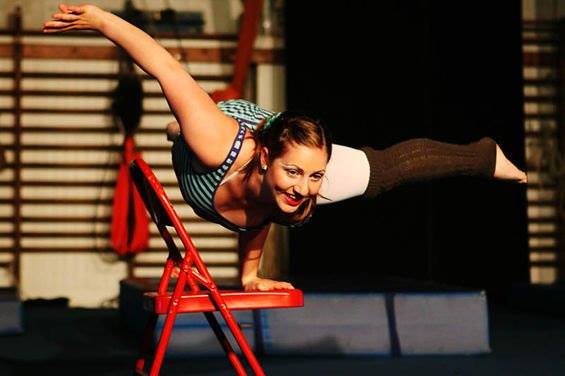 48 HILLS What happens to the body and mind during a circus performer's career?
GENIE CARTIER A saying I relate to is "A dancer dies twice." The nature of any kind of athletic discipline is that it's impossible to keep up forever. This isn't discussed very often. When you are at your peak of athletic ability, you feel invincible. You want to believe it will last forever and don't want to be reminded that it could end. But eventually, injuries stop healing as quickly, chronic pain sets in, or if you're unlucky, a bad fall can end your career.
It's very traumatic to face the end of something you love to do, and I don't think there is enough infrastructure in our society that helps athletes deal with that, so it can feel lonely. It was important to me to name that experience.
In the Curve, there is a section where I describe all my different injuries and how they happened. Whenever I perform the show with other circus people in the audience, or even dancers or other athletes, they always comment on how much they relate to that moment and how refreshing it is to hear someone be honest about it.
48 HILLS Your directorial debut, Dark Side of the Circus, choreographed to Pink Floyd's Dark Side of the Moon, will tour California next year. Are there parallels with this show?
GENIE CARTIER When I was a teenager growing up in Haight-Ashbury, my dad introduced me to Pink Floyd's Dark Side of the Moon, and I immediately envisioned it as a circus show. Over the years, the idea of making a visually striking circus spectacle set to the album would continue to float around in my head.
In 2017, I cofounded Bow & Arrow Circus Theatre Collective, and when I told my cofounders my idea, they were super supportive and excited about it. We spent a year raising money and finally had an amazing cast lined up and in rehearsals—and then the pandemic shut everything down two weeks before it was supposed to premiere. That was very disappointing and a huge setback, but when we finally did perform the show in 2022, it was to sold-out audiences and standing ovations. We even took the show to Mexico!
We plan to bring it back to SF in May 2024. The story of making Dark Side of the Circus fits perfectly into the story that I tell in the Curve. At any level, there are always a lot of ups and downs in the life of a circus performer. Like in a live show, things don't always go as planned. You just have to keep chugging along and using your resources to make the best of it.
tHE CURVE plays Sat/12, and August 25 and 26 at the San Francisco Fringe Festival. Tickets and more info here.