Charlotte Moraga has many jobs, which is how she likes it. She is the artistic director and a dancer for Chitresh Das Dance, a master teacher with Chitresh Das Institute, and a nearly full-time dance teacher at Grattan Elementary School, where next year she celebrates her 30th anniversary with SF Unified School District.
Asked how she finds the time to do it all, Moraga explains, "I have a lot of energy and a lot of passion. I think of it as Lakshmi's pot. There's a hole in the pot, so gold is always pouring out, but since the pot is never empty, gold also constantly is flowing in. I have been dancing my entire life. It is where I get my energy. It's a constant flow. When I'm not doing one or the other—teaching, choreographing, or dancing—I'm tired. When I'm doing it all, I'm energized."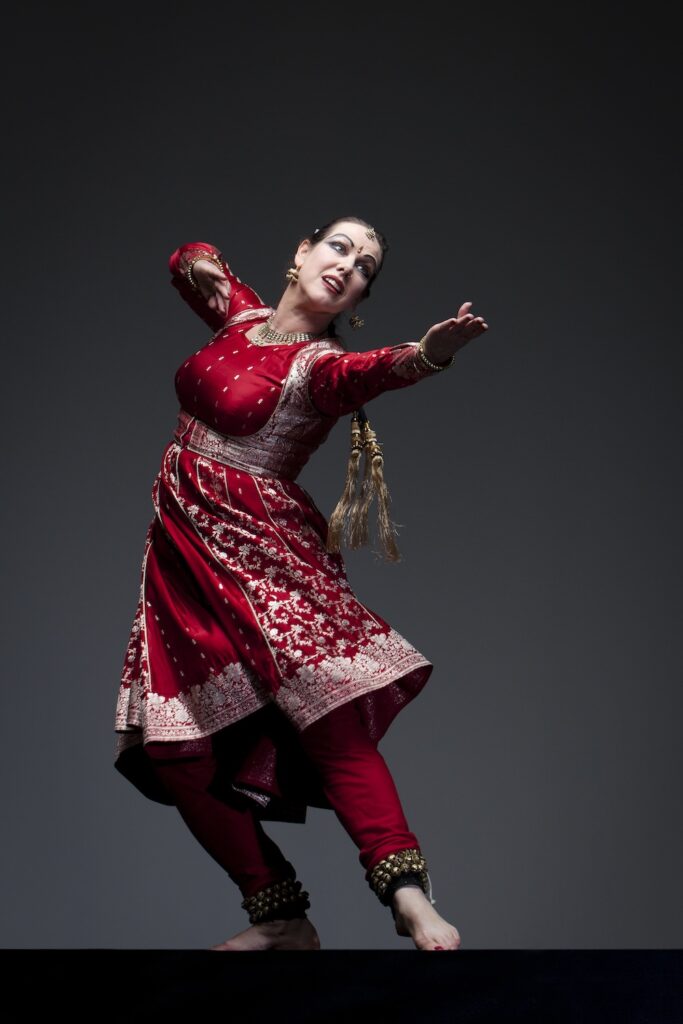 Moraga schools me on the fact that this kind of multi-faceted doing is inherent within the practice of Kathak dance, the north Indian classical dance form that is her primary practice and the art form she studied for so long with her guru, Chitresh Das, founder and namesake of the company she now leads.
"Chitresh was a brilliant dancer and teacher and never separated the two. In Western dance, typically you become a dancer and then become a teacher. In the Kathak tradition, this is not the case. Our practice is always about passing it forward," she says.
For the upcoming performances of Chitresh Das Dance in San Francisco and San Jose, Moraga is leading the company in works that are challenging in their virtuosity. The newest work 13 Matra (which runs alongside Invoking the River Fri/29—Sun/1, and October 8 at various Bay Area locations) is set to a tarana, a kind of song not based on lyrics or words, but syllables called bols. Moraga explains that bols are a little bit similar to scat singing in jazz, though somewhat more complex. Unlike scat which is usually improvised, bols indicate for the dancer what type and timing of footwork or movement to perform, and to the tabla player what series of strokes to play in what rhythm.
For 13 Matra, Moraga has centered the dancing around 13 syllables—number 13 being associated with feminine power—and the idea of ardhanariswara, representing combined and completely integrated male and female elements into an individual. While the powerful movements of Kathak are often considered masculine, Moraga asserts that they are both male and female as well as neither.
"There are a lot of feminine aspects in the tarana, like moving the veil and the use of the hands. These are not meant to be coquettish, but are how you can show and reveal your identity and the power within that," she explains.
Taranas also are typically very fast, and according to Moraga, "Ours is on steroids." All of the current dancers of Chitresh Das Dance are graduates from the youth company, where many start as young as 11 years old and train until they're about 17. "They're trained very intensely with speed and clarity, which is the hardest thing to master, " says Moraga. "I train them the way I was trained by Chitresh Das: to develop the virtuosity of your instrument and then after that comes the refinement."
Also on the program is Invoking the River, in which Moraga's choreography reflects the movement of water and situates each dancer as a musician with five pounds of bells wrapped around the ankles. Moraga worked with each dancer to develop their own story through abhinaya (expression or acting). The result is a deeply personal multimedia storytelling of the dancers' connections to different rivers in India.
Moraga says, "All of the rivers in India are associated with goddesses, they have stories, a life beyond their geography. They have a ritualistic life, and a tremendous amount of feminine power."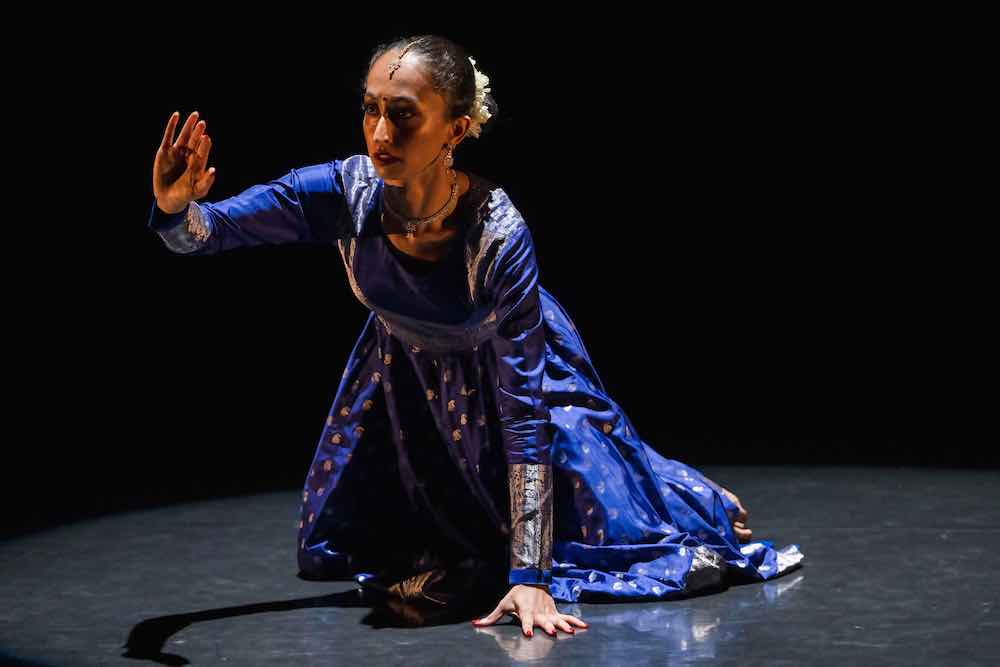 Moraga gave each dancer a choice from a selection of rivers in India. Dancer Vanita Mundhra chose the Ganges because it is where people bring the body of a dead loved one. She had lost both grandparents at once during the pandemic and the family took their bodies to the Ganges, but she couldn't be there. Through the dance she is able to process the pain of that difficult experience.
Dancer Mayuka Sarrukai chose the Kaveri River, which, as the myth goes, originated when the river, which transforms back and forth between river and woman, began flowing out of the crack in a pot carried around by her husband. This dancer was deeply affected by a lost sense of agency due to the reversal of Roe vs. Wade, and so choosing this river enabled her to portray breaking free, as it goes in the legend, but with a contemporary lens.
The final section of Invoking the River is "Sangam," named for the confluence of three separate rivers, coming together. They are often perceived as dancing as one to invoke their mythological sister river, the Sarasvati, also known as the goddess of arts and learning.
Moraga and the dancers collaborated with Indian pianist-composer Utsav Lal, who will perform live with the dancers and is known as the "Raga Pianist" for his innovative handling of Indian classical music on a Western instrument.
He explains, "In raga music, the sonority, the percussive nature of the instrument, the ability to play multiple voices in both hands, have been inspiring avenues to explore. I also really enjoy bringing extended techniques such as plucking, muting strings and using other devices to shape and change the traditional piano sound when writing on the piano." While Lal has worked with dance artists in the past, this collaboration with Chitresh Das Dance has been a unique experience.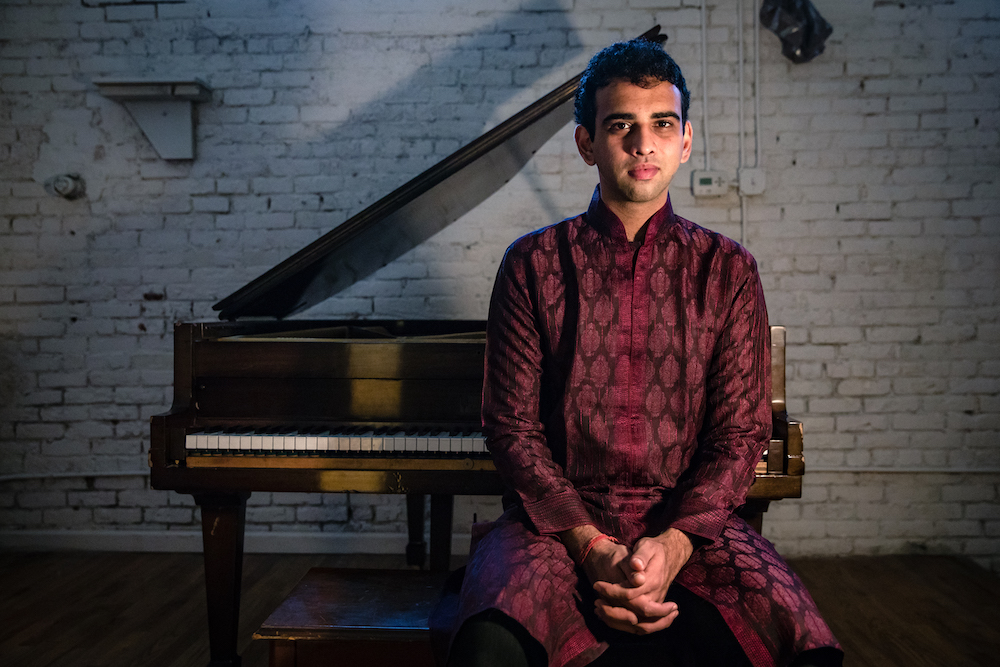 "Nothing was put together in isolation and was a product of hundreds of voice memo recordings, conversations, videos being sent back and forth. Each dancer had free rein to pick a personal narrative based on a body of water and write an essay about it as inspiration for the music," Lal recalls. "Some had incredibly specific rhythmic language they wanted incorporated. Others had very evocative imagery and writing leaving me very open to interpret it how I wanted. In terms of the actual musical material, I drew a lot on the raga tradition but also the huge body of musical approaches to water such as works by Debussy, Scelsi, Hermeto Pascoal, Doug Wieselman, and the Necks."
Invoking the River is part of CDI's Art for the Planet program, bringing attention to climate change through art and performance.
"Water moves through every living thing and connects us all. It is powerful. It both creates and destroys. It holds memories. The same water that flows today through our rivers and our veins was probably in the blood of ancient beings," explains Moraga. "Invoking the River is about this journey through life and time told through movement, music and our common bonds in the face of urgently needed change to preserve the sacredness of life that is embodied in water."
The company will take this and other works on tour to India in January, performing and teaching in Kolkata, Mumbai, Delhi, and Goa. What is it like for this US-based company to perform Kathak in India, where the artform is traceable to 400 BCE?
"There is usually a tremendous amount of pride when they see an American bring a continuation of what Chitresh Das established, particularly because he taught and maintained the caliber and integrity of the art at such an incredibly high level. He is very well known and respected there. At the same time, they see that what we do is new and fresh," says Moraga.
"I have a tremendous amount of knowledge in Kathak, passed down to me by my guru and it's not for me to keep," she adds. "I'm part of a rhythm and I want it to flow to the next generation. That's why teaching and making and performing dance is all one, because I am a river."
INVOKING THE RIVER & 13 MATRA will run Fri/29, Sat/30, and Sun/1. ODC Theater, San Francisco. Also, October 8. Hammer Theater Center, San Jose. Tickets and more info here.