Before start of Taylor Mac's Gary: A Sequel to Titus Andronicus (Bay Area premiere through October 1 at FLAX art & design, Oakland), the audience is informed—mostly through promotional materials—that one needn't be familiar with the notorious "edge lord" play written by a young Will Shakespeare. That's only true in the sense that it won't matter to those who've come for Mac's usual circus-level excess. Yet, there are specific callbacks and character allusions that only make sense if you know The Bard's infamous predecessor to Le Grand Guignol. 
(Incidentally, this was the third show I'd seen in one day, and the second Shakespeare-related, after Aurora's Born with Teeth. Local theater lives.)
Indeed, the over-the-top demands inherent to a Mac spectacle may be the element most at odds with Oakland Theater Project's quasi-black box production. OTP certainly makes the most use out of all the space at FLAX, with designer Carlos Aceves conjuring up a cabaret stage that just happens to be a dining hall in the aftermath of a massive act of bloody revenge. But the familiar Mac tropes of audience interaction and "nothing exceeds excess" suggest that they were made for a much larger stage. Not every play can be performed as a chamber piece. (Though I maintain that if anyone attempts a Bay Area black box production of King Kong or Spider-Man: Turn Off the Dark, I'd love to see it.)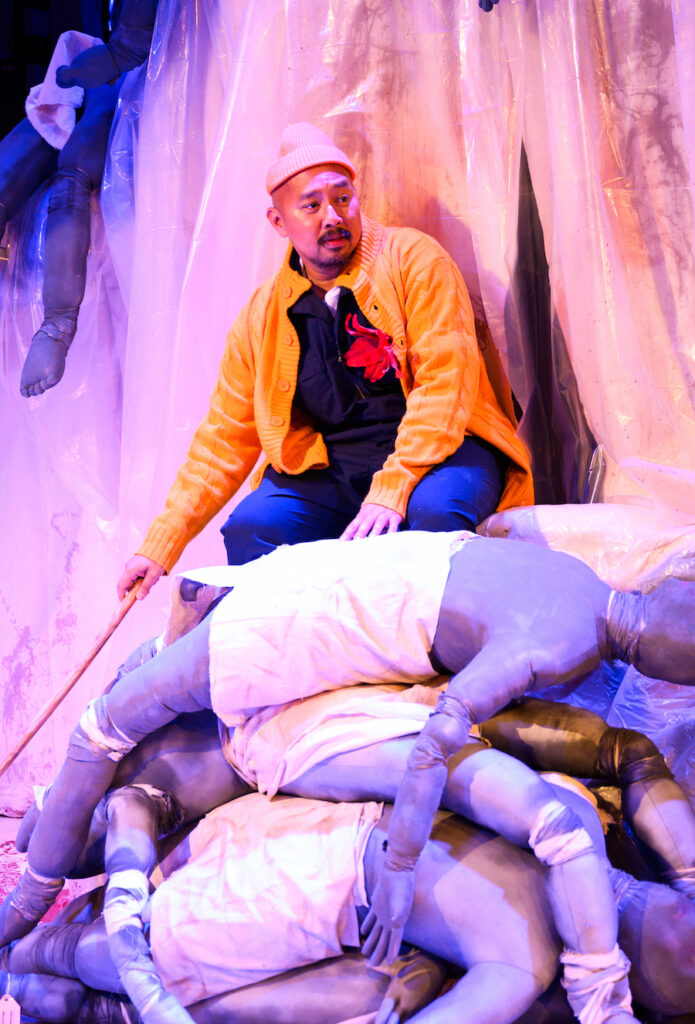 The most unbelievable sight of OTP's production was that the opening night performance featured a denouement wherein an actual infant is brought on stage. Anyone who's cared for kids that small knows how hard they are to keep still, so I'd be very surprised if OTP did this for the entire run.
For what it is, the 90-minute show is a corpse-laden screed against unchecked power and the uselessness of monarchs and emperors. It just so happens that these epiphanies are happened upon by custodian Gary (Jomar Tagatac, in a cockney accent that wavers the longer he screams in it), who's tasked with cleaning up after the meat pie massacre that took just place. Joining him in his task is castle maid Janice (drag performer Matt Standley), who's less concerned about whether or not the rich are literally or figuratively eaten, so much as getting the place spiffy for the next coronation taking place tomorrow morning.
As the two sift through the many, many corpses (phallic-laden plush mannequins), they happen upon the very animated "corpse" of Carol (Regina Morones), who witnessed the characters' goings-on before the slaughter began.
Though the play already starts with a meta, irreverent tone, it's the use of Janice and Carol that suggests Mac is attempting a Titus equivalent to Rosencrantz and Guildenstern are Dead. As in Stoppard's post-modern classic, minor characters of a Shakespearean tragedy find themselves commenting not only on the wacky activities around them, but also social hierarchies, the nature of life and death, and the seeming self-awareness amongst the characters that they are indeed characters in a play. What's more, they both end seeming to suggest that whatever happens next is something for which the audience is responsible. After all, they made the choice to come see this slaughter, so they ought to live with the consequences.
Of course, the obvious difference between Stoppard and Mac is the difference between a respective minimalist and maximalist. Both are notorious for creating loquacious works that require marathon sittings, but Stoppard's are the work of someone obsessed with intricate detail, whilst Mac intentionally tries to blind you with bright colors and loud noises. (Speaking of which: Be advised that this show features strobe lighting.)
Neither approach is inherently "right" or "wrong", but Mac's ham-fisted proselytizing can be a bit grating. Director Emilie Whelan has a great trio at her disposal—I'm not familiar with Standley's work, but Tagatac and Morones each bring their usual A-games to the show, shaky accents notwithstanding.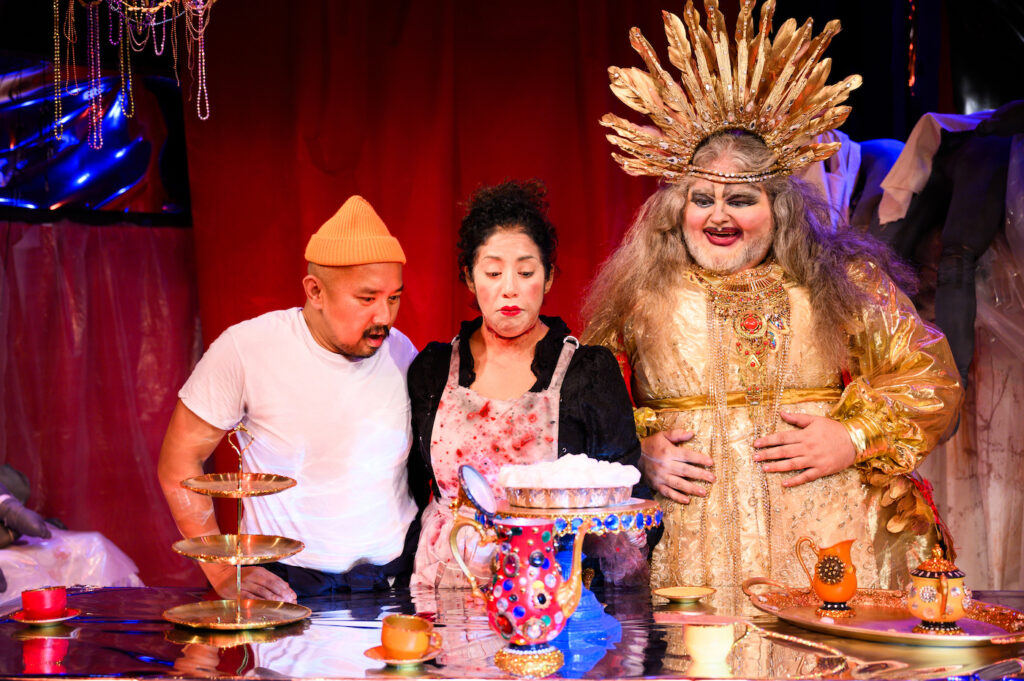 Furthermore, her collaborators provide some memorable sights and sounds, particularly costumer Marina Polakoff, who decks out Janice to the nines, but they're staging a big, loud piece in relatively small room when it clearly demands, well, a grand banquet hall in which to store all the leftover corpses. I'm not sure how Titus itself would play in stripped-down form, but a faux-sequel attempting to top it demands a "go big or go home" approach.
The OTP is one of the many theatre companies to quietly "adjust" their COVID safety measures. (Most companies have just dropped them altogether.) Like other companies, they've decided to alternate between mask-required and mask-optional dates. Fortunately, OTP seems to be the only such company to favor the former dates, with the optional shows being few and masks still being required for opening night. As it happens, my Aranet4's CO² readings for opening night seem to peak around 1582ppm, dropping to the low 1500s by the end of the show.
To this day, scholars and admirers debate whether Titus is a try-too-hard shock attempt by an upstart writer or an eviscerating satire in which the characters are literally eviscerated. Taylor Mac's sequel-in-name-only strives to match its unabashed excess with nuanced commentary, but the results are mixed. So, too, is the production by OTP. Whelan's cast and collaborators are clearly up for the challenge, and the best compliment I can give is that they follow the script's direction in playing a bigger game than the space in which they play it.
GARY: A SEQUEL TO TITUS ANDRONICUS' Bay Area premiere runs through October 1 at FLAX art & design, Oakland. Tickets and further info here.