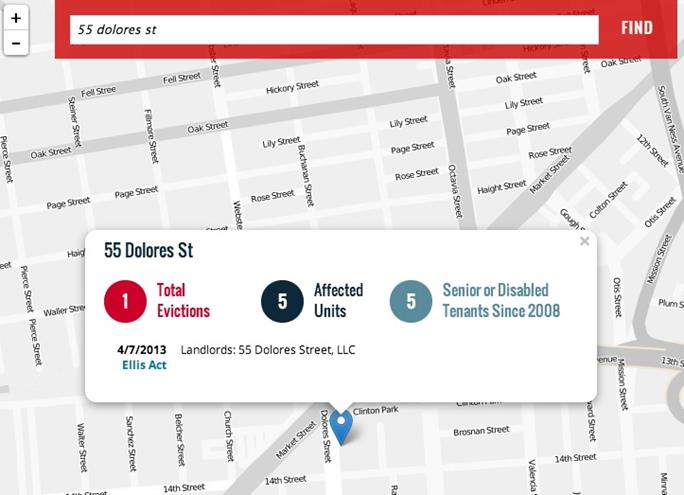 This is what you find if you type in 55 Dolores Street.

By Tim Redmond

Forget the weak and limited Community Benefits Agreements and the occasional volunteer hours at nonprofits. If tech companies and their workers in San Francisco really want to contribute to the community, want to change their images, want to fight the evictions and displacement, the single most important thing they (and any other wealthy newcomer) can do is go right here and sign the No Eviction Pledge.
The anti-eviction mapping project has done something truly important: The group has compiled a database of all no-fault evictions in the city, and made it super-simple to make a housing decision.
Want to buy that TIC? That newly-renovated house? That redecorated rental that seems too good to be true?
Run the address first. It takes ten seconds or less. If the database shows that a tenant was thrown out under the Ellis Act to make the unit available to a person who can afford to pay more, you can refuse to make an offer.
I know: That cuts out a lot of housing options. But it also puts you on the right side of the War for San Francisco: You can decline to be a part of an eviction, and if enough people do it, that will make evictions less profitable.
You can call it an "eviction boycott," and that's appropriate: According to the anti-eviction mapping project,
The word "boycott" originates in Ireland circa 1880, when Irish tenants organized nonviolently to protest rent exploitation by English estate manager Captain Charles Boycott. The Irish Land League advocated that tenants refuse to conduct business with Boycott for unfair renting practices. Our pledge similarly is a call to San Franciscan renters and potential homeowners to boycott landlords and speculators that have previously evicted tenants through the Ellis Act — without cause.
I didn't know that history.
At any rate, there's lots of talk about how tech can give back, and there are plenty of things on the list. Twitter and other companies that are doing exceptionally well and don't need the payroll tax break can agree to pay their fair share. Google and other companies that run shuttles can agree to pay more than $1 a stop – and to fund a study that would show the real displacement impacts of their private transportation systems so the city can enforce reasonable mitigations.
The richest in the city can help create more of a financing pool for affordable housing.
I could go on.
But it all starts with ending the displacement that the tech boom has created. And this is one simple, easy way to do it.