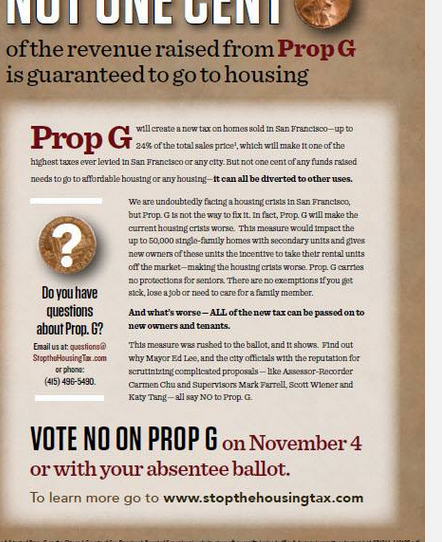 By Tim Redmond
SEPTEMBER 2, 2014 — Is Mayor Ed Lee opposed to the anti-speculation tax, Prop. G? Well, the last time I asked him he wasn't; he said he was reviewing the proposal and hadn't made up his mind. His office hasn't put out any press materials announcing his opposition.
The supporters of Prop. G haven't heard that the mayor is opposing them, either. In fact, the former housing activist who is trying to push his own "consensus" measures this fall, including a Muni bond, might not want to infuriate the entire tenant movement, which is behind the tax.
I can't think of a single good political reason for the mayor to come out No on G.
So why did the San Francisco Board of Realtors post a flier on Facebook saying that the mayor was against the tax? A flier aimed at organizing support and raising money? A flier that says "find out why Mayor Ed Lee [and] Assessor-Recorder Carmen Chu and Supervisors Mark Farrell, Scott Wiener and Katy Tang all say no to Prop. G?"
I don't know. The Mayor's press office hasn't responded to an email I sent almost a week ago asking for his position on the measure.
But I checked Facebook again tonight and the flier seems to have been removed. And the mayor's name isn't listed on the No on G campaign website.
So maybe the Realtors had a bit of a premature ejaculation here. Imagine that.
What the flier does tell us is how the landlords are going to run their campaign. It's going to be a repeat of the Big Soda attack on a sugary drink tax in Richmond, where the well-funded effort said that none of the money raised would go for youth or public health programs.
In this case: "Not One Cent" for new housing.
Problem: If you designate a tax for a specific spending priority, it needs a two-thirds vote. Also: This tax isn't about raising money; it's about discouraging speculation by taking the profit out of it.
Still, now we know what the tenant movement is facing. And it appears the mayor, at this point, hasn't actually entered the battle. Sorry, Realtors.