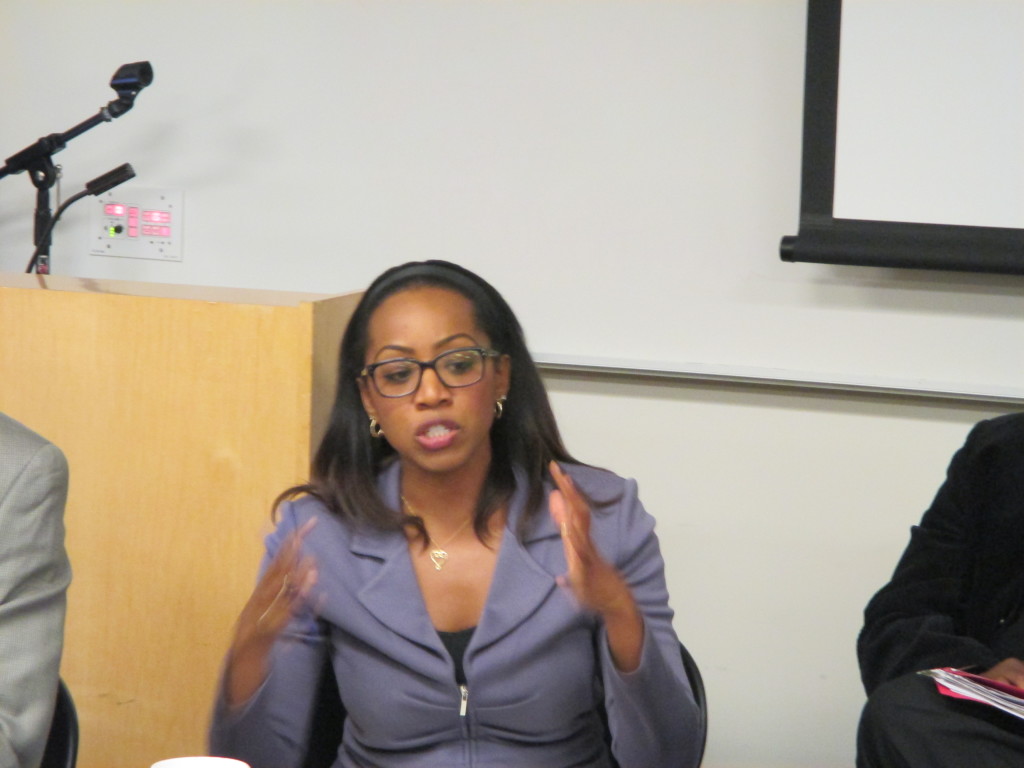 By Tim Redmond
OCTOBER 15, 2014 – Sharen Hewitt, who is a hero to many of us and was one of my choices for Bay Guardian local heroes a few years ago (and I can't link to that because: shutdown), sponsored a debate for pretty much everyone running for local office Oct. 9, and the theme was Equity.
The equity debate attracted a good crowd to USF on a busy night, and a whole lot of candidates were there – David Campos, David Chiu, Malia Cohen, Ed Donaldson, Tony Kelly, Shawn Richard, Emily Murase, Hydra Mendoza, Jaime Rafaela Wolfe, Trevor McNeil, Shamann Walton … everyone respects Sharen, and they came to talk about how to promote greater economic equality in San Francisco.
Which made for some interesting moments.
Chiu, who came early and had to leave early (and thus spent little time directly with Campos) made a speech about how "increasing inequality is the defining issue of our time." He made that speech just days after voting against a measure to make a $10 billion corporation pay $25 million in back taxes to San Francisco.
Donaldson, who is running for D 10 supervisor, talked about the pending changes in public housing that he referred to as "privatization." Cohen, who represents the district now and is running for re-election, said that's a misnomer: What's actually happening is that the city (which by all accounts has failed at running public housing) will turn some properties over to local nonprofits that have a record in managing affordable housing, but keep the title to the land.
It's a complicated issue: No question a lot of public housing is a disaster, and the federal government won't pick up the tab to fix it, and the city (which seems to have plenty of money for tax breaks for tech companies) can't find the cash.
So maybe the nonprofits will do a better job – but Tony Kelly, who is also running against Cohen, had some real concerns. "In the agreements," he said, "the land will revert to Wells Fargo if things don't work out. …everywhere there has been privatization of public housing, there has been displacement."
Then we had the Great Airbnb Debate.
Campos stood up and said that you could see the main issues of equity in the city by what happened at the Board of Supervisors a few days earlier – "The board voted to legalize the practices of Airbnb but not to collect the back taxes."
Donaldson immediately challenged Cohen: "Are you going to do something about this?"
Cohen: "Heck yes."
I was a little confused. Cohen voted against the Campos measure that would have forced Airbnb to pay its back taxes. The tax collector and the mayor have so far failed to take any affirmative action against the company, even though everyone agrees that those taxes are due. So she wants to do something – but when it came to a vote, she was with Airbnb.
I found her after the debate and asked her to clear things up. "Don't be confused," she said. "The industry needs to be regulated and I think we should be going after the back taxes."
But, I said, you had a chance to do that – to make the legalization of a very lucrative industry contingent on payment of those taxes. One vote would have changed the outcome; one vote (hers, for example) would have forced Airbnb to pay the city $25 million.
"That's not the only way to get there," she said.
Okay, fair enough – you don't like the Campos approach. So how do you suggest we collect those taxes?
"I haven't figured that out yet."