Before her appearance at the As You Like It party, Sat/7, the outspoken Chicago DJ talks about house legends, Quebecois disco, true Menergy, and the permanence of women in electronic music.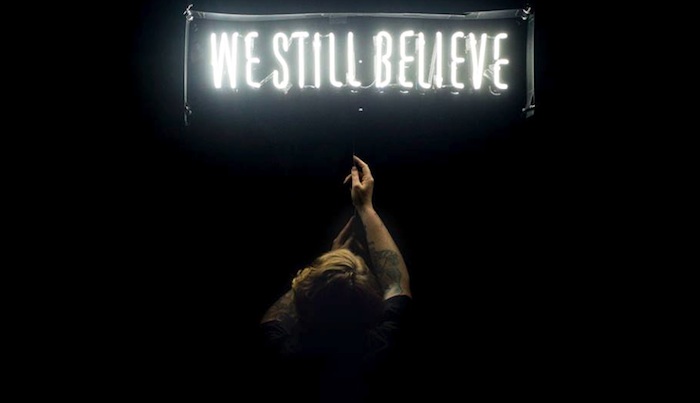 By Marke B. 
PARTY RADAR Marea Stamper was born in Appalachian Kentucky, raised on rave (her first was at age 14), and all-in for dance music from the very beginning. In the past decade, she's made her home in Chicago and become a supernova on the dance scene — rising to become the talent buyer at Smart Bar, the legendary 30+-year-old club, putting out a string of acclaimed records, and traveling the world with her unique blend of curveball beats. She's always down to drop slow funk, leftfield electro, jazzy rants, lost disco, hypnotic Afrobeat, or even cutting edge techno bangers into her sets, her impeccable ear guiding everyone to a higher state.
She chose the name The Black Madonna, she told techno site Resident Advisor, because "The Black Madonna is an interesting figure, and an idea my mom was really interested in when I was growing up. She really loved her, and we had both read a book about the Black Madonna when I was a teenager. I always felt really close to some of the ideas in the book, and I think one of the things that I feel is a vacuum of femininity in dance music."
One of my favorite aspects of the Black Madonna's approach is her refreshing honesty and outspokenness when it comes to political issues — things that have sadly fallen by the wayside in this age of bland, business-y DJ personalities. She's let her thoughts be known on subjects like Ferguson, immigration, healthcare, the Republican party, and especially issues concerning women. She's also a sparkling presence in any conversation. Her words inform her music and vice versa.
So it was nice to have a brief chat before she touched down to play the As You Like it party this Saturday with techno princes Robag Wruhme and Dan Bell (and her fellow Chicagoan Olin).
48 HILLS You have some fabulous ties to SF. At the Deviants party after Folsom Street Fair with Honey Soundsystem, you played a set brimming with tunes from late local disco genius Patrick Cowley, with legendary hi-NRG singer Paul Parker taking the stage, and you've been back a couple times since….. 
THE BLACK MADONNA I love SF. It's the only other American city I think I could live in. You know, before I knew the Honey Soundsystem guys there and before I started playing a bit more in Europe, I really didn't have a lot of friends that loved this kind of music in the way that I did. DJ Chrissy (FKA Murderbot) and Olin were my main dudes that really got me into Cowley and Quebecois disco and eurodisco.
I learned a lot honestly just by being Chrissy's friend. He's a genius and a walking encyclopedia of dance history. Finally getting to come around full circle to that community of people who shared, not only my values, but my passion for these sounds was relieving. It was also vindicating, frankly. I'd stayed my course and pursued the things I cared about. To be in the room with so many people [at the Deviants party] that got it was huge for me. They knew Paul Parker was a star! It just felt like family. That has continued to be my experience every time I'm in the area. It's home.
48H Smart Bar recently held an emotional tribute to house legend Frankie Knuckles, really the progenitor of house music, who helped start the club in 1982, and was a resident there when he suddenly passed away last year. I was crying watching all the posting from the night on Facebook. Can you tell me what that night was like? 
THE BLACK MADONNA There were a lot of tears. I don't want to share a lot of it, because much of it went on behind closed doors, but that room was filled with many of Frankie's lifetime friends and some new kids on the block like myself.
I think a lot of people are still trying to figure out what to do with themselves in the wake of his absence. We had the private memorial, but I think a lot of people were just stunned at that time. This was the first time a lot of people gathered to celebrate his life in this particular way. It was joyful, but it was incredibly difficult even for me. I can't imagine what it was like for [Smart Bar owner] Joe Shanagan, [Frankie's manager] Frederick Dunson, [Frankie's musical partner] Jamie Principle, etc.
We have a wall of fame in the booth, portraits of our heroes and heroines. Of course Frankie is there too. Someone had lit a candle under his picture. When I saw that, I had a moment. We had a lot of moments.
48H You especially believe in the power of dance music to represent political engagement, especially in terms of diversity and representation. What are you feeling needs to be addressed most at the moment?
THE BLACK MADONNA Wow. There's a lot I could say here, but right now we've just announced the "Daphne" series of events at Smart Bar, which feature women headliners throughout the month of March. Our unofficial motto for the series is, "Women have always been doing things" which comes from a great piece by Melissa McEwan. There's a really ragged story that runs about once a month, it seems, in various dance music publications that says something like "Women Finally Doing Shit In Dance Music." Breaking news!
I am concerned about this narrative because A) it is a total fucking lie and B) it is a lie that paints women as being perpetually in their infancy in electronic music. Women have always been doing things in electronic music.
You can start in musique concrete and work your way up to Wendy Carlos. People love to talk about papa Giorgio Moroder and sell this paternalist history of electornic music. Wendy helped build the synthesizers that Moroder used to make those records. And that is not to take away from what he did, which was revolutionary, groundbreaking work. But women have always been doing things and there's no Giorgio without Wendy.
And for what it's worth, I learned there were a lot of Wendys. Reading more about our secret history in electronic music was a gift to me. I come from somewhere. I don't have to be the new shit. I have role models. I know women who have spent their lives in this music that are now the elders of our tribe. I want to get that message out. There are so many of them us the bedrock of electronic music. [Disco ground zero] The Loft was managed by a woman for god's sake. You never hear that. We've have been here the whole time!
48H Right on, I had no idea! OK, in parting, give us one of your favorite tracks of the moment, as a taste of some of what we may hear at the party this weekend.
THE BLACK MADONNA I've been pounding Olin's remix of Covio's "Turkey" on the god particle label. He and I always call that hard hypnotic shit "muscle trance." I love it. But everyone already knows Jason [Olin]'s the best.
AS YOU LIKE IT WITH THE BLACK MADONNA, ROBAG WRUHME, DAN BELL, AND MORE
Sat/7, 9pm-5am, $20
Public Works
161 Erie, SF.
Tickets and more info here.