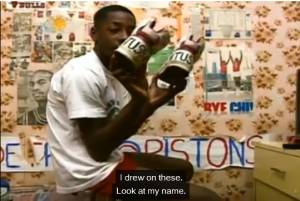 I have enough faith in 48 Hills readers to know that you are not reading this with a wack sombrero on your head and a gratuitous shot of tequila at your side. Cinco de Mayo, though it's been adopted by many, is to Mexico as St. Patrick's Day is to Ireland: a bizarre holiday largely made up by United States beer companies. (More on its actual historical significance here.) So turn away from that Corona special at your neighborhood bar, it is not for thee.
There's plenty to do this week though, if you're interested in supporting legit cultural enterprise. Here's your calendar for max artistic stimulation.
>>RECLAIMING CINCO DE MAYO: LA CULTURA CURA CULTURAL ARTS CAFÉ SOFT OPENING, TUE/5
Spend the afternoon celebrating the soft opening of this Fruitvale café within local non-profit Communities United for Restorative Youth Justice. La Cultura Cura Cultural Arts Café will employ youth that have been victims of our prison industrial complex, and organizers have established a business relationship with Chiapas coffee farmers to ensure that your cups are part of a socially conscious supply chain. The opening today will feature "Dignidad Rebelde," a graphic arts collab between Jesus Barraza and Melanie Cervantes.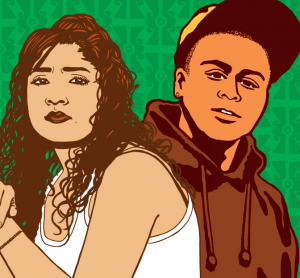 The event is also meant as a celebration of the fact that Oakland is the first city to defeat proposed gang injunctions that would have curtailed the rights of over four dozen local residents.
Tue/5, 4-8pm, donation suggested. Communities United for Restorative Youth Justice. More information here 
>>V. VALE AND ED HARDY IN CONVERSATION, TUE/5
Forget the ostentatious clothing brand he's no longer attached except by name, legendary tattooist Ed Hardy is both an SFAI graduate and cultural historian. Today he's in conversation with the founder of counterculture SF publishing house RE/Search.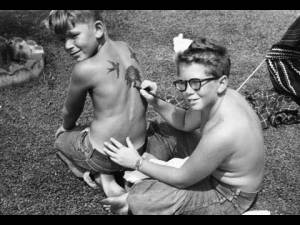 Tue/5, doors 6pm, talk 7-8pm, free. SFAQ Project Space. More information here
>>BLOW UP: INFLATABLE GROUP SHOW, THROUGH JUNE 21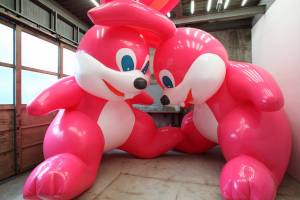 This Walnut Creek gallery affords you the chance to wander through a room of towering blow up bunnies, reclining Buddhas, and muscle cars. Air as art, bruh. Featuring pieces by Guy Overfelt, Claire Ashley, Lewis deSoto, and more.
Through June 21, $5. Bedford Gallery, 1601 Civic, Walnut Creek. More information here
>>JENNIFER LOCKE PERFORMANCE, THU/7
This performance artist dabbles in bodily fatigue through her physically rigorous pieces, in which she's obliterated her form with opaque white paint (Black/White (Glue), 2009), jump roped in head to toe latex fetish wear (Fountain: Sweat, Piss, and Water, 2007), and presented a studly male stripper to art crowds (Felo de Se, 2008). Get in with her today at SFAQ's ever-entertaining project space downtown.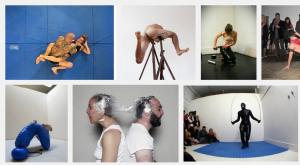 Thu/7, doors 6pm, performance 7pm, free. SFAQ Project Space, More information here
>>BETWEEN OURSELVES AGAIN; MICKALENE THOMAS IN CONVERSATION, FRI/8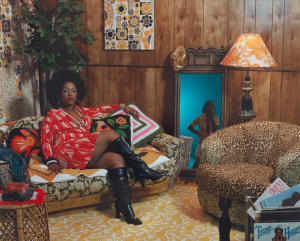 Thomas, a collage portraitist of decadent hues, had created a luxe 1970s style living room within MoAD featuring a selection of her works portraying Black womanhood. She is live in conversation today with art theorist Derek Conrad Murray. While you're at the museum, swing through "Portraits and Other Likenesses," a collection of over 50 pieces that opens today and explores how artists navigate identity to self-represent. The works include the greats: Carrie Mae Weems, sound sculpturist Nick Cave, and again, Thomas.
Fri/8, 7pm, $10. Museum of the African Diaspora, More information here
>>HOOP DREAMS, SAT/9 AND SUN/10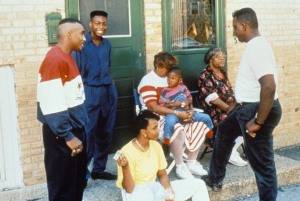 This 1994 documentary followed two young basketball players with pro aspirations for five years, tracking their ups and downs. It's a groundbreaking look at culture in the United States and is widely considered one of the best sports movies ever made – its snub by the Academy Awards may go down as one of the Oscars' most bonehead moves of all time. Check the restored version at YBCA this weekend – the screenings are part of its "Basketball Jones" cycle of hoops flicks that'll also include Lenny Cooke, From Deep, and Doin' It in the Park: Pick-Up Basketball NYC.
Sat/9 and Sun/10, 2pm, $10. Yerba Buena Center for the Arts. More information here