Bill to slow evictions gets kicked back to September as Wiener and Cohen express concerns about the impact on landlords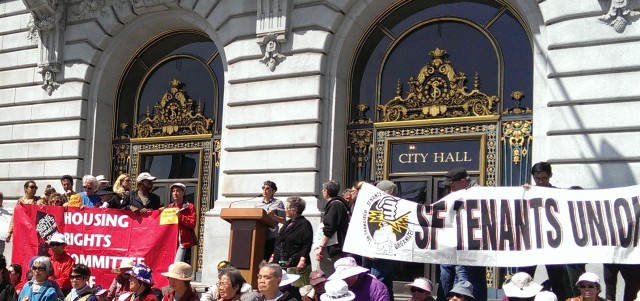 By Tim Redmond
JULY 27, 2015 – After more than two hours of impassioned testimony and stories about insane and unfair evictions, the Board of Supervisors Land Use Committee put off action on a tenant-protection package until early September.
Sups. Malia Cohen and Scott Wiener voted for the delay; Sup. Jane Kim, the author of the legislation, voted to move it to the full board for consideration tomorrow.
But that won't happen – and the comments by the committee members were a signal of some of the issues that will come up over the next month as Kim tries to rally support for what might be the most important set of eviction-protection laws the supes will consider this year.
The package is aimed in part at the increase in what tenants call "low-fault" evictions – that is, evictions based on minor, easily corrected, or very old problems that are a pretext for getting rent-controlled tenants out of their homes.
As Kim pointed out, there were 2,120 eviction notices filed in the 12 months ending Feb. 28, 2015 – a 67 percent increase in just two years. The number on cause of eviction: Breach of Lease. The second cause: "Nuisance."
Those, she said, have included claims that tenants have carried bicycles through common space, have hung laundry out to dry from windows, or have left shoes or a baby carriage in a hallway.
Problems like that can easily be corrected, she said – and her law would allow tenants to fix any problems instead of facing eviction for them.
It would allow tenants to add room-mates as long as they don't exceed the legal occupation limits of the unit.
She also said that some tenants are being evicted from places where they have lived for years – even though the property isn't legally zoned for housing. In the case of 1049 Market, she said, we could see "the largest eviction since the I-Hotel."
And there are growing number of evictions where the owner or a relative wants to move in – legal grounds for eviction, of course, but a loophole easily abused. In many cases, that relative lives in the place for a few months, then it goes back on the market at much-higher rent.
"Speculative landlords are making money by evicting people," Kim said.
Her bill would require the landlord to produce evidence for alleged nuisances, a chance for tenants to correct the problems, and state that the fact that a building isn't zoned for housing is not in itself grounds for eviction. The landlords at 1049 Market, she said, have been happily collecting rent from residential tenants for years when there were no commercial tenants who wanted the space. Now that the office market is booming, they are suddenly complaining that those renters are in the space illegally.
She would also mandate that when a tenant is evicted for an owner move-in or for repairs and renovations, the landlord could not charge a new tenant more than the old rent. That would eliminate the incentive for bogus evictions. There were, as always, some landlords who showed up to say that the law would be an affront to their property rights; one said that Kim's proposal  is "vicious and vile" and would "rob the homeowner of the property and give it to the tenants."
But it's really hard to argue in this market that any landlords are suffering.
"We were very careful to narrowly tailor this to protect tenants who need protecting," she said.
But Malia Cohen, who earlier in the day flipped her position on mandating that new second units can't be used for Airbnb rentals, said that she was concerned about properties in her district that have been illegally converted from single-family homes to multi-unit rentals. "There are instances," she said, "where tenants should not remain in illegal units."
Wiener said that he was most concerned about "breaches and subleases." While he agreed that some nuisance evictions were inappropriate, he said the language of Kim's measure was too broad. And he said it would "effectively override the provision in any lease that limits the number of people in a unit."
So now the whole thing is punted to the fall – although tenants are getting evicted every day. The supes seem happy to pass other bills that they agree aren't perfect – but not when it involves emergency-level tenant protections.