Police Chief Greg Suhr and Captain Gregory Yee, who oversees department training, discussed changes in use-of-force training tonight that strongly suggested that the shootings of Alex Nieto and Mario Woods did not meet the most modern, current standards – that is, under the standards the department is now trying to adopt they shouldn't have been killed.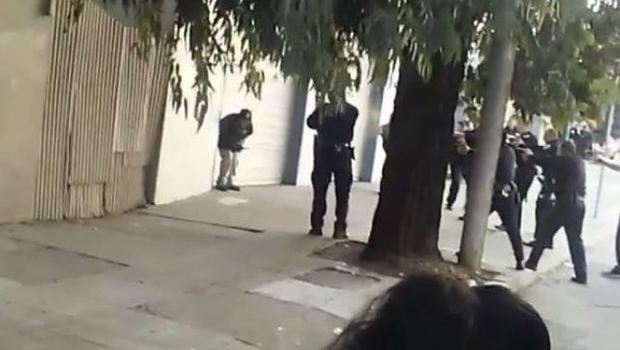 Among other things, Yee told the Police Commission that new recruits at the Polic Academy, and soon the rest of the officers, will be taught to stop firing after two shots to reassess the situation "and determine if there's still a threat."
In both the Nieto and the Woods shootings, numerous officers fired multiple rounds without stopping, and the barrage of bullets pretty much ensured that neither of the young men would survive.
The commission was hearing the department's new policies, and Yee made it pretty clear that the past policies in similar incidents, which he described as "shoot, shoot, shoot," need to be changed.
That's a positive change, and police-accountability advocates were probably (cautiously) cheered to hear that things are improving.
But if you're the family of Alex Nieto or Mario Woods, it was a bit chilling: The message the senior officers delivered was that those two shootings, while possibly within existing training guidelines, were not proper.
In fact, Suhr that in the new training guidelines, officers will be told that, particularly with suspect carrying a knife who is not an immediate threat to others, "if you decide to back out and not to engage, you will have fulfilled your duty."
He said, "If they have an edge weapon, and might be a danger, there's a chance to back off."
Suhr described in positive terms the lessons that an SFPD representative learned in the United Kingdom, where most officers are not armed and there is an emphasis on "tactics, de-escalation, and the sanctity of life." He added: "The object in the end of the threat, not to take a life."
More: "We learned [from the UK] that if you pull a gun on someone with a knife and you say three times to drop the knife, and they don't do it, they are going to drop it and you have to do something else."
Nice, sounds great. Thanks, Chief.
But in the Woods case, that's exactly what happened: Woods didn't drop the knife, and instead of "doing something different" the officers opened fire, and fired repeatedly, more than 20 shots. Nobody stopped after two shots to see if the threat had been eliminated. Nobody de-escalated. The sanctity of life was not the primary goal.
In other words, under the standards that the chief and his top training officer say are going to be in place for the future, Woods should never have been killed.
You can make the same argument for Nieto, who was shot over and over again, long after he was down on the ground. There was no de-escalation, just, by all accounts, an order to drop a weapon that turned out to be a Taser, and then lots of cops firing lots of rounds until there was no chance the guy could survive.
Two shots can be lethal, and often are. But there's more of a chance of survival if the suspect isn't riddled with bullet holes. That, of course, is the reason that SFPD now thinks officers should slow down the firing squads. Would Alex Nieto be alive if he'd been hit twice instead of 14 times? I don't know. But the odds would have been better.
The point here is that the police brass seems to be admitting, after the fact, that the recent shootings were wrong, that better and more modern training might have prevented them.
Yee told the commissioners that in the future, instead of telling a suspect to drop a knife, officers should ask him "why do you have a knife. And if he says it's because the green monsters crawling out of the sewer are going to kill him, you can act appropriately."
But it's 2016, and the UK has had these policies in place for many years, and law-enforcement experts have been talking about de-escalation for a long time – and why did it take this long for the SFPD to figure out that shooting first and asking questions later is a bad idea?
Why are two young men dead when the chief seems to be saying that the training that led to the shootings was outmoded and needs to be changed?
It's fine to fix problems after they happen, which is a tradition in American politics. We all learn from mistakes. And since there are lawsuits, I suppose the mayor and the chief can't turn around and say: We screwed up.
But they just did that, in effect. And still, nobody involved has been held accountable.