The battle for the future of the Democratic Party in San Francisco showed up in clear relief last night as the panel voted 18-11 not to radically change its bylaws – and the members allied with or appointed by Chair Mary Jung voted in lockstep for the changes.
It would have taken a two-thirds vote to change the rules just after the filing deadline, a move that would have altered the outcome of the June election and made it more likely that Jung, who is a lobbyist for the Association of Realtors, would retain control of the party.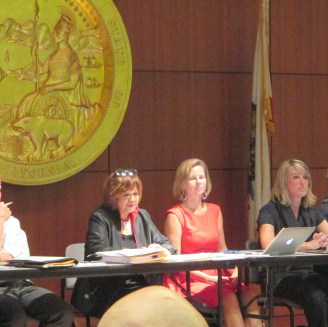 The 18-11 vote was exactly enough to block the change, which will now go to the Bylaws Committee for further discussion.
That means the June election will select a new panel under the existing rules, and at some point after that, the new committee can discuss a wide range of bylaws changes, including campaign-finance reform, conflict-of-interest provisions, and a lot more.
DCCC Member Alix Rosenthal, who proposed the measure, said it was a good-government plan to allow more grassroots activists to play a role in running the party.
The change would have made the mayor and all of the supervisors automatic members of the panel, meaning that sitting supervisors who filed for election to the office would have the results of the election overruled and the chair would be able to appoint people to those slots.
The change would have mandated that the chair appoint the highest vote-getters who didn't make the final cut.
Even opponents of the plan said that the bylaws need reform – there are no limits on conflicts of interest on the panel, and, for example, campaign consultants can vote on measures they are being paid to support or oppose.
There are no limits on campaign contributions.
And DCCC meetings are not recorded, much less streamed on the Internet, so it's hard for many people to see what's happening and keep track of what the elected members are doing.
But in this case, the rules would have been changed shortly after the filing deadline – so people who filed to run for office would be running under different rules than were in place when they signed the paperwork.
The party-line vote sent a clear message.
"This is one of the worst things I've seen in San Francisco politics," Sup. David Campos, a DCCC member, told me. "The existing majority tries to retain control by changing the rules at the last minute. It's like we're some sort of banana republic."