In a somewhat surprising move that indicates an election-year shift at City Hall, a measure by Sups. David Campos and Aaron Peskin that will force Airbnb and other short-term rental platforms to reject illegal listings won a unanimous vote at the Board of Supes.
The drama ended early, when after Campos introduced the measure, Sup. Scott Wiener – who has always sided with Airbnb in the past – said he would support the bill.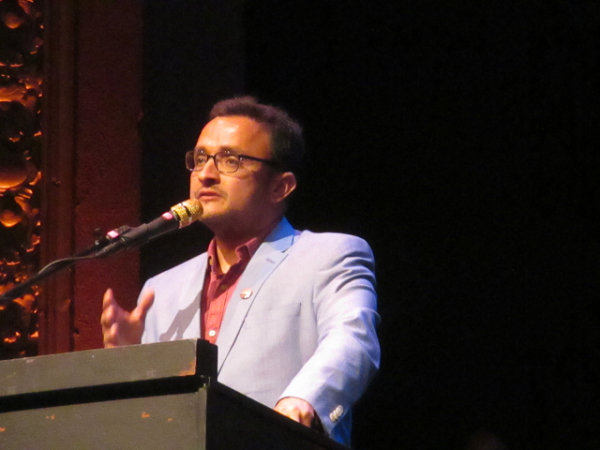 He offered a modest amendment, calling on the Office of Short-Term Rental Enforcement to make the process of registration easier, which Campos accepted.
Then one by one, the supes all voted Yes, with very little debate.
Sup. London Breed opposed almost the exact same legislation last year. She voted yes.
And this came after Airbnb's allies argued that the measure was illegal (possibly foreshadowing a lawsuit to invalidate the law).
The office of Mayor Ed Lee had hinted that a veto might be possible from a mayor who has supported Airbnb from the start. But that doesn't matter anymore – it takes eight votes to override, and there are ten. So it's likely that Lee will simply allow the bill to become law without his signature.
The vote was an acknowledgement that short-term rentals are impacting the housing stock in the city, and are causing frustration for residential in all parts of town. It may be a sign that the tech industry, despite spending a fortune on local politics and lobbying, can't overcome the anger that San Franciscans feel about displacement and the loss of economic diversity.
Now it's up to the city to enforce the new rules, which will probably mean assigning someone to cruise the various sites and look for places that don't have a registration number.
If Airbnb or its allies decide to sue the city (on the claim that the Communications Decency Act absolves host platforms of responsibility for user content) it's just going to create more distrust for the company in its home town.
There's a better option for all of these platforms: Just comply with what the city wants, and what makes reasonable sense. You can't buy a gun on Ebay (although there are other less credible sites that allow that); Ebay figured out, as did Amazon, that it's not a good idea to encourage some dangerous and illegal activity on their sites.
Airbnb could do the same.