ONSTAGE The first thing you should know about the New Conservatory Theatre Center's spiffy new makeover is that there's a cocktail named after a sex club. Yes, from behind the lovely white bar in the renovated lower level space near Van Ness and Market, you can order "The Works" — a mixture of gin, lime, simple syrup, and Eucalyptus bitters, inspired by Berkeley gay bathhouse Steamworks.
That drink — fizzy, simple, effective, yet served with humor and a relevant twist — well describes Harvey Fierstein's latest play Casa Valentina, running through this weekend in a sharp, moving production directed by Becca Wolff. Stepping from NCTC's super-sleek retooled lobby into Valentina's world of heterosexual transvestite men in a rundown Catskills hotel in the 1960s is a bit disorienting at first, but the momentum of the play and the gameness and overall excellence of the players soon whisk you away like a twirled frock.
The play is based on an actual rustic country inn called Chevalier d'Eon, aka Casa Susanna after its male owner, which hosted gatherings of "girls" itching to cast off their workaday clothes and slip into something more comfortable (if often a bit, er, fashion-adjacent). Fierstein brings a fine bunch of gals of varying ages and experience together to flit and frolic and, with his trademark zingers, many paying corny homage to the classic Jewish Catskills "Borscht Belt" circuit, fixes them in your heart. Watching over this lovely idyll of harmless freedom far from the repressive eyes of society are owners George aka Valentina (sweetly played by Paul Rodrigues) and his fabulously supportive wife, Rita (a matronly and affecting Jennifer McGeorge).
Ah, but of course there's a snake in the garden. And it's Fierstein's great insight to show the birth pains of identity politics through this often overlooked subculture, throwing the Casa into turmoil with the arrival of determined, hard-headed Charlotte (a perfectly hissy Matt Weimer). A literal bigwig in the transvestite scene who travels the country attempting to unite its crossdressing pockets into a grand political sisterhood aimed at publicizing and thus normalizing their "peculiar habits," Charlotte decrees that the men must come out publicly in order to live freely.
That doesn't sit well with some who still hide their true selves from their families and neighbors, or who have spent years cultivating "complex relationships" that allow them to slip off for weekends in slips without uncomfortable conversations with wives or business partners. As one older, grandmotherly character (the delightful Michael Moerman) puts it, they've built up their own lively culture in the shadows, why pull up the blinds and risk watching it all melt away?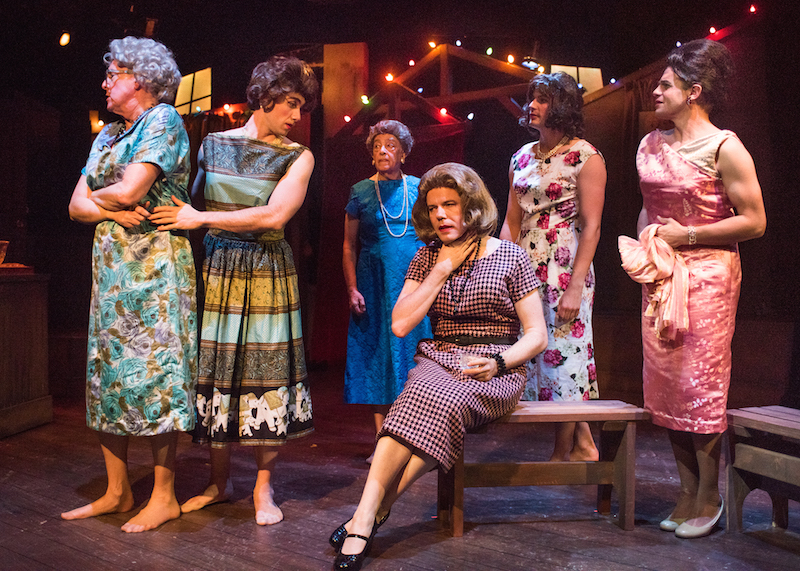 But Charlotte wants to go even further: She sees the major obstacle in the march to transvestite acceptance as any hint of homosexuality. The sisterhood is just everyday, family-centered heterosexual men who happen to love dressing up. Any association with sexual queerness, carrying with it illegal status and societal disgust, must be banished. When the others touchingly rise up to defend homosexuals, pointing out they the gay community has always supported the transvestite one, Charlotte utters the most chilling line of the play: "Fifty years from now, when homosexuals are still scuttling about as the back-alley vermin of society, cross-dressing will be as everyday as cigarette smoking. And transvestites everywhere will celebrate those in this room for making the hard decisions that led to their liberation."
That stunningly errant prophecy reveals just how much the world has changed — but precisely because homosexuals took the step to come out of the shadows that the earnest if intolerant Charlotte prescribes. There are other telling moments in the play that lay bare Fierstein's ambitious agenda, no less than a re-examination of many of the arguments still roiling the gay community as it struggles to achieve equal status, but the playwright is smart to keep things small-scaled and character-focused (Tim Huls' awkward newbie and Tom Reilly's judge are both very well-drawn).
There's more drama to come, too. Throughout, you never forget how much is at stake for these characters if their proclivities are revealed. And how far now, I wondered, have transvestite men come in terms of societal acceptance — and how many of them want that, anyway? 
Casa Valentina runs through Nov. 6 at the New Conservatory Theater, SF.  Tickets and more info here. 
***********************
From a world that considered anyone different a "freak" to one where freaks are celebrated: The Thrillpeddlers' annual Shocktoberfest is back, proving that spooks don't evaporate on the stroke of All Souls Day — Shocktoberfest runs through Nov. 19. Halloween is basically a month long in San Francisco, and that's OK.
As always, the night is presided over by director/ringleader Russell Blackwood. (Pyramid of Freaks was co-directed by Noah Haydon). This time around, audience members were given Halloween-themed Chick Tracts as they entered, a sacrilegious nod to demoniacally obsessed Christian Jack Chick, who died last week. Great! 
The 17th installment of this beloved show — a night of creepy skits that resurrects the tradition of Grand Guignol, with fake blood, spectral effects, and sometimes hilariously anachronistic props — goes more gothic than usual, kicking off with a tale from 1903 by Marc Bonis-Charancle, "The Haunted House," that drenches the crowd in good-ol' campy-eerie atmosphere. It's fun to feel plopped directly into a thriller from more than a century ago, a kind of double ghost story that makes up for its lack of adrenaline-fueled twists with perfect early Edwardian atmosphere.
From there we get a Twilight Zone-y tale of addiction spiraling out of control ("The Hellgrammite Method") and "Pyramid of Freaks" a tale of twisted love and graphic murder set among a carnival sideshow. But the centerpiece is "Demon Train to Sodom" — a wild and wildly, uproariously uneven Chick Tract homage penned by Thrillpeddlers resident genius (and former Cockette) Scrumbly Koldewyn. What starts as a farmer's daughter tale, albeit with buggery in the beet fields, soon turns into a Satanic orgy/musical extravaganza, complete with surprise penile appendages, mind-controlling pesticides, a giant meat-grinder, and, as usual with the wonderful Scrumbly, a climactic number that manages to impart an uplifting moral about the nature of good and evil. This one even applies to the election.
Part of the Thrillpeddlers' charm is that the company tries its darnedest, even when the performances and sets don't always hold together. (James Jeske as a crazed lover and Dan Foley as an alcoholic with a big secret inside him are great in their potentially hammy roles.)  Most Valuable Players here are the musicians, this time the Vagabondage quartet, which bring a retro-country twang to the proceedings and help the narratives along. It's a wild ride, one that may leave you with a splash or two of fake blood or other substance, but its still one of the most comfortingly freaky freak shows in SF.                 
Shocktoberfest: Pyramid of Freaks plays through Nov. 19 at the Hypnodrome. Tickets and more info here.