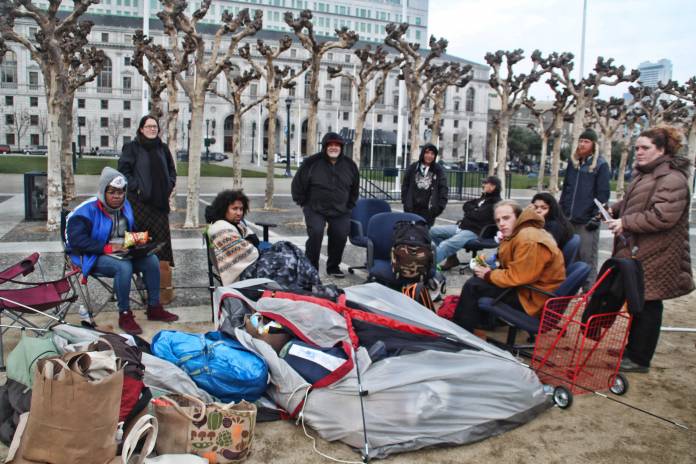 On the second day of the #120hours of action, 11 San Francisco natives are still sitting in across the road from City Hall. Tents were taken down and folded up this morning to respect the city's law against encampments, but protestors remained determined to continue until Friday. 
Protestors say they will camp for 120 hours to pressure District Attorney George Gascon to indict officers involved in police shootings. Activists will also be joining protests against Trump's presidency on Friday. 
The eleven San Francisco natives include musicians, teachers and activists: Max Leung, Ike Pinkston, Illyich Sato, Julia Retzlaff, Sachel Rozen, Angela Rey, Shelby Baizar, Christian Ceron, Sam Gabel, Darrell Rogers and Martin Harrera. Protestors are hoping that more people will join them. 
Darrel Rogers, 70, is camping out until Friday & has a message for the DA "Gascon do your job" #120hours pic.twitter.com/tDiD4LMjvE

— Sana Saleem (@sanasaleem) January 18, 2017
Seventy year old Darrell Rogers is one of the eleven. He's a former civil servant and an active member of the Mario Woods coalition. Rogers said he feels it is important to protest the upcoming presidential inauguration and to pressure District Attorney George Gascon to indict officers involved in shootings: "I am sitting here in front of City Hall as part of the Martin Luther King celebration and at this point we really are saying to ourselves what do we have to celebrate? when black and browns are still being murdered, the homeless is still unhoused. There's elected official threatening to take away health care," he said. 
Rogers continued,: "We still haven't had any action out of Gascon as for the death of black and brown people in the city. So my word is Gascon do your job. People are dying, we just had another shooting just last week Gascon do your job!" he said. 
Gascon has long been criticized for not filing charges involved in the shootings of Mario Woods and Amilcar Perez Lopez. In Lopez's case activists alleged that DA Gascon told them all evidence pointed to officer misconduct but still failed to bring charges. The Justice for Amilcar Perez Lopez coalition published alleged text conversation between coalition leader Father Richard Smith and DA Gascon to back their claims and criticism of the District Attorney. 
Shelby Baizar, SF state student, is camping out for #120hours & wants DA to indict officers involved in Lopez shooting. pic.twitter.com/Xp8GKrN4xX

— Sana Saleem (@sanasaleem) January 18, 2017
San Francisco State Student and media liaison for the group Shelby Baizar is committed to camping out until Friday and urged DA Gascon to indict officers involved in the shooting of Lopez: "Amilcar Perez Lopez's case is on DA Gascon's desk and we want to apply pressure so we are here for that. Our demands are basically that DA Gascon do his job and indict these officers as well as give attention to the other ten cases on his desk. We know that by him doing his job is the first step," she said. 
The group spent the night at the Civic Center Plaza. They moved their tents when approached by SFPD officers and agreed to remove banners from trees. There's an open mic and people's assembly scheduled for 7 pm tonight. 
We've reached out to the District Attorney's office for comment and will be updating the story.