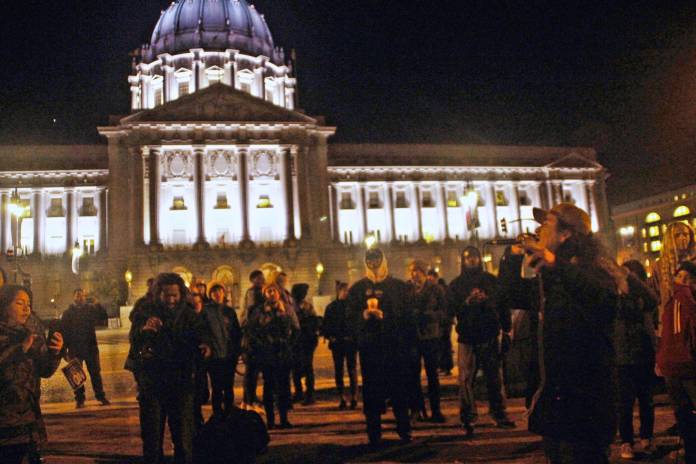 As part of the Bay Area #120hours of action to mark #MLKDAY and the upcoming inauguration of President-elect Trump, protestors occupied space outside Civic Center Plaza with tents on Monday night. Activists say they will continue to camp out for 120 hours to pressure District Attorney George Gascon charges officers involved in misconduct. 
For the past year, community members have held various rallies and protests to demand that DA Gascon charge officers involved in the shooting of Mario Woods, Amilcar Perez Lopez, Luis Gongora and Jessica Nelson Williams.
Eleven San Francisco natives, including musicians, teachers and activists will continue to camp across the road from City Hall until Friday. These include: Max Leung, Ike Pinkston, Illyich Sato, Julia Retzlaff, Sachel Rozen, Angela Rey, Shelby Baizar, Christian Ceron, Sam Gabel, Darrell Rogers and Martin Harrera. 
Illyich Sato, better known by his stage name Equipto, has been campaigning for police reform for several years. Most notably, Equipto was on of the five hunger strikers – more popularly known as Frisco 5 – who went without solid food for 17 days to demand the resignation of then SFPD chief Greg Suhr. Suhr eventually resigned after the officer involved shooting of Jessica Nelson Williams. 
SF state student & hunger striker Julia Retzlaff is one of the people who'd be camping outside city hall #MLKDAY #cityhall pic.twitter.com/bNcJWy4v9X

— Sana Saleem (@sanasaleem) January 17, 2017
Sato says he's determined to pressure the DA to take action: "We are here and will continue to put our lives on the line to demand that racist police officers are brought to justice." Sato said his fight for justice stems from the pain and grief of the mothers who have lost their children to police violence. 
A dozen people gathered around the tents across the street from City Hall as Sato rapped. San Francisco State Student Julia Retzlaff is one of the people joining Sato in camping out: "We are out here in front of City Hall demanding that DA Gascon indict the officers involved in police murders. The ten cases that are pending on his desk including the racist text scandal," Retzlaff said. 
"We are asking people to call Gascon's office and demand he indict the officers, this is not okay our communities are being brutalised and murdered in the name of gentrification and in the name of making money off the backs of people of colour. We won't stand for it. If they can't hold themselves accountable then people will," Retzlaff added, she is one of the four students that went on a 10-day hunger strike to protest cuts to the College of Ethnic Studies by their university San Francisco State. 
Rosen is a student from SF state who will be camping out infront of city hall for 120 hours to protest trump and "police state" pic.twitter.com/004PeriPiF

— Sana Saleem (@sanasaleem) January 17, 2017
Retzlaff is accompanied by another SF state student and hunger striker Sachel Rosen. Rosen says their protest is important specially in the light of Trump's upcoming presidency: "In this heightened fascist and heightened police state it's our responsibility to show what a Trump presidency would look like," he said.