To nobody's surprise, a committee dominated by conservative supporters of market-rate housing voted to send the mayor's deeply flawed plan to the full Board of Supes today, after testimony and discussion that showed how little this would do to help the housing crisis.
The plan would allow developers to build with increased density (and make smaller units), giving them more profit and supposedly encouraging (the word, although I don't even think it's really a word, that supporters love is "incentivize") them to build more family-friendly and affordable units.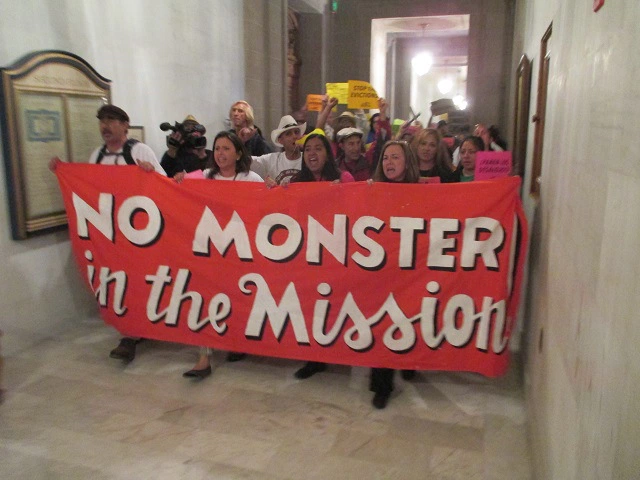 A family-friendly unit includes a two-bedroom place with 750 square feet, tiny rooms, and no yard.
Deepa Varma, director of the Tenants Union, put the problem very clearly:
"If I thought this would solve the housing crisis, I would be on the other side," she said. "This is a way for developers to make more money. You are trying to solve a market crisis with a market solution."
That about sums it up: The sponsors of this legislation think that if you give away enough to the speculative investors who make a lot of money building market-rate housing in San Francisco, maybe they will throw a few crumbs to the rest of us.
This has never worked, not in the San Francisco housing market, not in the American economy (think supply-side economics), not anywhere.
Jennifer Feiber, who also works at the Tenants Union, explained that tenants who live in below-market-rate units have to report their income every year "and pay the maximum amount they can afford." On the other hand, developers who get city favors don't have to disclose anything: "When they say it doesn't pencil out, we just believe them."
One of the more interesting aspects of this plan is that it exempts the Tenderloin, on the grounds that more study is needed to make sure that new high-density development won't drive up prices and rents in a low-income area.
Sup. Aaron Peskin noted that the median income in Chinatown is even lower than in the Tenderloin, and suggested that the bill exempt all areas where the median income is below the city average.
"That's not something I want to incorporate into HOME SF," Sup. Katy Tang, who is the lead sponsor on the bill, said.
Peskin: "Is there a policy reason for that?"
Tang had no answer at all, and there was about a minute of silence, before Kate Hartley, deputy director of the Mayor's Office of Housing, stood up and said that the current bill "provides more opportunity to have income mixing."
Seriously? Income mixing? Meaning more rich people in low-income areas? That's pretty alarming, since the evidence clearly shows that moving market-rate housing into low-income areas drives up housing prices for everyone and leads to more evictions.
So there are a lot of amendments that will come up at the full board, but this may be one of those defining votes where the six-five "moderate" majority, the members of whom think the same market forces that got us into the mess can solve it, dominates, and we are all reminded how much we lost in 2016 when the progressives couldn't hold the board majority.