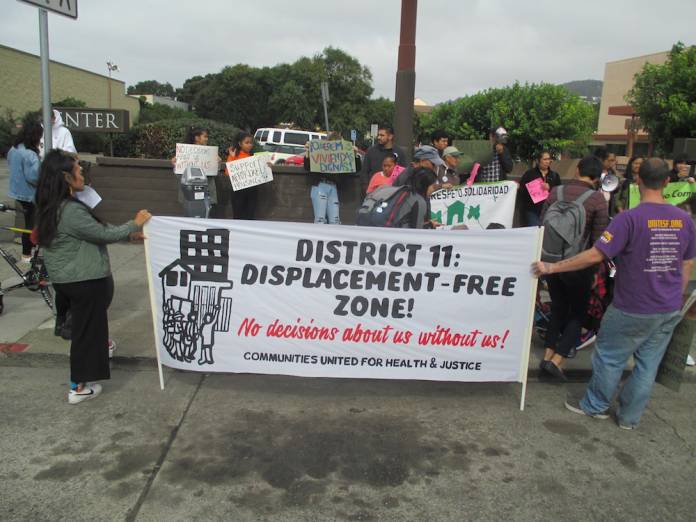 A deal to build an affordable housing complex in the Excelsior with a community health clinic on the first floor is now up in the air, and community advocates are complaining about "backroom deals" involving BRIDGE Housing, Safeway, and Sup. Ahsha Safai.
The Bridge project, which is set to turn an old funeral home at 4840 Mission into 134 below-market units, originally included Mission Neighborhood Health Center as a ground-floor tenant, Brenda Storey, the center's executive director, told me.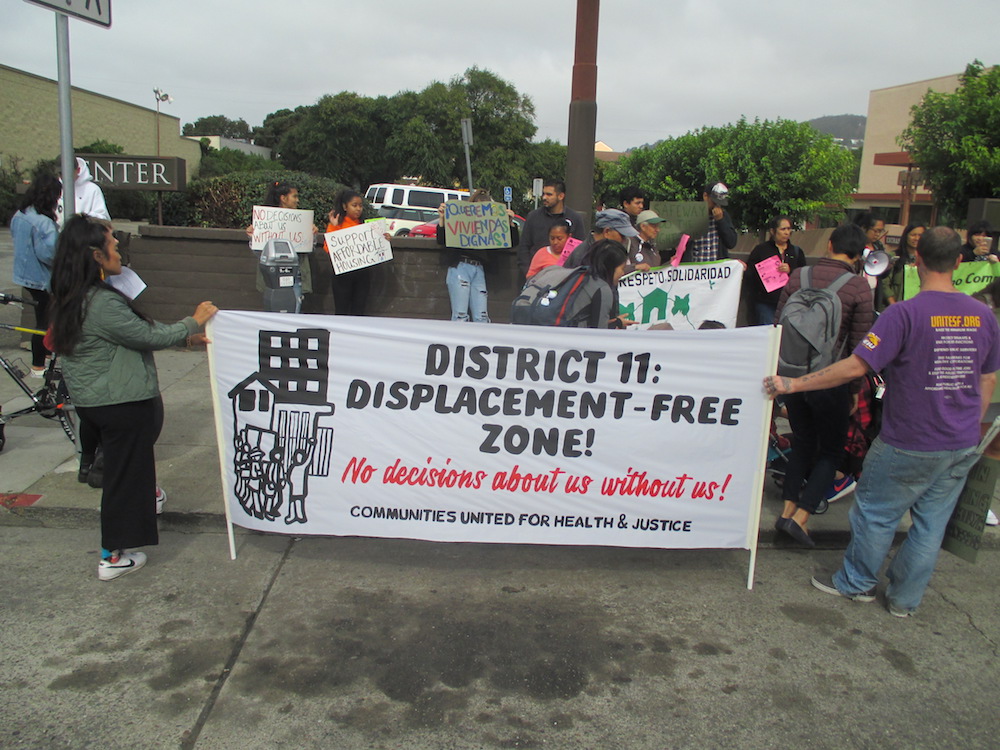 But a few weeks ago, BRIDGE officials called her into a meeting and said that the clinic would no longer have that space, she said. "They told me they were looking at relocating Safeway into the ground floor."
There's a Safeway right next door to the site — and according to activists who rallied Friday at the site, closed-door discussions have centered on moving that store into the affordable housing complex — which would allow a developer to build market-rate housing where the Safeway now stands.
The Safeway building is owned by the National Electrical Contractors Association Pension Fund. Nobody at that group could be reached for comment.
A handout distributed at the rally sponsored by Communities United for Health and Justice, said that the Emerald Fund, a prominent local developer, was interested in the property. Oz Erickson, the head of Emerald, did not return my emails requesting comment.
The main complaint from community leaders: The talks have been going on without them. "Our community is responsible for what happens here," former Sup. John Avalos said. 
Safai told me that he has, indeed, been holding discussions on the project and that the concept of "a grocery store" on the ground floor was on the table:
Because we are in a housing crisis and particularly an affordable housing crisis I've been talking to as many people as possible about how we could fully maximize any proposed developments in my district, including 4840 Mission. We have been listening to ideas on how to expand the opportunity to enhance community benefits at this site, including a grocery store. Whatever the outcome I support 100% the Mission Neighborhood Health Centers place in any project that would be built and only adding affordable housing to the original proposal.
And BRIDGE in effect confirmed that there are talks about changing the original scope of the project:
Kevin Griffith, director of business development, said:
A permanent home for Mission Neighborhood Health Center's Excelsior Clinic is fundamental to our development and we have no intention of changing that. There is a potential opportunity to expand our  project to include additional neighborhood benefits, including more affordable housing and a brand new grocery store, and it would be irresponsible not to investigate the possibility fully. The only reason we would consider and support such a proposal is if there were a significant increased benefit to the community. We need to bring the community in to the conversation as we always do on our projects, but we cannot begin the conversation until a feasibility analysis has been completed—we expect that to occur within the next few weeks. We look forward to discussing 4840 Mission with the entire neighborhood as soon as possible.
If those responses sound a bit cryptic to you, you're not alone.
Among those at the rally were representatives of the Chinese Progressive Association, Chinatown Community Development Center, National Union of Healthcare Workers, June Jordan School for Equity, Alliance of Californians for Community Empowerment, and La Colectiva de Mujeres.
So it's clear that something is going on with this site, and that the neighborhood so far hasn't been involved — and that a fair number of folks are unhappy. As one speaker at the rally said, "Safai forgets that he is a public servant. He needs to sit at the table with us."