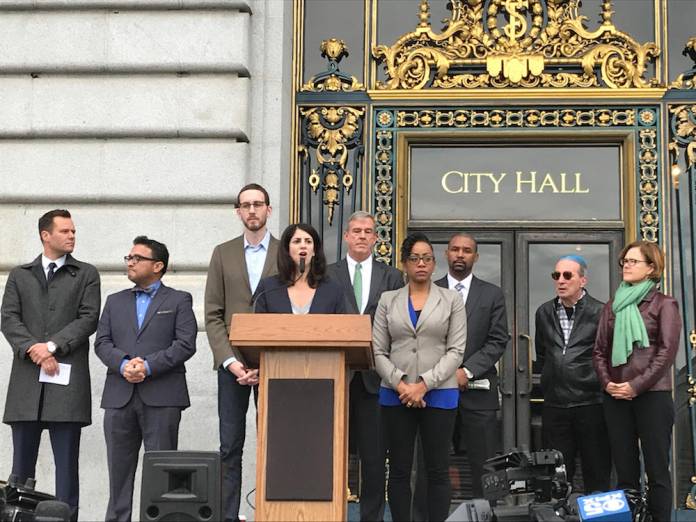 A press event on the steps of City Hall brought together an unlikely coalition of San Francisco politicians to speak out against recent developments in the city's cannabis regulations.
"The dominant narrative that we've been hearing at City Hall over the last few months has been very negative towards cannabis, and as elected officials [who] believe that cannabis can bring many, many positive things to San Francisco, a city that's always been a leader on this issue, we wanted to come together today," said District 9 Supervisor Hillary Ronen to kick things off.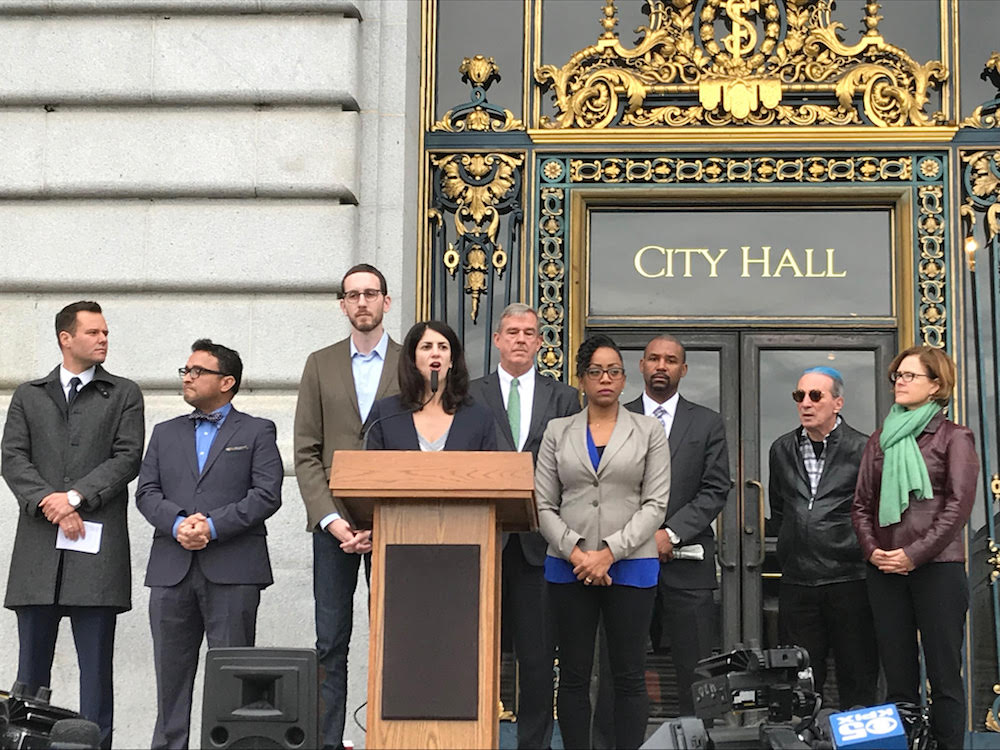 You can add "bridging San Francisco's moderate/progressive political divide" to the list of incredible things cannabis can do. Ronen was followed at the podium by Scott Wiener and David Campos, local politicos who usually seem to come out on opposite sides of most issues.
Today they were in lock step.
"The Campos/Wiener team is back together," Campos joked.
Malia Cohen, Jeff Sheehy, Tom Ammiano and members of the City College and school boards filled out the cast on the steps, assembled to make a show of solidarity against a surprising and problematic recent turn in the city's efforts to make legal weed a reality.
Hearings on cannabis regulations in recent weeks have encountered a surge of anti-cannabis rhetoric. At a Planning Commission hearing in October, an estimated 600 people showed up to give public comment, a vast majority of them wearing matching hats and making matching statements. The gist of these statements: cannabis is bad, and it hurts children.
"The 'protect the children' argument is obscene," said Campos. Wiener compared the tone of this opposition to "reefer madness."
The regulatory package, introduced by the mayor and since heavily amended, will be the subject of a full board vote next week. The most contentious debate surrounds the size of a buffer zone between recreational cannabis retail and schools. The mayor's original proposal suggested the buffer be set at 600 feet; it has since been raised to 1,000 feet.
Several of this morning's speakers said that a 1,000 foot buffer would so restrict the available pool of potential retail spaces that it would undermine the regulations' stated pursuit of an equitable distribution of the economic benefits in the legal cannabis industry to come.
"We are not asking for a higher buffer distance," SF School Board commissioner Matt Haney told 48 Hills.
At the moment, the 600 foot buffer zone doesn't look to have the votes to pass.
"While we hope that they do the right thing and that they get it right, I want to be very clear that if they don't do that, we have to be prepared to go to the ballot so that the voters of San Francisco can do what this building so far has failed to," said Campos.
The speakers connected the current debates in City Hall to the long march of cannabis activism reaching back to the city's HIV epidemic and the racist impacts of the War on Drugs here and elsewhere. Legalization passed in California last year with the help of 74% of San Francisco voters, but if the issue is to be decided at the ballot next November, that march will be longer yet.