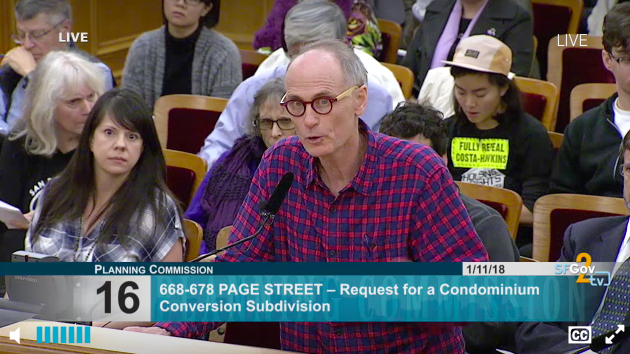 The San Francisco City Planning Commission unanimously rejected an attempt by the building owners who evicted 100-year-old Iris Canada to convert their property to condos after every single commissioner said that the application submitted by the owners, and the information provided by the planning staff, were inaccurate.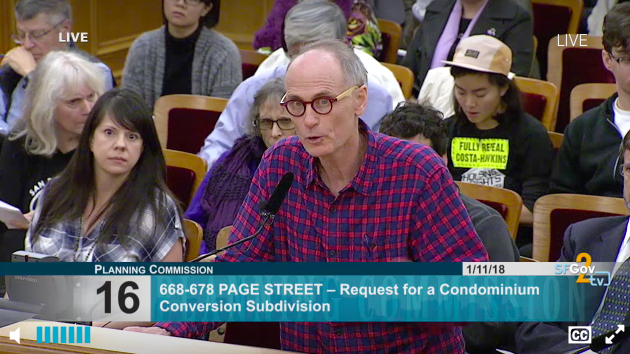 The 6-0 "intent to deny" motion sends the application back to planning staff, who now will draft a formal denial motion, which will be heard Feb. 1.
The move is the latest chapter in a terrible story: Canada, who had lived in her unit for more than 60 years, was evicted and died shortly afterward.
But the planning staff accepted a conversion application stating that there had been no evictions at the property in the past five years.
That was, the commissioners noted, demonstrably untrue.
"I believe there is inaccurate information on this application," Commission President Rich Hillis said. "Whatever the cause was, there was an eviction."
The law states very clearly that a building that was cleared by the eviction of a senior or disabled person is not eligible for condo conversion.
Peter Owens, who appeared at the hearing, bought the property at 668 Page Street in 2002, for $1.3 million. Within a week, he filed for Ellis Act evictions of the ten tenants. He intent, he told the commissioners, was to "create home ownership opportunities." What that actually means is that he bought a building intending to kick out the existing renters and turn it into tenancies in common – and make a huge profit in the process.
But people who buy TICs pay higher interest rates on loans and always want to convert to condos. The city has pretty strict rules on those conversions, since condos are exempt from rent control and eliminate rental housing units.
In this case, Canada fought the Ellis Act eviction, and as part of the settlement of that case, Owens agreed to allow her a "life estate" – the right to stay in her apartment as long as she lived.
As Commissioner Christine Johnson noted, "condo conversions should be clean and amicable." All the residents of the building should be on board – and in this case, she said, "death is not amicable."
Owens and his lawyer argued that Canada violated the terms of her life estate by moving out of her unit in 2012. That's the same argument they made in court.
But speaker after speaker made it clear that Canada was in fact living in her unit.
Among the items submitted as evidence: One of the building's occupants argued against a construction project at an adjacent building by telling the planners that the project would block the light of a senior citizen – Iris Canada – who was living there.
"I know she was living there, I had been visiting her, sitting on the red sofa that she liked," Tommi Mecca of the Housing Rights Committee noted.
Canada's niece, Iris Merriouns, pointed out that Canada had every right to travel from time to time, and to visit friends. In her later years, after a stroke, she spent time in the hospital. None of that should violate her right to live in her apartment.
Besides, none of that should matter: If the owners evicted her, that should have been on the conversion application, and it wasn't.
Deepa Varma, executive director of the SF Tenants Union, said that the sheriff's office came and changed the locks on her door while Canada was at a senior center. Many of us were there on the street when her belongings were removed.
The residents of the building who pushed for the conversion complained that the tenant activists were "harassing" them. One resident pointed to, and showed the commissioners, a poem that Mecca wrote that was published in 48hills. If that's harassment, "I'm glad to be a dangerous poet," Mecca told me.
The case raises larger questions: How did we get to this point? How did the Planning Department staff not realize that there had been an eviction at 668 Page Street? What process does the staff follow to check on the records of building that apply for condo conversions?
It's not that hard. The anti-eviction mapping project has a tool that lets you check any property in the city for evictions. I typed in 678 Page and instantly found that six units were cleared by an Ellis Act eviction in 2002. A simple google search would have shown that Iris Canada was evicted in 2017.
There's a larger issue here, which Commissioner Dennis Richards discussed:
"What's going on in this city kind of makes me sick," he said. "It's so selfish and so money-oriented."
He told the residents of the building, who portrayed themselves as people who just wanted a better deal on their homes, that "when you bought these units, you knew they were Ellis Acted."
So this is a rare victory, but an important one: The Planning Commission has decided that there are limits to how horrible property owners can be, that clearing a building through the Ellis Act, selling it as TIC, and then evicting a 100-year-old woman is not okay.