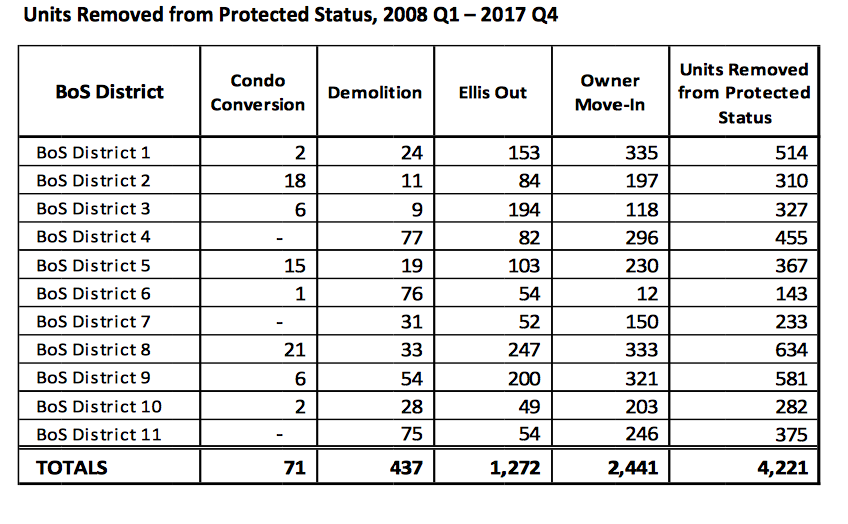 The Planning Commission will hear a report Thursday/24 on the city's latest housing balance figures – and the data includes some startling information that helps explain why homelessness is such an intractable problem.
The data comes from legislation that requires a twice-annual report to the Board of Supes on how much affordable housing has been built, how much market-rate housing has been built – and how much affordable housing has been lost.
In the past ten years, the data shows, the city has added 6,515 units of affordable housing – and lost 4,221 units, mostly to Ellis Act and Owner Move-In evictions.
That means, in essence, that every time we build 100 units of affordable housing, we lose about 60 units to evictions. Add in the number of evictions that are never reported, the number of rent-controlled units lost to Airbnb, and the number of people who lose their jobs or are told to leave after crashing with friends or family and you can see how every month, on average, 100 more people become homeless in San Francisco.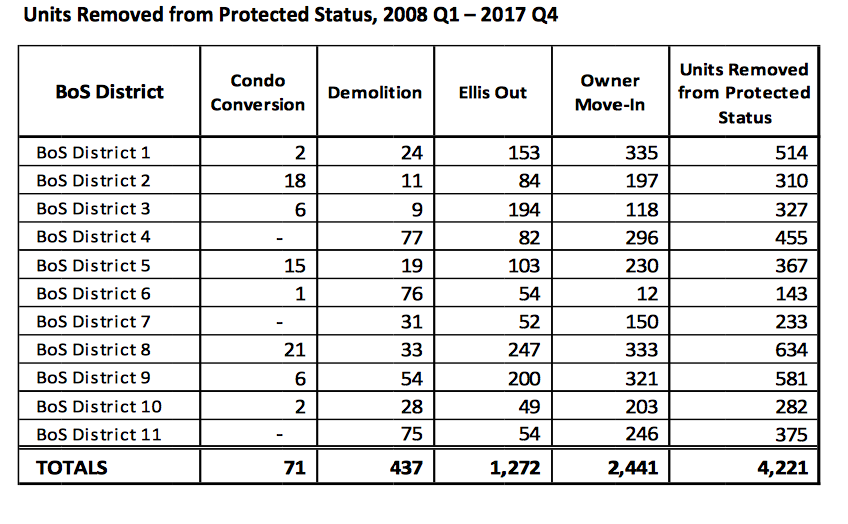 The city spends $300 million a year to address the problem, much of it for supportive housing and other programs to get people off the street. But even if we manage to get 1,000 people a year housed, another 1,200 will need the same services the next year.
We can demand that developers build 30 percent affordable housing – but more than half of that number is lost every year, meaning our net increase in affordable units is small.
The bottom line – although the Planning Department report doesn't say it: We can't solve the homeless crisis until we solve the eviction crisis. And keeping people in their homes is far, far cheaper than helping them get off the streets.
I wonder why that never made it into the Department's report.
Sup. Sandra Lee Fewer has a proposal that will help a lot of tenants, might prevent some evictions, and will reign in some of the worst abuses of big speculative landlords.
Here's the deal: Under the city's rent-control law, landlords are allowed to pass on to tenants part of the cost of capital improvements. You renovate the place, put in a new roof, whatever – some of those costs can be recovered through rent increases.
But the law includes mortgage and tax increases in that category – so if a speculator buys a building, pays a high price (perhaps with the hope of getting rid of rent-controlled tenants) and then gets a property tax hike under Prop. 13, everyone's rent can go up by 7 percent.
The idea that tenants should pay to support the overpriced purchases and taxes of speculators has never made sense. Fewer's bill, which isnow out of the Rules Committee,would put an end to that.
It's on the agenda for the full board Tuesday/22.