I know that good newspapers keep the editorial and ad departments separate. Good publishers don't tell their editors to favor one store or restaurant – or candidate – because they're a big advertiser.
We went through this at the Bay Guardian all the time. We lost ads because of our editorial stands. The ad department knew that was going to happen; it was part of the deal working for an alt-weekly with an aggressive editorial team.
Hey: The endorsements issue of the Bay Guardian has an ad from the tobacco companies urging No on E, the flavored nicotine measure. We endorsed Yes on E. We take ads from campaigns whether or not we agree with their positions.
So I have no reason to believe that the San Francisco Chronicle has been influenced by the large sums of money that Ron Conway and his allies are spending running their anti-Jane-Kim attack ads on the Chron's website. Audrey Cooper, the Chron's editor, doesn't (I hope!) hear from the publisher that she has to be nice to the advertisers.
But this is a little embarrassing: Cooper's piece admitting that the Chron failed to uphold its own standards in what would have been a hit piece on Kim – is running right next to a big-money ad campaign attacking Kim.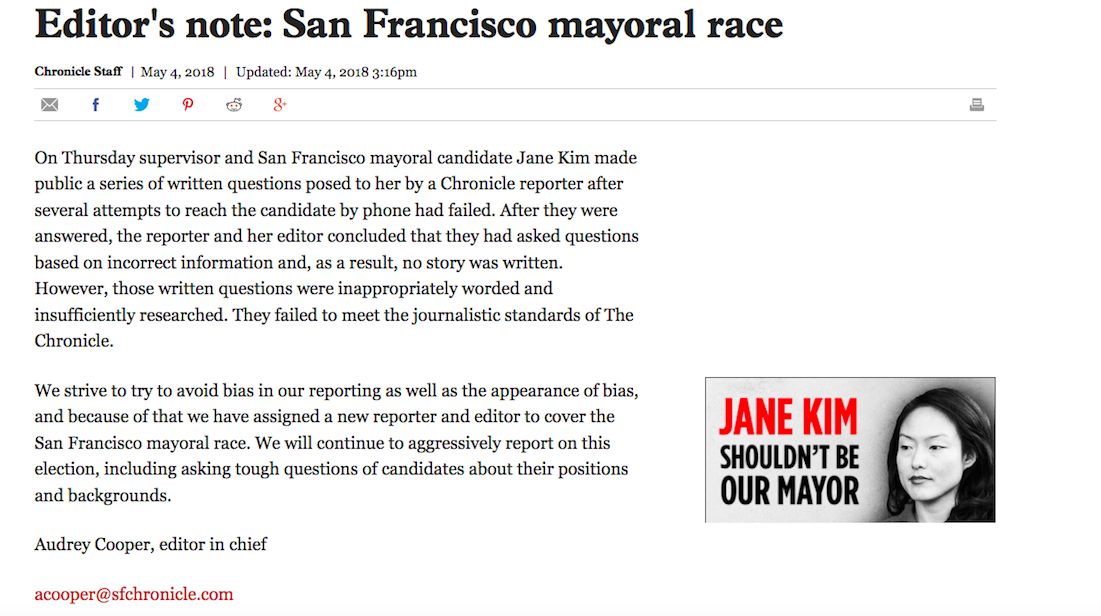 BTW: The attack on Kim is that somehow she supports domestic violence because she didn't vote to remove Sheriff Ross Mirkarimi from office after he was convicted of a DV-related crime. For those of you who don't remember that situation, the issue on the table was not just weather Mirkarimi was guilty; it was about the power of the mayor to remove from office summarily someone who was elected by the voters.
Kim said at the time that she would support a recall election, so the voters could decide if they wanted Mirkarimi to stay as sheriff. Ron Conway could easily have funded that effort.
But she was reluctant, as she should have been, to fire an independently elected official. That would have set an alarming precedent for the mayor to get rid of his opponents, since the City Charter sets almost no grounds for removal except that the mayor thinks the official is guilty of official misconduct.
That, of course, doesn't fit in a 30-second ad.
The mayor appears at the Board of Supes meeting Tuesday/7, and nobody has submitted any questions. That seems pretty odd to me, since I have a question that any reasonable person, including a reasonable member of the board, might want to ask:
So Mr. Mayor: You did a big sweep of homeless encampments, and said that everyone would be offered services and shelter. Yet the Ex reports that only six people– yes, six – wound up getting shelter.
So where is everyone else? What good did the sweeps do? Won't the homeless people you rousted from one place be back somewhere else – because they have nowhere else to go?
Why is this not just abject cruelty?
The No on H campaign is trying to get the word out about the Taser measure supported by the Police Officers Association. The POA is spending a ton of money on a very misleading campaign, suggesting that Tasers are an alternative to shooting people.
The reality is that (a) Tasers are often lethal weapons themselves, and (b) they don't stop cops from shooting people:
To be clear, CEWs cannot be substitutes for guns because there are inherent limitations in how they function that render them unreliable for being used in deadly force situations. 

The leading manufacturer of CEWs specifically states in its training materials, "CEWs do NOT replace deadly-force options." Most departments that have CEWs instruct officers NOT to use them in deadly force situations because they cannot be relied upon to stop a threat.  Many factors can cause the CEW be ineffective – how thick the person's clothing is, whether both probes hit the person, and whether the CEWs electrical charge captures enough muscle to incapacitate, to name a few.

The law permits officers to use their firearms in deadly-force circumstances, which involve a threat of death or great bodily harm. The manufacturer's training materials advise officers that the optimal range for CEW deployment is seven to 15 feet. To use a CEW in a situation in which an individual is armed or violent or aggressive would require the officer to be just seven to 15 feet from the individual. Alarmingly, CEWs have been found to fail often, in fact the Los Angeles Police Department (LAPD) reported a 47% failure rate in 2015. 
But it's a hard case to make when you are wildly outspent. So the No on H campaign is holding a last-minute event to try to raise money for a final literature push. If you're interested, it's Tuesday/14, 5:30pm, at the offices of Keker, Van Nest & Peters, 633 Battery. Here's the evite link to RSVP.