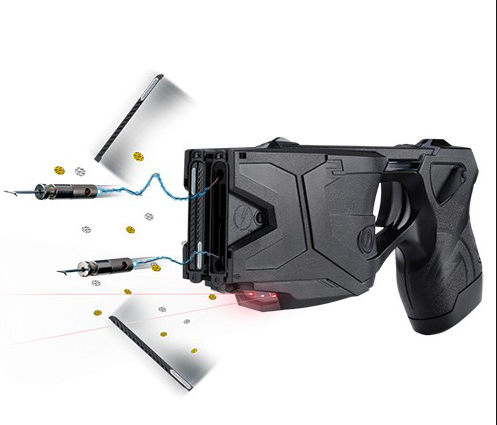 On Friday, November 3, 2017 at 5:00 p.m. at City Hall the San Francisco Police Commission will be holding its last public hearing on purchasing stun guns for San Francisco police officers. Although there has been much discussion on the topic, there remain many misconceptions about the weapon under consideration and its potential impact on policing in the city. 
I've heard many people – young and old – say that they'd rather be stunned than shot with a bullet. This is a logical response. Unfortunately it's based on misunderstandings about how conducted electrical weapons (CEWs) work.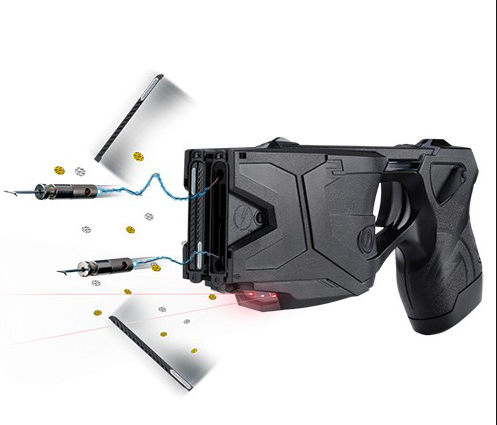 Even the San Francisco Police Officers Association (POA) has repeatedly asserted after officer-involved shootings that SF police officers need CEWs to use as an alternative to guns. 
To be clear, CEWs cannot be substitutes for guns because there are inherent limitations in how they function that render them unreliable for being used in deadly force situations. 
The leading manufacturer of CEWs specifically states in its training materials, "CEWs do NOT replace deadly-force options." Most departments that have CEWs instruct officers NOT to use them in deadly force situations because they cannot be relied upon to stop a threat.  Many factors can cause the CEW be ineffective – how thick the person's clothing is, whether both probes hit the person, and whether the CEWs electrical charge captures enough muscle to incapacitate, to name a few.
The law permits officers to use their firearms in deadly-force circumstances, which involve a threat of death or great bodily harm. The manufacturer's training materials advise officers that the optimal range for CEW deployment is seven to 15 feet. To use a CEW in a situation in which an individual is armed or violent or aggressive would require the officer to be just seven to 15 feet from the individual. Alarmingly, CEWs have been found to fail often, in fact the Los Angeles Police Department (LAPD) reported a 47% failure rate in 2015. 
The SFPD adopted a new Use of Force policy in December 2016 stating the commitment to accomplish the "mission with respect and minimal reliance on the use of force by using rapport-building communication, crisis intervention, and de-escalation tactics" including time and distance. Bringing in a weapon that requires officers to be within seven to 15 feet of an aggressive individual would undermine the tenets of the policy and the training that has been instituted. And, should the weapon fail, officers would be in jeopardy and would have no choice but to escalate to lethal force.
In considering adopting CEWs it is prudent to ask, "Have CEWs been shown to stop or reduce officer-involved shootings in other law enforcement agencies?" Recent reports from Los Angeles and San Jose, both cities that have deployed CEWs for many years, register significant numbers of officer-involved shootings. LAPD reports 34 officer-involved shootings to date in 2017, and San Jose registered its eighth officer-involved shooting in September. CEWs clearly do not prevent officers from using guns.
SFPD has had ongoing issues with disparate use of force, including deadly force, on persons of color. The findings of the DOJ Collaborative Reform Assessment of the SFPD and the Blue Ribbon Panel Report detail racial inequalities in many areas from stops, searches, and arrests, to officer-involved shootings.
San Francisco is not the only city with disproportionate use of force patterns.  Other cities that have similar problems report disparities in officer-involved shootings as well as CEW use.  For example, a 2016 Chicago study documented that Chicago officers shot and used CEWs on African Americans at disturbing rates, and a Houston study reported that CEWs were used disproportionately on African Americans. 
The question of CEW efficacy is further complicated by the fact that the weapon under consideration for purchase by SFPD at this time, the Taser x2, is a new model that has had very little study or research to verify its reliability. The City of Houston has had several incidents that raise serious questions about the Taser x2.  A lawsuit filed this year by Houston Officer Karen Taylor after she was severely injured in a failed Taser x2 incident details how the newer CEWs, while possibly less dangerous to suspects than previous models, are more risky for officers because they are less effective. In one weekend in March, 2016, in three separate incidents Houston officers shot suspects after failed Taser x2 deployments. 
Tragically, CEWs, the "less lethal" weapons, kill far too often. In a series published this past summer a Reuters Report examines 1,005 deaths since 2000 involving Tasers and states, "Many who die are among society's vulnerable – unarmed, in psychological distress and seeking help." In the city of San Jose alone there have been eight deaths after CEWs have been used – some linked to the CEWs, and some from other contributing factors. In all of the cases, use of the CEW did not result in safely taking a suspect into custody. 
Would we support our city purchasing new, untested cars for employee use that reputedly fail nearly 50% of the time, that randomly kill people (particularly vulnerable populations and people of color) even when used as directed, and would certainly result in costly lawsuits? Of course not.
Before obtaining a new problematic weapon that would most likely be used disproportionately on people of color and vulnerable populations, the city and the SFPD must focus on de-escalation of force and ensuring that policing in San Francisco is equitable and fair and functions at the stated SFPD "highest priority (of) safeguarding the life, dignity and liberty of all persons."  SFPD General Order 5.01 Use of Force
Barbara Attard is a police accountability consultant, former president of the National Association for Civilian Oversight of Law Enforcement (NACOLE), and co-author of the Police Misconduct Complaint Investigations Manual.