Our critic Jesse Hawthorne Ficks caught this year's Toronto International Film festival. Read more of his coverage here. 
TIFF The most difficult ticket to get at this year's Toronto International Film Festival was a toss up between Clarie Denis' English speaking debut High Life, a supposed astro-erotic sci-fi feature starring Robert Pattinson, and David Gordon Green's reboot to John Carpenter's defining 1978 stalker film Halloween. Jamie Lee Curtis reprises her role as Laurie Strode, now 40 years older and looking just stunning as ever. While I won't give away a single moment from this highly anticipated "sequel," I can say that the film takes way too long to explore uncharted territory. It's as if it was too shy to stray from the original formula, for fear of fans' disapproval. It's not a failure; I was excited by the emphasis on this era's female fury, and really impressed with the final 15 minutes, as well as the re-working of the original soundtrack (by the Master of Horror himself!) It's just not the revisionist return that it had the potential to be.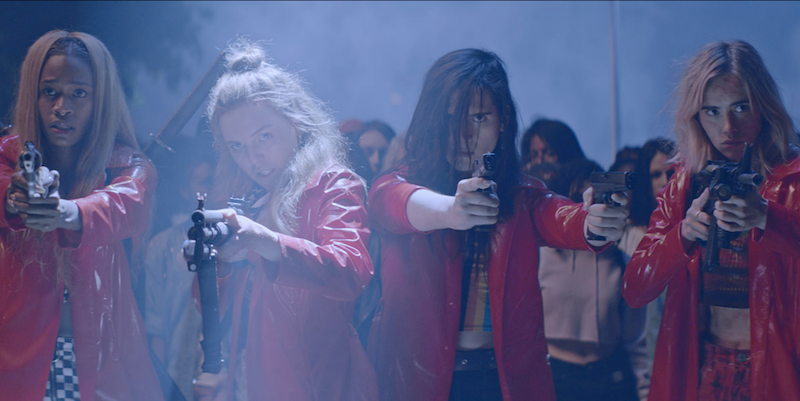 What I did lose my mind over was Sam Levinson's prophetically high-strung, exploitation essay Assassination Nation. Symbolically set in Salem, Massachusetts, the movie follows a group of high school girls banding together as their town is attacked: A data hack is exposing every person's internet history. Assuredly self-aware and purposefully provocative (complete with a massive trigger warning preceding the film), this hyperkinetic social satire has the most eye-popping and overwhelming opening sequence in many a moon. The film violently and sexually questions the misogynistic world its characters are trapped in.
And similar to such transgressive films as Lina Wertmüller's Swept Away (1974) and Oliver Stone's Natural Born Killers (1994) audiences will need to question their own feelings towards experiencing such salacious satire. In my opinion, what makes Levinson's genre exploration most unique is how it never wavers from the perspective of its four female leads and never expects any nudity from the actresses. Controversial and triggering, there is no other film I can recommend higher from this year's Midnite Madness series. NOTE: Another Trigger Warning—Some viewers (aggressively) disagree.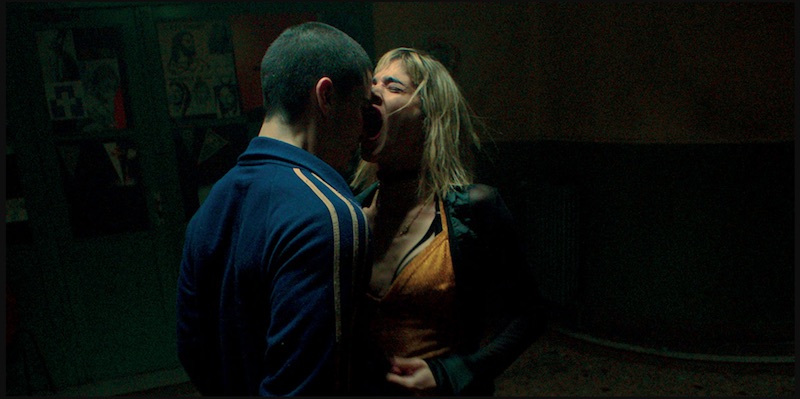 Speaking of triggering, Gaspar Noe delivered Climax, his new Horror-Musical-Melodrama. Entrapping a gaggle of sexually liberated French folk at an all nite rave delivered something downright remarkably enjoyable. Part of Noe's skill is making you feel as if you are part of his film, and this 96-minute drug trip takes you through each and every stage. Sit back, relax and let him do whatever he wants to you. In fact, pay close attention to the stacks of VHS tapes in the beginning of the film. I have a feeling Noe is taking us through a greatest hits of his favorite scenes from his favorite exploitation flicks. Or not, and just get up and leave at any point during the film, muttering loudly about something or other, as dozens of critics did in its premiere.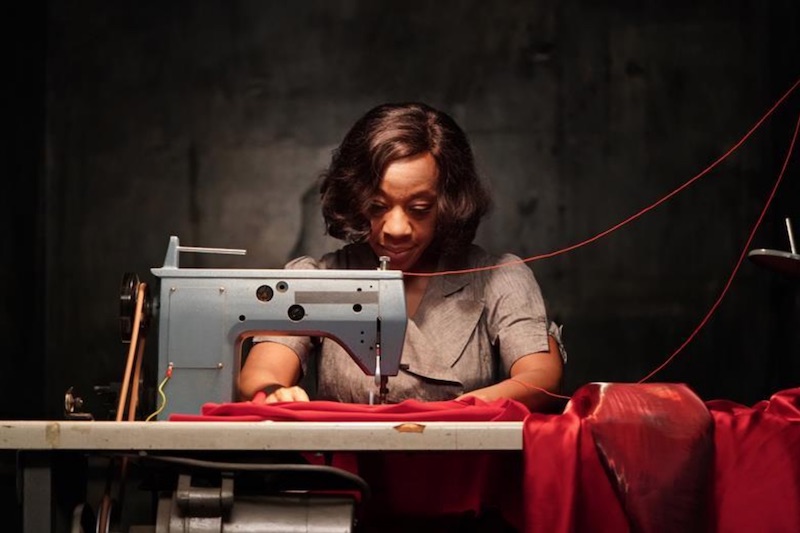 Peter Strickland, auteur of a recent niche genre that sets out to recreate the look, sounds and feel of 1970s Giallo and Hammer Horror films—see Berberian Sound Studio (2012) and The Duke of Burgundy (2014). His latest In Fabric is an anthology of two installments, with the first being one of the most enjoyable experiences at this year's TiFF! (It was coined "The Killer Dress" movie by a young Canadian audience member I met.) Marianne Jean-Baptiste (of Mike Leigh's Secrets & Lies) gives a remarkable performance as she uncovers the horrific life of single-parent dating, motherhood, and loneliness. The second chapter of the film doesn't even feel like Strickland directed it, but like many of the best, mixed-bag horror anthologies (Cat's Eye, Nightmares, Tales From the Darkside, Creepshow 2), all it takes is one of them to be great and it's worth all the pennies.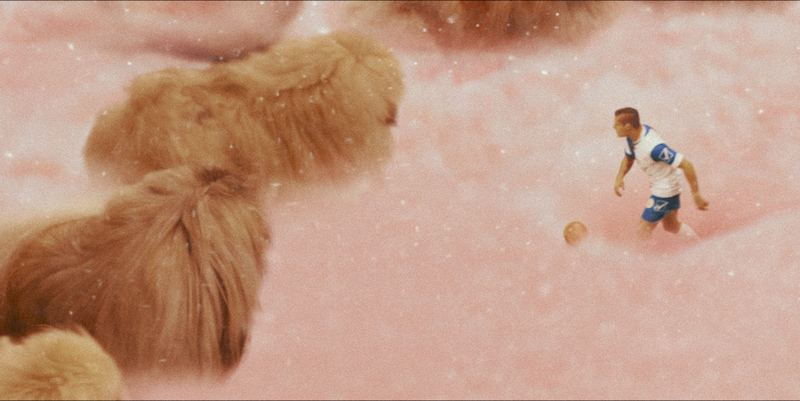 Perhaps belonging in the Wavelengths experimental program, avant-garde artists Gabriel Abrantes and Daniel Schmidt scored heavily in my book with Diamantino, a curious little gem, gorgeously filmed in a grainy super 16mm format. With the look of a neon-induced, blitzed-out drug trip, the feel of a low budget 1970s underground film, and the plot of a Depression-era Frank Capra film, audiences need to make sure to go way out of their way to experience this (soon to be cult) classic at a late-nite screening. Soccer fans especially will get a kick out of the loveable lunkhead played perfectly by Carloto Cotta (parodying a combination of both Cristiano Ronaldo and Zinedine Zidane.) With a wonderful queer coyness that only adds to the film's uniqueness, I find myself fondly returning to many of the movie's moments, now days after its premiere.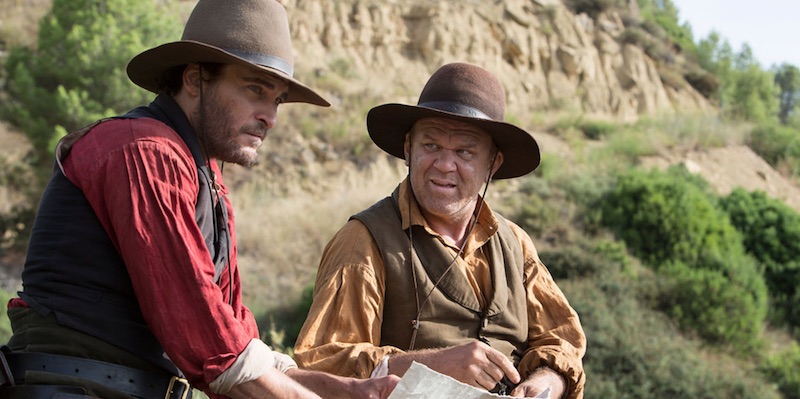 Jacques Audiard's The Sisters Brothers is another film that has sat quite well with me. Audiard, whose last film won the Palme d'Or at Cannes in 2015 for Dheepan, a Tamil tale of Sri Lankan immigrants in France, gives the same amount of love and respect to his characters in this revisionist Western. Working from Patrick deWitt's award-winning novel, John C. Reilly and Riz Ahmed shine with a remarkable amount of male vulnerability very rarely captured within this genre's limits. This often haphazard, subtly violent and purposefully oft-kilter journey culminates with a truly transcendental conclusion that might not only make you question your very own direction in life, it may make you want to watch the film all over again, perhaps to uncover Audiard's humble methods of what it is he's actually doing. Memorable performances by Jake Gyllenhaal, Joaquin Phoenix, Rebecca Root and Carol Kane round out this dream cast of malcontents and help make this a truly uncommon American Western.