PUFF As effervescent and bubbly as some of the products she promotes, Marcia Gagliardi is a glittery swirl of personality and microdosing information via her website Mymilligram.com and newsletter.
Mymilligram connects low-dose products with those looking for just a little lift, without the lethargy and munchie-attacks. (Although, as the head of essential SF foodie guide Tablehopper, she certainly knows where to feed the beast.) Gagliardi not only showcases the perfect products—many locally made—but also dispenses self-care advice and tips on how to find and manage just the right amount of milligrams to help you through your busy day. And hey, she curates special sample boxes so you an explore along with her.   
I first encountered Marcia at her spectacular mymilligram launch party last May, which was bursting with product showcases and colorfully dressed people. "You've got to meet Marcia" all my friends were telling me, and what a pleasure it was. Dressed up in a beautiful muumuu with her hair done up and a cocktail in hand, Marcia was a social force. She was quick, witty, easy to laugh with, and a great hostess. I had a wonderful time—and anyone who gives out goody bags from the back of a limousine has my attention.
So I went home and caught up on her newsletters, visited her website, and decided I wanted to know about this microdosing maven. I hit her up with some questions, and her answers are fantastic.
Marcia grew up in San Mateo, moved away to explore Italy and higher education, and has been back in the Bay Area since 1994 when she lost her Los Angeles apartment to an earthquake. She started in advertising, became an event planner, and has been writing about the San Francisco food scene since 2002 eventually launching Tablehopper. 
"​I'm a NorCal native, and used to enjoy smoking weed in my twenties and early thirties," Gagliardi said. "But about 10 years ago, I noticed it was becoming too strong for me. I wasn't enjoying the high as much—I'd get paranoid and feel like I couldn't communicate or connect very well, which is tough for a people person like me," she said. "So cannabis was relegated to being a very occasional thing in my life, maybe a teeny tiny toke at a show or friend's house party.
"Flash forward to a few years ago, when some friends let me check out their vapes and Kiva blueberries. And after exploring and dialing in my optimal dose with Pot d'Huile cannabis olive oil, I realized I really enjoy cannabis at a low milligram dosage. Once I figured out the right amount (and methods) for me to consume cannabis (I love sublinguals!), and that I can be in charge of my dosage, Mary and I high-fived again. Now we snuggle on a daily basis."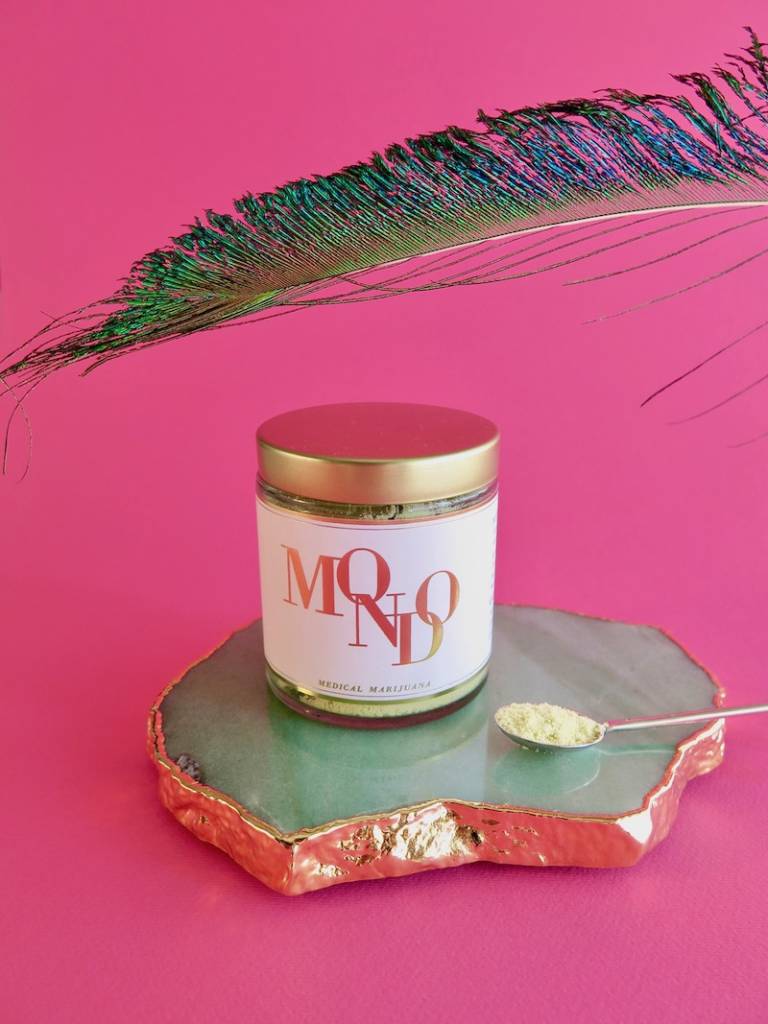 This lead to her to create Mymilligram newsletter.
"Many canna-curious folks are wondering how cannabis may help them with a variety of issues—from insomnia to pain or anxiety, to just unwinding after work instead of hitting the chardonnay—and I got inspired to share how to explore cannabis in a low and slow and careful way through well-made and high-quality products. With my background in food, how things are sourced and made is very important to me," Marcia said.
"I thought people could use a trusted guide to help navigate this world, so the idea of Mymilligram was born. I launched with a newsletter that features a quality, low-dose product each week, and I explain how I like to use it, how it feels, and what it may help with. My rule of thumb for mymilligram is: "Would I give this to my mother, and what would I tell her about it?" My mom now uses 'low and slow' in conversation and I just love it."
When asked about her favorite products, Marcia was quick with a whole lineup of items, "I have a buffet of products I love to microdose with—I enjoy taking little dips of Mondo powder when I'm writing, especially in the evening (or a bigger scoop when I'm going out for my afternoon walk). Somatik coffee bean Sparks are always in my purse, along with Level Elevate Tablinguals. I munch on Satori's CBD-rich almonds and strawberries when I'm getting stressed—Somatik's goji berry Sparks are also great chill pills."
She makes 2.5mg ice cubes out of California Dreamin' soda and pours bubbles on them when it's time to unwind or get ready to go out. She likes Garden Society's Bright Blooms for daytime and Bliss Blossoms at bedtime because they are so well-made and effective. And she takes Kin Slips Cloud Buster strips with her on trips—including a recent trip to Russia for the World Cup. 
I asked her about the current state of cannabis as legalization has rolled out this year.
"Right now, I'm sorry to see so many small, artisan makers and growers suffering with all the new regulations and testing, with many being phased out of or unable to be a part of the adult-use market," she said. "I'm happy to be able to feature smaller makers in Mymilligram as they come back to the market right now (or are being released for the first time)—and I'm very committed to supporting women in the biz. Fempire rising!
 "It's exciting to see the stigma around cannabis use vaporizing away," she said. "I'm thrilled to see older adults and Boomers and seniors seeking out information and guidance with cannabis use. In a recent study, 5.7 percent of respondents aged 50 to 64 said they've tried cannabis in the past month!
"And the more success stories and studies we can read about people getting off of medications with cannabis—from sleeping pills to anxiety meds to opioids—is also really hopeful."
With people like Marcia educating through mymilligrams, we have another warrior for the cause.
"When I was exploring local dispensaries a couple years ago, budtenders would try to sell me weed with the highest THC levels and edibles with terrifying amounts of THC. I would ask for low-THC products, and they'd just look at me and shake their heads quizzically and ask, "Why?" I soon realized I wasn't the only one who was seeking out low-dose options, and I was getting really excited by all the new, cutting-edge products coming out. As a curious writer, I knew I had to start covering this world and jumped in."
You can subscribe and read more about all these products at ​Mymilligram.com​, and get many of her favorite products delivered at ​getsava.com/mymilligram.​ She also does her own photography and her ​@mymilligram​ Instagram account is full of fun eye candy.
Thank you Marcia!
Now it is time to light up.