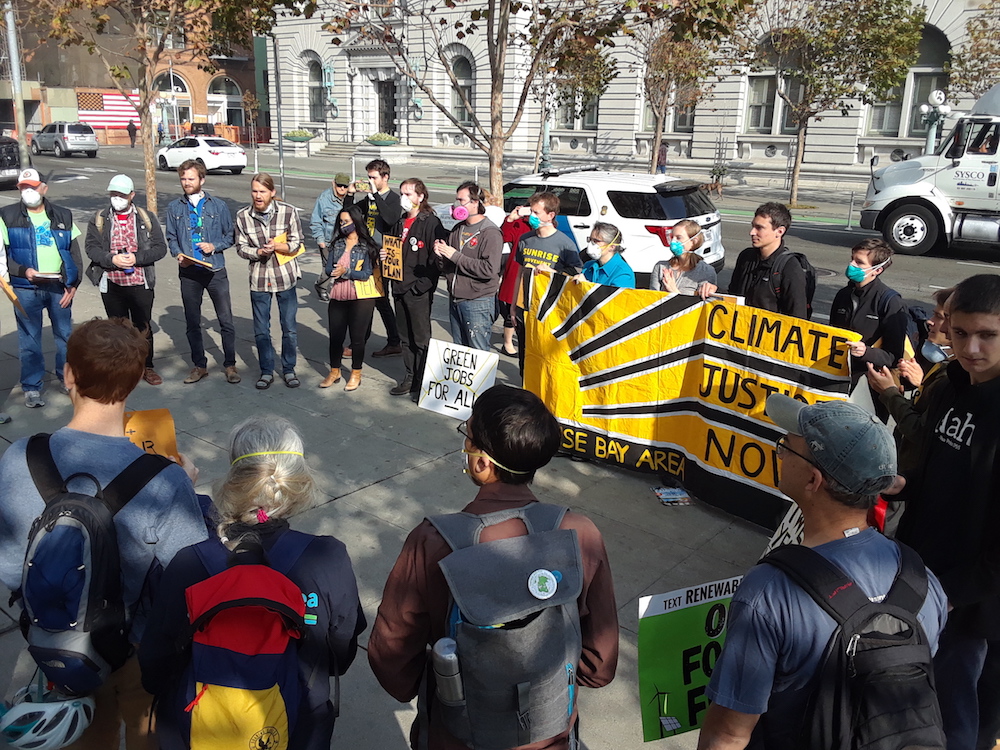 Donning particle masks in the smoke-fogged air this morning, dozens of protesters urged Bay Area congressional representatives Nancy Pelosi and Barbara Lee to endorse a Green New Deal select committee that could create millions of jobs combating the climate crisis.
"We need to respond with the urgency the situation requires," said 24-year-old Sunrise Movement volunteer organizer, Daniela Lapidous. "We can create millions of green jobs, and move our economy to safe renewable energy, and keep our communities healthy."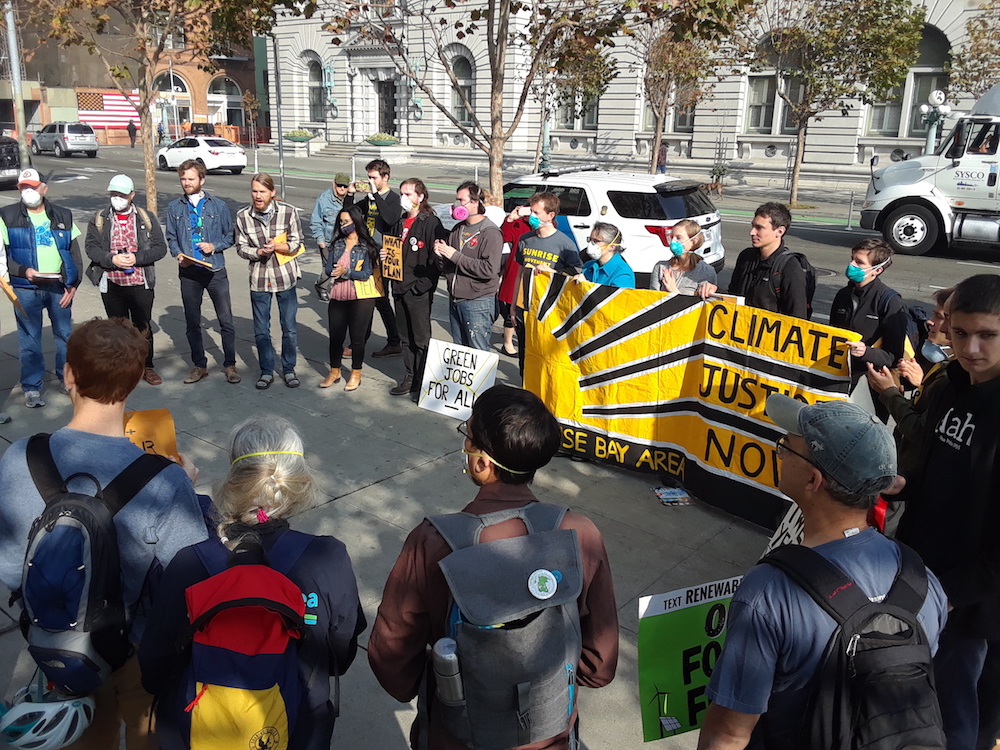 Sparked by a proposal by incoming New York Rep. Alexandria Ocasio-Cortez, young people mobilized hundreds of protest actions across the country at congressional district offices to pressure representatives to embrace the Green New Deal  concept.
In the Bay Area this morning, nearly 100 protesters pressed Pelosi and Lee to support Ocasio-Cortez's plan for a select committee on a Green New Deal, which would aim to pass legislation by 2020 calling for massive carbon reduction and huge new public investments in renewable energy and green, climate-friendly jobs across the US.
Below Pelosi's district office in the San Francisco Federal Building, about 25 climate activists urged the former (and likely future) House Speaker to endorse the Green New Deal committee. So far, Pelosi has issued supportive statements but has called for reinstating a committee on energy independence and global warming that she helped launch in 2007—but that was an advisory committee that had no legislative authority and was killed by Republicans in 2011.
So far, 12 congressional representatives have endorsed the Ocasio-Cortez Green New Deal committee proposal, most prominently Rep. John Lewis of Georgia, and California Reps. Ro Khanna and Jared Huffman.
In Oakland earlier this morning, about 70 activists called on Rep. Lee to endorse Ocasio-Cortez's proposal, according to Sunrise organizer Claire Morrison. "We are calling on Barbara Lee to stand with us, this is the only viable solution on the table," said Morrison. "Be the leader on climate that we know you are…She's been a fighter for justice for such a long time. It would seem that standing with that moral clarity would be an easy choice."
Lee didn't respond to our requests for comment on the protest actions. On November 13, just after Ocasio-Cortez launched her Green New Deal push, Pelosi stated, "I have recommended to my House Democratic colleagues that we reinstate the select committee to address the climate crisis. House Democrats ran on and won on our bold campaign for a $1 trillion investment in our infrastructure that will make our communities more resilient to the climate crisis, while creating 16 million new good-paying jobs across the country."
Pelosi's communications director, Taylor Griffin, told me that any new committee "has to be discussed in a full caucus setting so all committees of jurisdiction can hear it." She said the House "leadership challenge has stalled some of the planning we want to do caucus-wide."
Griffin stressed Pelosi's "staunch position on the importance of addressing climate change," but added, "I don't believe her statement was meant to be an endorsement of the Green New Deal writ large." She said the Sunrise protest accompanied by Ocasio-Cortez was "a new one for me" in her five years on Pelosi's staff. "It's the first time I've had to supervise a protest in our office with a member-elect."
But for the young activists pressuring Congress to tackle climate change with greater urgency, Pelosi's comments may not be enough. Morrison, 24, attended the first Green New Deal protest at Pelosi's Washington, DC office, where Ocasio-Cortez joined demonstrators on her first day of orientation as a new member of Congress. Her message to Pelosi: "Right now, Pelosi says she would support revamping a 12-year-old committee on climate change that would have no legislative power – that's an untenable solution in this climate crisis."
Morrison added, "We just won you the House, our generation turned out in record numbers… It's your turn to fight for our future."
California's deadly fires—which have now claimed at least 79 lives, with nearly 700 people listed as missing and thousands displaced from their homes—were a looming presence at today's climate actions. Ryan Higgins, one of the older protesters at age 26, said the protesters "felt it was important to honor and reflect on the people who have passed away in the recent fires."
Speaking to the crowd near Pelosi's office, Lapidous remarked, "The last week in the Bay Area, breathing in the worst air in the world from the Camp Fire smoke, has me thinking so many thoughts, thinking of hundreds missing and dead from the fire, of friends and neighbors living and working on the streets here in SF, breathing in the toxic air, thinking of my friend's baby born into this world one week ago, breathing this air in her first breaths ever."
Another protester, 19-year-old Cheyenne Rupert, was visiting from Wisconsin and spent yesterday helping the Democratic Socialists of America hand out free particle masks to homeless people. "This is a great opportunity for young people to get involved, to get educated about climate change," she said. "Our country cannot continue, and the world can't go on, without progressive initiatives such as the Green New Deal. We need cleaner energy, we need to stop the fossil fuel companies from taking over. It's not fair to our generation and future generations.."
The Green New Deal select committee "would be tasked with drafting a 10-year plan for a justice-oriented economic mobilization plan that would decarbonize the US economy by 2030," according to a press release from Sunrise Movement.
If enacted, this Green New Deal "would put millions of Americans to work transforming our society away from fossil fuels to a clean energy economy on the timeline demanded by science and justice." As Ocasio-Cortez describes on her website, the committee would "have authority to develop a detailed national, industrial, economic mobilization plan…for the transition of the United States economy to become carbon neutral and to significantly draw down and capture greenhouse gases from the atmosphere and oceans."
According to a 2018 report by Data for Progress, a Green New Deal could create 10 million new jobs over 10 years in a wide range of renewable energy expansion, environmental restoration, clean technology development, and more. One study, by the International Trade Union Confederation, estimates that "spending 2 percent of annual GDP on the green economy could create over 15 million green jobs in 5 years."
Particularly in the context of "climate deniers in office and in power," Higgins said the rising Green New Deal movement has given him some hope: "I feel like there's great momentum. The components of the Green New Deal, I can't understand why anybody would be opposed – job creation, clean technology, creating a better environment for everyone."