By the end of this week, the rain finally arrived, the Camp Fire was largely contained, and the Bay Area could take a deep breath again. But after two weeks of unhealthy, sometimes dangerously unhealthy air quality from a fire that is, by most accounts, just a precursor of what climate change has wrought in California, one thing became clear:
San Francisco was, and is, utterly unprepared for an air-pollution crisis.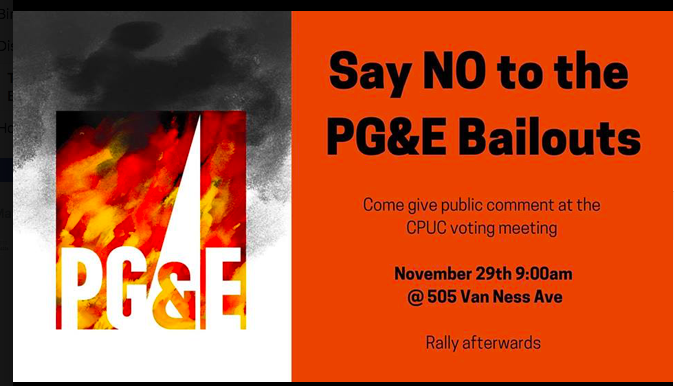 More than 850,000 people live in this city; the daytime population is more than 1 million. By most estimates, at least 5,000 are homeless, many of them sleeping on the streets.
Roughly 56,000 students attend San Francisco public schools.
And yet, the best the city could do was hand out about 1,000 N-95 respiration masks, most of them the inexpensive sort that are good for about eight hours in really bad air.
People who have homes and resources couldn't find masks; stores sold out quickly, and even Amazon couldn't fill orders.
The Coalition on Homelessness and Democratic Socialists of American handed out more masks than the city did.
When a few places finally got sizable inventory, the city did nothing to advise people where to go to get the protective devices.
The school district, Sup. Hillary Ronen says, has no consistent air-filtration systems. Only a few public buildings had clean air – and the city did a terrible job of putting out the word.
From the Coalition on Homelesness:
Every night throughout this air quality and ensuing public health crisis, thousands of homeless adults and dozens of homeless families are forced out of their shelters during the day on into long lines for a shelter bed, while the city failed to communicate, or have a strong communication plan in place to ensure homeless people have knowledge of any expanded resources..

[The city] passed out only 1,000 masks in total which need to be replaced each 8 hours of use.  Over 4,000 homeless people were in need of 3 masks per day at the very least, but ideally space inside for all of them should have been made available.
We were told to say inside – but most older houses in this city are poorly insulated and few have effective air purifiers. (Nobody has air conditioning in a city that never gets hot. In a city that typically enjoys fresh ocean breezes, why would anyone go out and buy an air cleaning device?)
So for a lot of us, even staying inside wasn't safe.
The health effects of two weeks' exposure to this level of toxic smoke and particulate matter are hard to quantify. I've read that walking around outside last Friday, when the numbers were over 250, was the equivalent of smoking 11 cigarettes. If you are otherwise young and healthy, and don't smoke cigarettes, that alone probably won't cause lung disease or immune system problems that will lead to premature death.
But for a lot of people, the bad air was a real threat – and more important, this, unfortunately, is not an isolated incident. California is going to see more, and bigger, wildfires in the coming years. While rural and suburban communities near dry, often dying forests need to prepare for the immediate consequences (which, of course, are worse than a few days of bad air), cities like San Francisco need to be ready for the fallout.
And imagine if an earthquake takes down a few big buildings and sets off fires here; that smoke and dust will be as bad as we saw last week.
From Sup. Ronen:
This past week of unhealthy-to-dangerous air quality levels has impacted every sector of our city and has been a test of the emergency systems that we rely on to help us in the face of natural and climate change-caused disasters. What we've discovered is that our current emergency systems are inadequate to handle the dangers of unbreathable air. 

I know many of our residents are angry and worried about their health and the health of their families – I'm certainly worried about mine. As a mom of a six-year-old, I was shocked that the schools had to shut down and didn't have air filtration systems to make classrooms safe. I was also surprised that neither the city nor regional governmental bodies had masks available in child sizes, nor were there sufficient masks for the thousands of adults who remained exposed through work or everyday activities.

What this and last years' fires have shown is that San Franciscans are at a high risk of dangerous exposure to smoke from wildfires, even when we are 200 miles away. The particular geography of the Bay Area allows smoke to enter through the Central Valley and then, with stagnant weather, only slowly carries it out to sea through the Golden Gate.
Disposable N-95 masks cost less than $1 wholesale. Better quality reusable masks cost anywhere from $10 to $20. The city could buy 10,000 of them for the price of treating just a few people for respiratory problems at SF General.
An air purifier that covers an average room costs about $300. Adding those to rental units, over a reasonable period of time, wouldn't bankrupt most landlords.
My neighbor Ren Volpe has this simple video that shows how to make a DIY filter really cheap.
Putting state-of-the-art air purification in all of the SF schools would be more expensive – but I don't think we have much choice.
Again, Sup. Ronen:
I will work to enact policy at BAAQMD and work with the City departments, the Mayor, and my colleagues on the Board to do the following: 

Ensure San Francisco acquires and has ready on hand a sufficient supply of N95 respirator masks, sized to fit adults and children, and has them readily available at every library and school in the city.
Create both short term and long term plans to have air filtration systems in every classroom to ensure schools are a safe place for children and families during air quality crises.
Accelerate plans to wean off our energy dependence on PG&E. For two years in a row PG&E has been implicated in devastating fires. If investigations into this year's Camp Fire blaze find PG&E once again responsible for loss of life and property, the company faces serious risk of bankruptcy. San Francisco is currently in the process of transitioning our energy use to CleanPowerSF, but the program still relies on PG&E to transmit our clean power through the existing PG&E grid. In June 2018, 77 percent of San Francisco voters said yes to authorizing SFPUC to issue revenue bonds so we could build our own infrastructure to produce and deliver CleanPowerSF. We must quickly move forward to implement this next stage of CleanPowerSF and create our own grid so the City can provide 100 percent clean energy independent of PG&E.

It's not easy to accept that the crisis of unbreathable air could now be a regular concern for this city. But we have no choice but to be prepared for that possibility. 
Ronen's call for San Francisco to start moving to build its own power grid and get away from PG&E is part of a growing movement to hold the utility accountable and stop bailing out a criminal operation.
There's an action network petition here, and Democratic Socialists of America is holding an action at the California Public Utilities Commission meeting Thursday/29.
So we're looking at a two-front effort here: The city desperately needs to get a plan in place for future air-quality emergencies – and we as a city need to take the lead in replacing PG&E with a public-power agency of some sort. The two are connected, and not just by PG&E's history of poor line maintenance and safety problems. PG&E can't even meet modest renewable goals (in part because a private utility makes money selling electricity, and creating distributed solar, for example, would hurt the bottom line).
So for the sake of our lungs, and the climate, we need to move on this agenda. None of it will happen instantly, so we need to start now.