ONSTAGE Here's something you may not know: There's a 60-year-old musical about Fiorello La Guardia, who went from being a lawyer to a congressman to running New York City. Appealingly titled Fiorello! (through March 17 at Gateway Theater), it is one of just 10 musicals to win the Pulitzer Prize for Drama—other winners include Rent and Hamilton—and the score is by Jerry Bock and Sheldon Harnick, who went on to write the score for Fiddler on the Roof. Tom Bosley, best known for playing Howard Cunningham on Happy Days, originated the role of the mayor in 1959, and he won a Tony for it. 
Colin Thomson is playing the title role, and even he hadn't heard of the musical before auditioning. He's enjoying playing a historical figure and says LaGuardia, the son of immigrants from Trieste, was a fascinating man. "He was a Republican, but not one anyone would recognize today," Thomson says. "He fought for relatively progressive causes most of his political life."
Among those causes were fighting corruption in the Tammany Hall machine and supporting unions: In the first act of the musical, he promises to represent the striking workers after the Triangle Shirtwaist Factory fire in 1911 that killed 146 young immigrant women when their bosses locked the doors at the factory. 
LaGuardia, who was mayor during the Depression and World War II, was nicknamed "Little Flower"— definitely not for his shrinking personality but because of his 5' 2" height. Thomson says he didn't know much about LaGuardia before working on this musical, other than there's an airport named after him, but the mayor's beliefs were in tune with his. 
"He supported labor, and I'm a member of two unions for performers," Thomson said. "He was the son of immigrants and supported immigrants' rights, and he was not shy about working in a bipartisan way."
Thomson says LaGuardia was a quirky man, but he didn't let anything dissuade him from pursuing causes important to him. Thomson has been watching old clips of the mayor, and wants to do justice to LaGuardia's style of speaking, not merely perform an impersonation.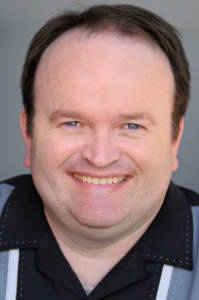 "There are plenty of things you could do with you body and voice to reproduce what you're seeing in those newsreels as precisely as possible," he says. "It is both so different from the way we express ourselves now and so unique to him, and nobody wants to watch me do some mimicry."
There are some people around who still remember LaGuardia's unique style, says Thomson. One of his neighbors distinctly remembers lying on the Persian rug in front of a big radio listening to LaGuardia read the funnies, which he did during a newspaper strike. A clip of him asking, "What does it all mean?" is of the most widely used non-musical samples in hip-hop.  
Doing a musical (songs include "On the Side of the Angels" and "Politics and Poker") about a Republican politician who stopped for nothing and supported immigrants, unions, women's suffrage is interesting in the political climate, Thomson says. 
"In some ways his personality will be reminiscent of the current president and sort of give you an idea of what he would be like if he were pursuing other things entirely," he said. "The musical gives audiences an example of people pursuing their political and personal goals despite systemic and personal obstacles."
FIORELLO!
Through March 17
Gateway Theatre, SF
Tickets and more info here.