PUFF I heard that the cannabis industry was predominantly a male-driven industry when I first got involved in it, and while I've met many men who work in cannabis, it has been women I see the most.
Maybe it's from my standpoint of working in San Francisco, but my experience has been that ladies run a lot of these companies, and are out there working long hours promoting their brands. They work hard, play hard, and kick ass. When some douchey bro makes anti-female or lurid remarks on social media, they will call him out to the whole community, pronto. None of that, thank you. Take that attitude back to the cavemen.
Now there's a documentary making the rounds called Mary Janes: The Women of Weed by Windy Borman, and there will be a special screening of it to commemorate International Women's Day and Women's Month on Friday, March 8 at Neyborly in Oakland from 7-10pm. Tickets are $20 plus fees and may be purchased here.
"Through marches, political, and social media campaigns, and formidable grassroots organizing, people across the globe are galvanizing for a future that is gender equal," the press materials state. "And It's no different in the cannabis industry. Many of the key players in this green economy are women from diverse backgrounds who are closing the gender gap in business and shaping the industry playing field."
"​The event will feature the 80-minute documentary film screening with local guest appearances, an educational marketplace and community social mixer showcasing female entrepreneurship and leadership in our local cannabis space. Attendees will have a chance to meet social justice organizations and learn more about a variety of cannabis brands by local cannabis makers."
Special guests include activist and actress Beata Pozniak who campaigned congress to get International Women's Day recognized in the United States.
"Gathering a group of likeminded 'Puffragettes' together to celebrate the female pioneers and leaders growing this pioneering industry is of landmark importance. This has not been easy, yet, our community is strong, brilliant, and full of allies and supporters. Joining community and business to share in each other's accomplishments and ideas is changing the face of business as we know it. We felt International Women's Day was the perfect time to launch this event," said event organizer Tali Eisenberg of Getter Done Productions and Design.
As for Mary Janes: The Women of Weed, I've only heard great things about it since I was thinking about doing a 420 Film Festival last year. (I'm still working on it. If you know of an interested venue, please reach out in the comments!).
The filmmaker, Windy Borman, started making the documentary as a cannabis novice and after interviewing women in the industry she discovered cannabis liberation intersects with the most urgent social justice issues of our time—environmental sustainability, ending the War on Drugs and the Prison-Industrial Complex, and the destructive domination of Big Pharma.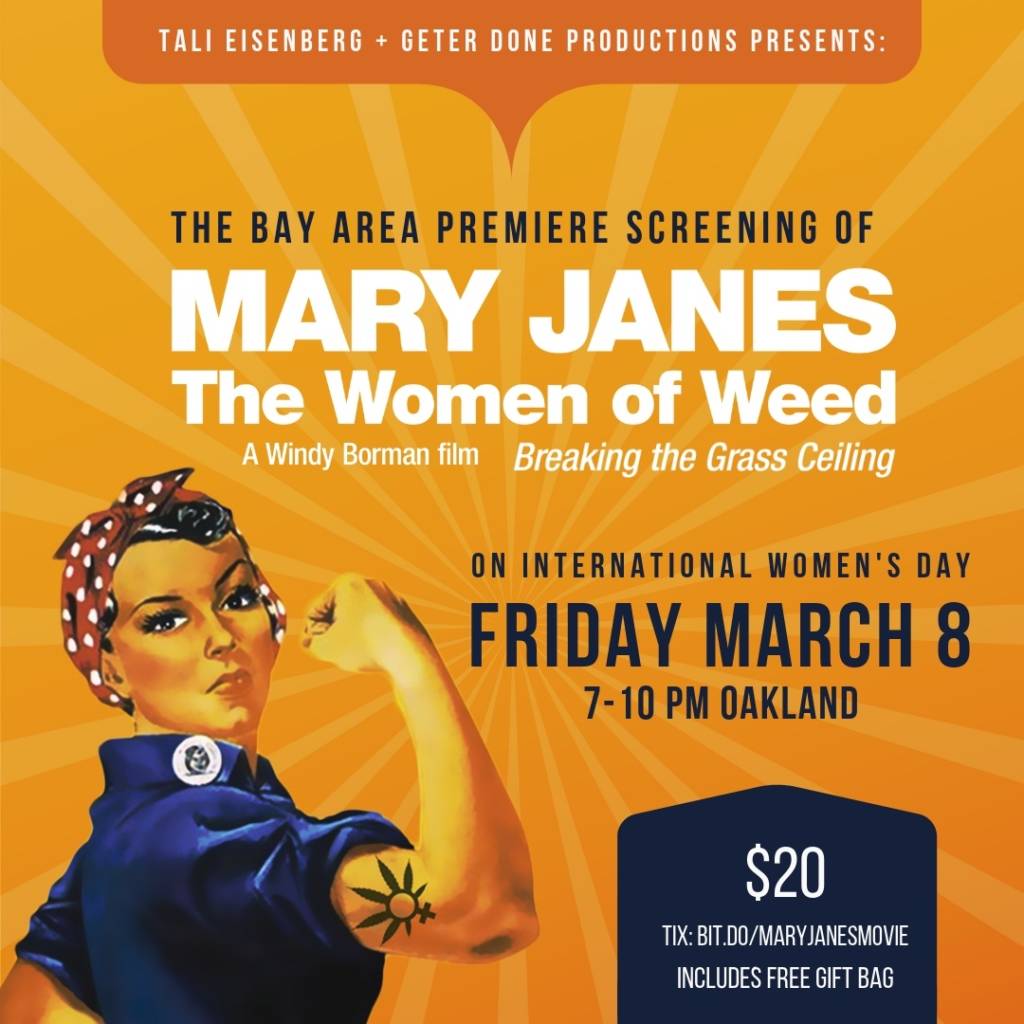 I am excited to see women brought to the forefront in this documentary and event. I want to see womens' amazingness represented and appreciated. Within the sphere of my family history, women and men have always had equal standing. No one was going to tell my mom she couldn't do something because of her gender, and my dad had no problem doing things that would be considered "women's work" by some men.
During this #MeToo moment in time, as we look to our future, let's just realize we are all equal. Men and women can do whatever they want — grow weed, run for president, create a company, be superheroes, travel to space, teach, fight, bring peace, learn and love. We are all alive on this crazy spinning ball in space trying to get from one day to the next and somehow make a difference. Life is tough enough without outdated and ill-informed preconceptions about what we can or cannot do.
In the end, thank goodness there is cannabis, and there are definitely equal rights in getting high after a long hard day and making everything float away in a puff of smoke (or vape, edible or tincture… whatever your stoney thing may be).
It's time to light up!