For 40 years, the process for selecting members of the San Francisco Rent Board has been pretty consistent.
The board, which has the crucial (and often complex) job of overseeing the city's rent laws, consists of two landlord representatives, two tenant representatives, and one person who is neutral (typically, a homeowner).
Going back to the days of Mayor Dianne Feinstein, generations of mayors have followed a tradition: When a landlord position is vacant, the administration reaches out the landlord community – the Apartment Association, the Board of Realtors etc. – and asks who they'd like to suggest. When a tenant position is open, the mayor checks in with the tenant community.
That way, both sides in the contentious battle feel that they are adequately represented on the board.
Not any more.
This week, Mayor London Breed appointed Reese Isbell, a former aide to Mark Leno who supported Breed for mayor, to a tenant post, displacing Polly Marshall, who had served in that job for 35 years and who is a favorite of tenant groups.
Many in the organized tenant community had never heard of Isbell. He told me that he hadn't been recruited by tenant groups and in fact had no idea he was up for this position.
"I submitted my resume when Mayor Breed took office and said I was interested in a commission," he said. "It wasn't until a couple hours before I was sworn in that they called me and asked me to be on the Rent Board."
Tommi Avicolli Mecca, a longtime tenant organizer with the Housing Rights Committee, said that as far as he knew, the Mayor's Office had done no outreach to the tenant community.
"There was no outreach at all. This was a shock to everyone," Marshall told me. She didn't find out she was being replaced until she read about the appointment in the BAR.
Isbell said he had never been to a Rent Board meeting before his appointment. He has never worked with the Housing Rights Committee or the Tenants Union, and told me he didn't know the TU director, Deepa Varma.
Isbell told me that he is a dedicated tenant activist, who has been fighting his own landlord over the right to put his husband on their lease. "Rent control is the reason I am still living here," he said.
A former co-chair of the Alice B. Toklas Democratic Club, he said he always worked to push the club in the direction of pro-tenant legislation. He was also a leader in the Toklas club when the group decided not to give an early and solo endorsement to Leno, and was active in the Breed campaign.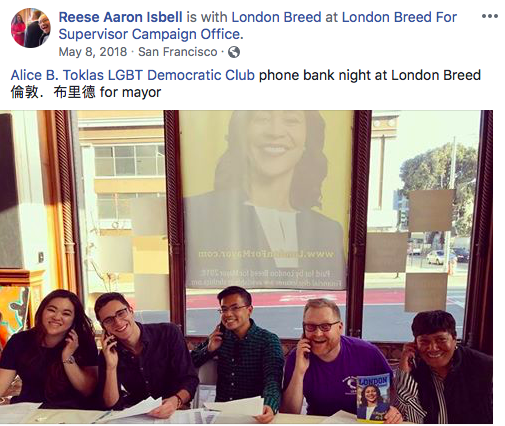 The Board of Supes can overturn the appointment, but that would take eight votes. Sup. Hillary Ronen has set a hearing at the Rules Committee April 15.
Rafael Mandelman, the only LGBT representative on the Board of Supes, said he hasn't taken a position, but acknowledged that "this appointment is problematic."
He cited the long tradition of outreach to constituent groups and noted that there are a number of people in the organized tenant community who supported Breed for mayor – since that appears to be a key requirement for appointments in this administration.
As for the Rent Board, Marshall, with more than three decades experience, had the institutional memory to help others understand the difficult and complicated rules and decisions that the board operates under.
That will be difficult to replace.