A relatively obscure hearing at the Board of Appeals this week shed some important light on the preservation of rental housing and a potential landlord scam that could threaten tens of thousands of tenants in the next two years.
On the surface, the issue seemed pretty minor: Tenants at 50 Alta Street were appealing a permit that would allow their landlord, Jerrold Balzer, to renovate one of the units in the building by updating the kitchen and building a new closet.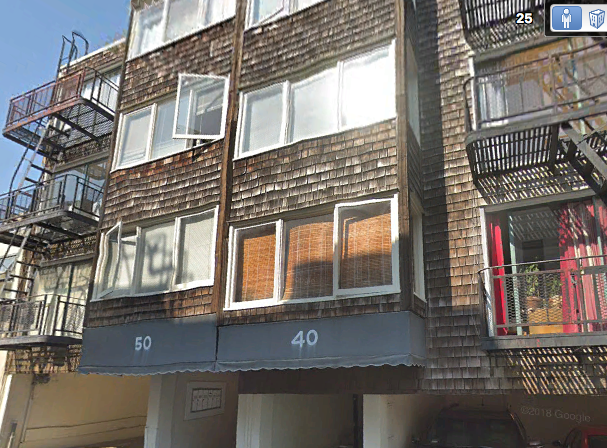 Balzer also said he wants to do city-mandated seismic upgrades on the Telegraph Hill property.
But Sup. Aaron Peskin, who attended the hearing as a neighbor, told the board that "this has nothing to do with mandatory seismic retrofits. This is an attempt to kick out a group of long-term rent-controlled tenants."
Balzer owns at least 10 buildings in San Francisco. Theresa Flandrich, a longtime tenant organizer in North Beach, testified that Balzer "forced the tenants into accepting a buyout or accept an Ellis Act" at his building at 427 Frederick. At 572-580 Chestnut, she told the panel, he has a record of "going beyond the scope" of building permits.
Rent Board files show that Balzer notified his tenants at the Frederick Street address that he wanted to negotiate buyouts. There is no filing of any actual buyout deals, but that building, as far as we can tell, is currently vacant.
Flandrich told me that tenants at 40 and 50 Alta Street (two combined lots) were offered buyouts this spring if they would move. They declined.
One of the tenants has been there for 49 years.
The original permits that Balzer filed for the work on the property said that nobody would be living there when the work began – an indication that Balzer thought he would be able to clear the place of the rent-controlled tenants.
That became a major issue at the hearing: The commissioners, led by Rick Swig and Darrel Honda, said that the permit application contained false information.
"The original sin in this permit was going to the city and saying that a building that had occupants was not occupied," Peskin said.
Also: The hearing had been continued from November because Balzer hadn't provided clear plans for the work. Balzer and his lawyer never submitted the normal, required legal brief for this hearing, something that infuriated the board members.
"You should have had a brief," Swig said. "You have had five months. That's not the way this works. Sorry, you blew it."
Five months after the board asked for more information, the tenants still hadn't seen the plans for the renovation work. "We have not seen the plans," tenant Caroline Dufty said. She also said that one of the units in the building had been illegally converted to an office for three years.
"There are seniors in the building," Flandrich said, "and the hope is that they are not displaced by deliberate stops and starts" of renovation projects to make them go away.
This is an issue far beyond 50 Alta Street. There are, Flandrich estimates, more than 5,000 buildings in the city, larger apartment structures with 15 or more units, that have not been brought up to legal seismic-safety standards. The deadline for that work to be completed is two years away.
In many cases, the renovation could force some of all tenants to move out for at least some period of time. By law, the landlord has to pay relocation expenses for 20 days – and most seismic work can be done in that timeframe.
But Flandrich warns that landlords who are looking for ways to get rid of long-time tenants in rent-controlled apartments could use the mandatory construction work as an excuse to drive away people who have a legal right to return to their homes.
That's particularly concerning when the latest tech IPO boom has speculators drooling at the prospect of getting rid of longterm tenants.
"Not everybody knows their rights," she said. If you live in one of those buildings, you can get a lot of information from the Rent Board or the San Francisco Tenants Union.
As for 50 Alta, the board was not pleased with what it heard: "The evidence was an application with a blatant lie on it. You took a vacant apartment and turned it into an office illegally. That was wrong," Swig said.
After pondering revoking the permit, the board decided once again to delay it, until June, to see if Balzer can work things out with his tenants to avoid disruption and displacement.
But it was a sign that the Board of Appeals is taking this type of landlord behavior seriously. "I walked out of the meeting," Peskin told me, "thinking maybe there's still hope for this city."