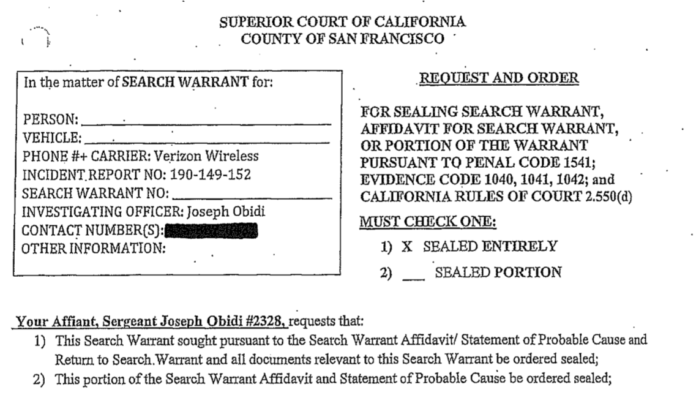 Court documents unsealed Tuesday morning show the San Francisco Police Department failed to inform a Superior Court judge that the target of a search warrant was a credentialed Bay Area journalist, and therefore should have been protected by the Shield Law provisions of the California Constitution.
The search warrant affidavit – which was issued March 1, and sought cell phone records of freelance stringer Bryan Carmody the night Public Defender Jeff Adachi died– states that Internal Affairs Sergeant Joseph Obidi did an internet search for Carmody's name. That search turned up his LinkedIn profile, on which Carmody listed himself as a "Freelance Videographer."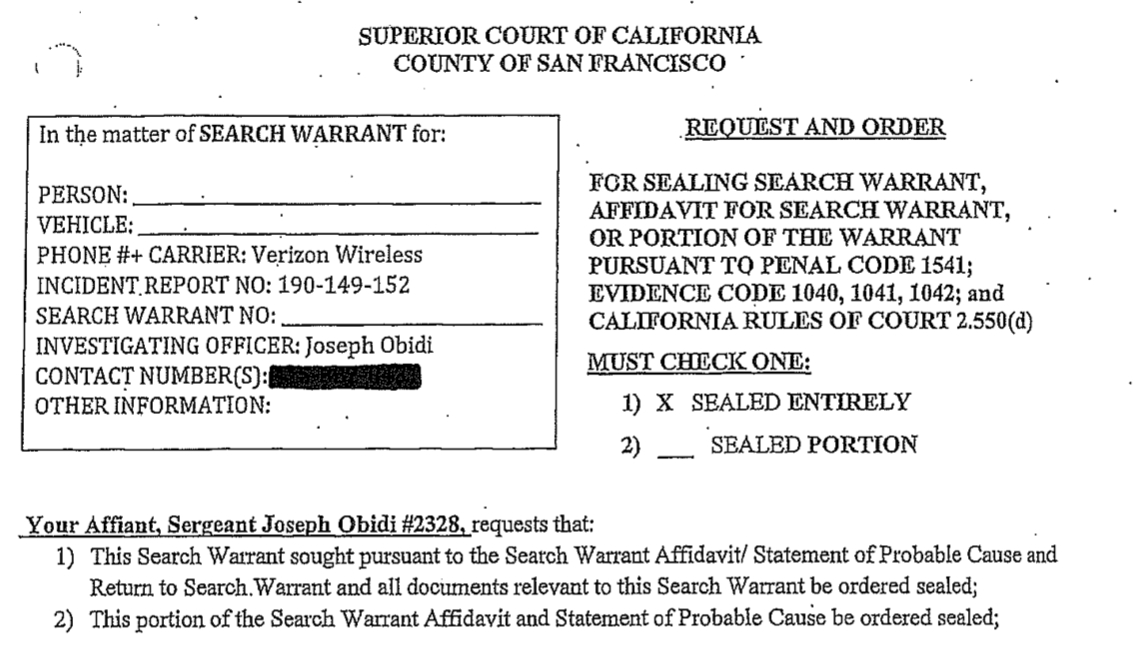 That isn't quite as explicit as "freelance journalist," but it's close.
Judge Rochelle East, who signed the original warrant, ruled last week it was invalid because SFPD did not tell her Carmody was a journalist, "which he obviously is," she said.
Thomas Burke, a first amendment and media attorney representing Carmody, said he did not blame the judge for not knowing a freelance videographer might be a freelance journalist.
"I don't blame the courts. I blame the officers seeking the warrants," Burke said. "She was clear in the hearing (last week) she did not know him to be a journalist."
Burke also represents 48hills on media-law issues.
SFPD obtained a total of five search warrants against Carmody while investigating him for criminal conspiracy to steal a confidential police report about Adachi's death on Feb. 22. Carmody said he obtained the report from a source, which he then sold to several Bay Area television stations along with footage he shot of the North Beach apartment where Adachi died.
The search warrant affidavit states a further internet search showed Carmody was not directly employed by any of the news organizations that obtained the death investigation report.
But Carmody has been working as a freelance stringer in the Bay Area for 29 years and has been issued a press pass by SFPD.
"SFPD knows who they issued press passes to," Burke said. "They uniquely know, or should have known (that Carmody was a journalist)."
Judges have yet to rule if the remaining four warrants SFPD executed against Carmody will be unsealed.  Two of those warrants were for additional cell phone data, and two were for the May 10 raids on his home and office at which police seized 68 items, including phones, computers, tablets, hard drives, and notebooks.
Until those additional warrants are unsealed, we won't know if SFPD presented additional information to judges that Carmody was a journalist and should have been protected by the Shield Law.
Even if the investigating officers weren't aware SFPD had issued Carmody a press pass when they sought their first warrant, there appears to be no reason for them not to have known he was a journalist by the time they obtained warrants for the raids at his home and office.
A month before those raids, on April 11, Carmody said the investigating officers came to his home to ask him who his source was. He said he refused, because he promised the source confidentiality. Carmody said the officers then threatened him with a federal grand jury subpoena.
When his home was raided a month later, Carmody said he was also questioned by two FBI agents.  Why the FBI was present at the raid conducted by SFPD remains a mystery.
The next public court date, for the search warrant executed at Carmody's office, is scheduled for Friday.