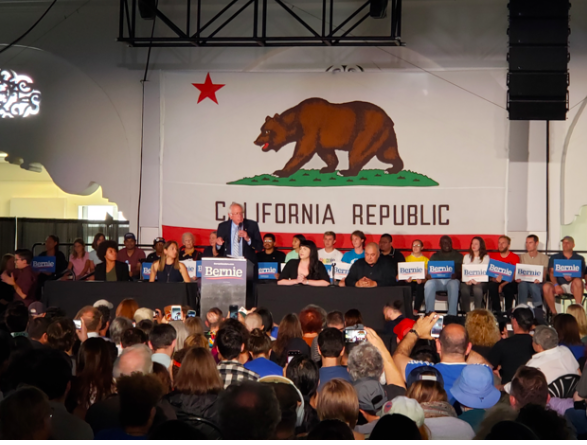 Sen. Bernie Sanders held a town hall in San Francisco on Friday to discuss one of his campaign's major promises: canceling student debt.
An excited and packed crowd of more than 1,000 gathered at SVN West, a former car dealership on South Van Ness Avenue, to listen to the presidential candidate's ideas to advance accessible and affordable education for all and ask questions about his platform.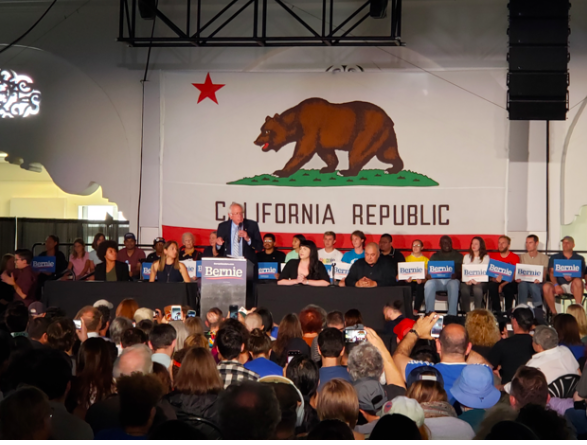 Sanders' initiative, dubbed the "College for All Act," would eliminate $1.6 trillion in student debt for 45 million Americans. According to his campaign, the College for All Act would also provide at least $48 billion a year to eliminate tuition and fees at four-year public universities and colleges, community colleges, apprenticeship programs, trade schools, and tribal institutions of higher education through a tax on Wall Street speculation.
"Every person in this country regardless of his or her income has the right to get a higher education," Sanders said. "Maybe it's college or university, maybe it's going to a trade school—whatever it may be, financial impediments should not stop you from fulfilling your dream."
The presidential hopeful was joined by several elected officials, including former Ohio State Senator Nina Turner and former San Francisco Supervisor Jane Kim, both of whom work for his campaign; Turner serves as Sanders' national co-chair and Kim serves as his Bay Area regional campaign director. Before introducing the senator, Kim took the stage to highlight the need to get involved in Sanders' campaign to further progressive goals like accessible education.
"There is no proposal more aligned with the American dream and our values than making sure that college is accessible for all and that we cancel student debt," Kim declared. As supervisor, she championed the effort to make City College of San Francisco tuition free for residents.
Sanders' campaign also shared the stage with four local speakers. Among them were Gabriela Lopez, who serves as an educator and San Francisco School Board Commissioner, and Mia Satya, an employment services coordinator at the SF LGBT Center. Freedom Siyam, the principal of Balboa High School in San Francisco, and Damaris Bonner, a student leader at Notre Dame de Namur University, were also in attendance. All panelists discussed their personal experiences with student debt, as well as the larger impact that expensive and inaccessible education has had on the people and students they serve.
"I can't dream about buying a home," said Satya, who shared that her struggle with student debt has been compounded with issues of housing affordability, exorbitant medical bills, and lack of disposable income to cover emergencies. "Don't tell me that skipping coffee is going to get me out of poverty," she said.
Commissioner Lopez discussed the difficulty of navigating higher education as a low-income, first-generation student. "I was the first in my family to go to college, and I did not have the support or understanding of navigating that because my parents did not have the tools to guide me," she said. Lopez shared that she has accumulated $80,000 in student debt. "Canceling student debt would change my life forever," Lopez said.
Sanders also emphasized that four years ago, discussing free tuition for higher education was considered a radical idea. However, he said that cities like San Francisco, New York, and Los Angeles have made the idea of tuition free higher education "less radical" every day.
"Nothing is possible until it happens," said Bernie, loosely quoting Nelson Mandela.
Sanders has undoubtedly influenced the political landscape and many of the issues, especially the idea of free college, at the forefront of the 2020 race. Sanders is not the only Democratic presidential candidate with a plan to tackle student debt and address college affordability. Sen. Elizabeth Warren has also unveiled a plan to fund universal tuition-free public college and address student loans. Unlike Bernie's plan, Warren's proposal comes with eligibility criteria; her plan would forgive a maximum of $50,000 in student debt for borrowers in households earning below $250,000 a year. Similarly, Sen. Kamala Harris also touted a student debt forgiveness proposal, but elicited confusion and backlash for the amount of conditions necessary to get $20,000 in debt canceled.
Though the theme of the town hall was student debt and college affordability, the crowd also brought up questions and comments about climate change, unions, wealth distribution, the Israel-Palestine conflict, and his support of Standing Rock and indigenous communities. When asked if he would pass the Equality Act on day one through executive order in response to Trump's rollbacks on protections for the LGBTQ community, Sanders answered "yes" with no hesitation. He wanted to answer as many questions as possible before he had to leave to catch his flight.
Sanders was the only major Democratic candidate to host a public event during the Democratic National Committee's meeting in town this past week.