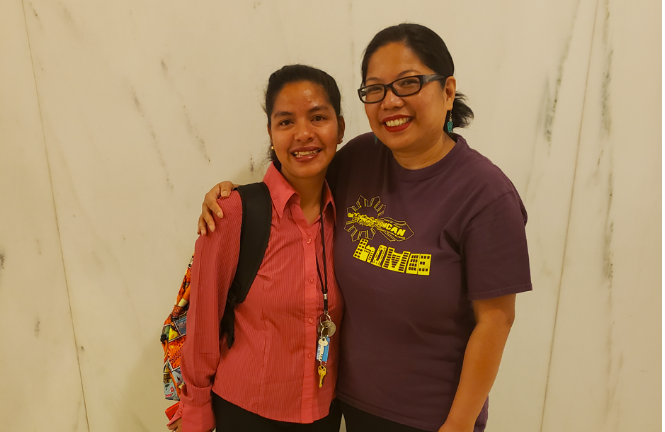 In 2014, San Francisco certified Filipino as the city's official third language. Under the Language Access Ordinance, this certification should have signaled a full implementation of Filipino as a language that must be used in communicating essential city services to the public by the end of 2015.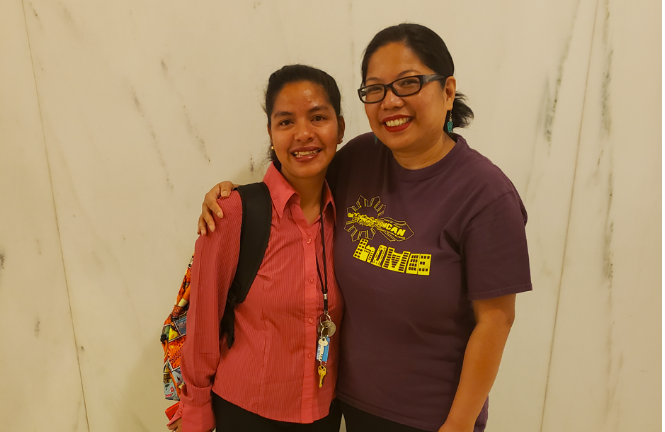 However, a new report shows that, five years later, Filipino language access has been unevenly delivered across city departments and agencies, leaving many Filipino residents unable to reach basic and important services and information.
The report, titled "Speaking Up, Speaking Out: Recommendations for Implementation of Filipino Language Access in San Francisco" was authored by Dr. Valerie Francisco-Menchavez and her team of student researchers from San Francisco State University in collaboration with the South of Market Community Action Network. The report was funded by the Office of Civic Engagement and Immigrants Affairs.
On Friday morning, Francisco-Menchavez, SOMCAN, and Supervisor Matt Haney hosted a press conference at City Hall to share the findings of the report to community members and representatives of city departments, including OCEIA and MOHCD.
Haney, who represents District 6 (which includes the Soma Pilipinas Filipino Cultural District), stressed the importance of creating better language access to the residents of not only his district, but the entire city. "One out of four people in San Francisco are limited in English proficiency," Haney said. "Addressing barriers to communities' needs is absolutely necessary."
Honey Mahogany, legislative aide for Haney, added that this report also brings to the forefront the need for the city to consider language access for all the communities who need it. "It's time that the city makes implementing culturally appropriate and culturally-competent language accessible services a priority," she said.
Five years ago, service providers were hopeful that the LAO would ensure that the need for Filipino translated materials was taken seriously. Angelica Cabande, the organizational director of SOMCAN, pushed for this report when she realized that the community was still struggling to access resources. "We were really excited in 2014 when the Filipino language was finally acknowledged as a major language in San Francisco since our community has been here for over 100 years," she said. "We really thought that our community would finally get resources and more support, but instead, we (service providers) continued to have our caseloads compounded by translation needs. I wondered, why is our community still struggling to understand our rights as tenants, workers, students? This report answered that for us. We aren't getting the resources and investment we need to thrive."
The report assessed and evaluated the barriers to Filipino residents who have limited English proficiency and made recommendations to strengthen the ability of city departments to provide efficient and accurate language access services. In all, the report finds that the implementation of the LAO is uneven in delivering materials and information in Filipino.
The report had four key findings:
Filipinos in San Francisco are in dire need of language access services
Back in 2014, OCEIA determined that 10,000 San Franciscans who have limited English proficiency speak Filipino (Tagalog), which meets the threshold that requires translation under the LAO. However, the team's research found a lack of language access services, which creates barriers for Filipinos who need to access basic services and information related to benefits, education, housing, healthcare, and more. That means there are thousands of residents being impacted by the lack of translated materials in Filipino.
Filipino community-based organizations are providing language access services
According to Dr. Francisco-Menchavez, this report was made possible because it was driven by service providers and their needs. "We interviewed and collected data from multiple Filipino-serving nonprofit organizations in San Francisco. What we found is that community-based organizations are doing double duty… they are providing their own services while also taking up the work of translating documents and acting as translators, which is what the LAO should be providing. This takes a lot of time and adds to their caseloads, not to mention, that work is unfunded," Francisco-Menchavez said.
Filipinos speak English but comprehend in Filipino
Since English is a national language in the Philippines (based on the US-Philippines imperialist and colonial history), many Filipinos have some degree of fluency in English. However, their ability to understand and comprehend details and consequences of decisions that may impact important aspects of their lives (including healthcare, education, housing, benefits) is best when they speak in Filipino.
There are institutional barriers to language access in Filipino
In many existing translated documents provided by city departments, there have often been poor and wrong translations. These poor translations can not only cause confusion but mislead those who read them.
There is also an overall lack of translated materials, applications, and information, as well as a limited number of interpreters and translators who are available during departments' operating hours. Further, immigration status also creates a barrier to accessing resources; many Filipinos who are limited in English proficiency may be too afraid to ask for language resources if they are undocumented.
Luisa Antonio, a service provider for more than 20 years, said the report also serves to validate the concerns that many service providers have had for a long time. Antonio spent a great deal of her career at the Veterans Equity Center (now named the Bayanihan Equity Center) in SoMa, where she supported many Filipino senior veterans in accessing resources. She saw firsthand how difficult it was for Filipino seniors with limited English proficiency to understand important documents. "It is the hope that this report shows that implementation of language access services needs to be accurate, far-reaching, and taken seriously," Antonio said. "These translations need to be vetted and checked, because for many, the wrong translation or complete lack of access to resources is a matter of life and death."
Newcomers especially suffer at the lack of language access services. Mary Jane Zambrano is an immigrant mother of four children, three of whom attend Bessie Carmichael School in the SoMa, and understands firsthand the struggle of trying to navigate living in San Francisco as a non-English speaker. With Cabande providing translation, Zambrano told me of her personal struggles trying to understand the process of applying for benefits to support her family. "I am lucky to have met other Filipinos who helped me understand what to do, because I couldn't understand what I was reading. I can't imagine what would have happened if I didn't go to SOMCAN for help," Zambrano said, as tears filled her eyes.
Francisco-Menchavez says that this report should serve as a call to the city to take up the work of giving the Filipino community access to the services they deserve. "It's Filipino American History Month. We know that Filipinos throughout our history have fought for what they wanted and won; this report is an effort to fight for services that should be afforded to Filipinos in San Francisco," she said. "The onus is on the city to provide these materials and information in the Filipino language and we need it now. We need translation, interpretation, housing, healthcare, and support for seniors, youth, and families. We need education, mental health counselors, dual immersion programs, and newcomer programs to allow Filipinos to integrate into the social and political life of San Francisco."
The report lays out the following recommendations to strengthen and expand language access:
Enforce the Language Access Ordinance
Use multiple strategies to increase Filipino language access (including re-establishing newcomer programs and supporting and creating dual immersion educational programs)
Recognize the work of community-based organizations in providing culturally-competent and linguistically-competent language services
Invest in Filipino interpreter and translator workforce development
Raise public awareness of Filipino as a recognized language in San Francisco
To access a full copy of the report, please contact SOMCAN. (https://www.somcan.org/contact)