Among the many, many disasters of the Trump regime is its failure to give us a satisfying Lady Macbeth. Granted, Trump himself is no Macbeth—whose triumphs on the battlefields of Scotland's endless wars give rise to the power and madness (PTSD?) that form the plot of Shakespeare's play (through October 13 at Cal Shakes). Trump-Macbeth would have long fled the windswept, misty moors for Newcastle, limping on his convenient bone-spurs, hauling synthetic coal to sell.
Demanding that every powerful woman be a murderous diva ice queen is a tired and sexist trope, of course. But still, Melania has so much potential to play the classic evil villainess—a cold-hearted, former sex-pot model from a wartorn region suddenly thrust into the apex of wealth and power, tiny teeth gritted in a scheming rictus— that it's shocking she's turned out to be almost blander than Laura Bush. Throw us a bone and murder a servant with your bare, bloodied talons, Melania! Give us a little drama.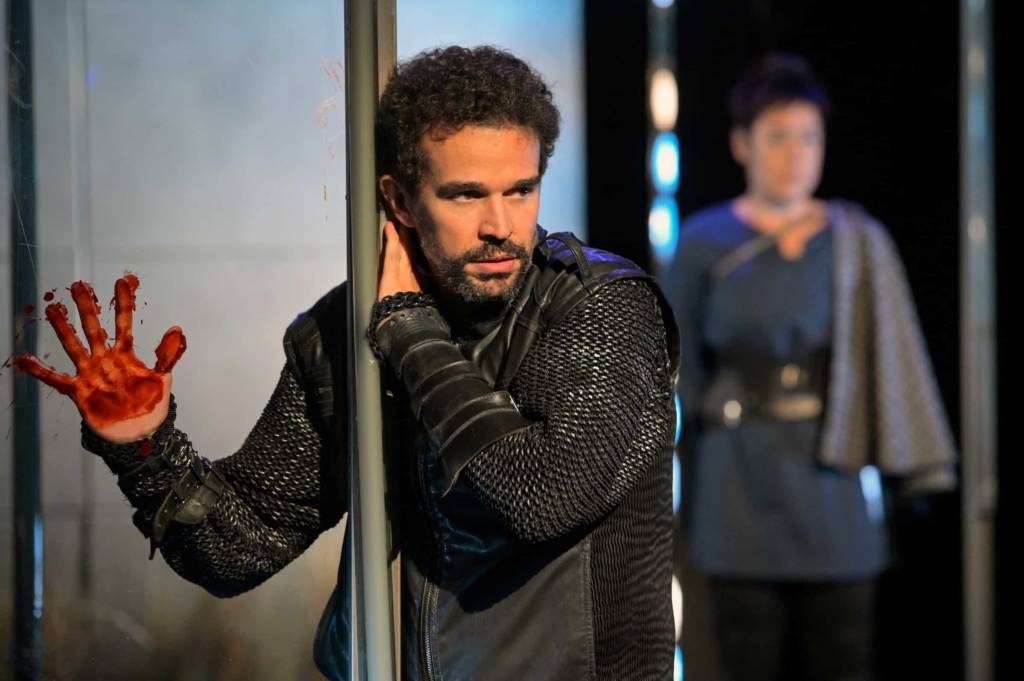 But I'm doing that contemporary thing of trying to make all art politically relevant, and, unlike the ill-starred staging of Julius Ceasar near the start of Trump's reign, the splendid Cal Shakes Macbeth is free from deliberate and forced associations. That may be the reason I enjoyed it so much—that, and have you been to Orinda to see a Cal Shakes show? It's gorgeous right now. Although the play has several lines that bring the outside world rushing in with nervous laughter ("Oh miserable nation, ruled by a usurping, murderous tyrant, when will you see peaceful days again?"), this Macbeth, weirdly, feels like a relief.
Shakespeare can be solace in turbulent times. Audiences flocked to productions of Romeo and Juliet and Hamlet during the Great Depression, and he got a popular hippie makeover in the '60s. (Shakespeare also ruled the movie box office during the Clinton years, make of that what you Will.) With everything going on, and a nation still reeling from the horrible last season of "Game of Thrones," the story of a man who with the help of his wife murders his way to the top, suffers spectral hallucinations, and stabs his way into the next life seems… quaint. You imagine Macbeth's Twitter feed would be merely single-mindedly tiresome, retweets of Joe Rogan and Barstool Sports or sale codes for tartan tunics, rather than epically dangerous.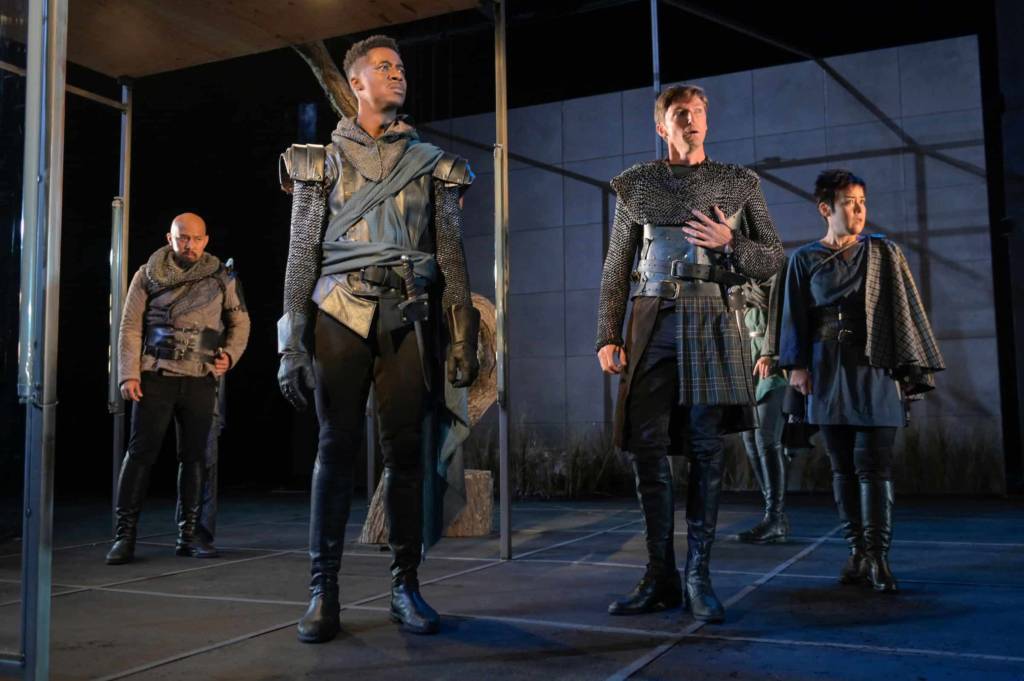 What comes through in this production is the music, the hushed internal language of homicidal plots and castle secrets that Shakespeare spun into addictive rhythms. The Cal Shakes actors—handsome Rey Lucas as Macbeth, Liz Sklar as Lady Macbeth, a jaunty Dane Troy as Macduff, and the rest of the diverse, energetic cast—roll with the frantic lilts and dodgy logic of the script. Adam Rigg's clean, architectural set neatly references Akira Kurosawa's Throne of Blood with its Japanese paper walls, cleverly interspersed with plexiglass sheets. (Later, those blood-smeared panels will look more like something out of horror director Takashi Miike.) But otherwise, director Victor Malana Moag keeps things classic: The actors are in Middle Ages Scotland, wearing the appropriate clothing (designed by Melissa Torchia), and speaking a faithful version of the text.
That text flows from the actors like liquid gold (the vocal/text coach is Jessica Berman), after an always awkward start to the play, which packs three battles' worth of exposition into one poor sergeant's mouth. But in short order we get scrying witches (effectively played in rotation by cast members) and huffing thanes, followed by the true star of the play, Lady Macbeth. While Shakespeare often delves deep into the origins of trauma, he famously plays coy about the origins of evil—we still scratch our heads over Iago and that handkerchief in Othello—and, in her first speech, Sklar has about five minutes to go from lonely house-mistress to icon of powerlust, but she manages it as ably as anyone can. She really shines in later scenes, when she brings out how much she controls Macbeth with her sexual allure.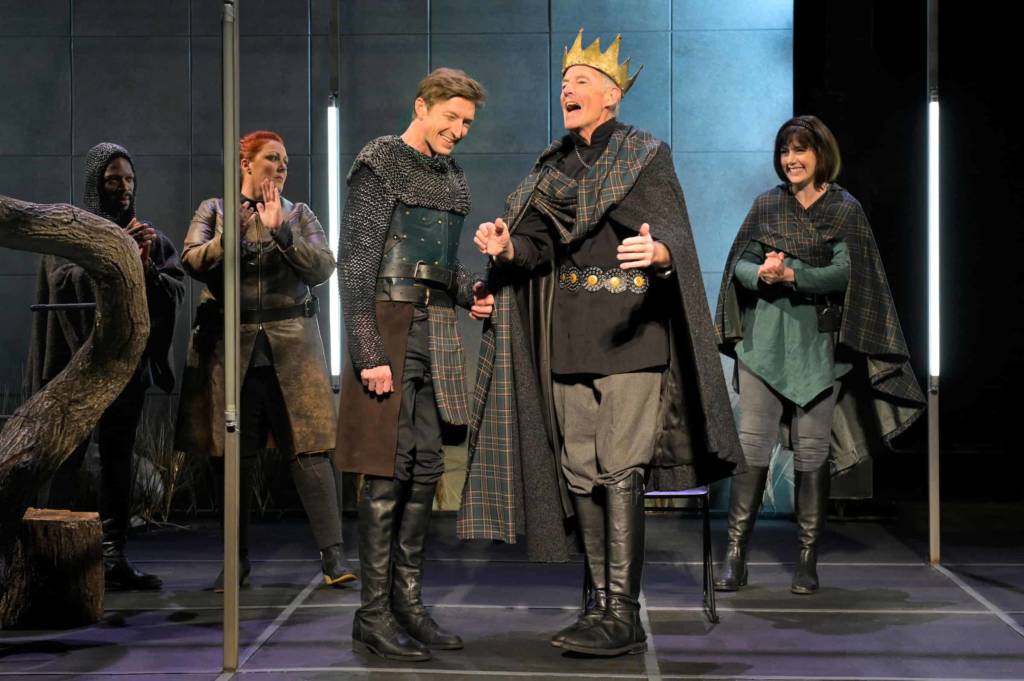 Once the play's poetic genius caught fire—whether you can follow it all perfectly or not—I found myself pleasantly riveted, caught up in a dark tale that still manages to outdo most of what's on cable. (Warren David Keith nearly steals the show as the oblivious King Duncan and the eerily hilarious Porter, one of Shakespeare's clairvoyant jesters). Could director Moag have better teased out some deeper threads, like the drowning suck of conspiracy theories and the moral corruption of empire? This may be one of those times when viewers bring enough immediate knowledge of such things to a production. They don't need to be bludgeoned to death.
MACBETH
Through October 13
Cal Shakes, Orinda
Tickets and more info here.