It has blinky lights, art cars, the gifting of trinkets, and the Temple of Reunion by legendary temple-builder David Best. There's cool video from Black Rock City, burner fashions on mannequins, storytelling about the history and ethos of Burning Man, and even founder Larry Harvey's iconic Stetson hat.
All the ingredients were there, minus the dust, but it still just felt a bit sterile and self-important. No Spectators: the Art of Burning Man (through February 16, 2020), which recently opened at Oakland Museum of California after its ballyhooed premiere at the Smithsonian's Renwick Gallery in DC last year, is a reminder how crucial context is to Burning Man art. 
Experiencing art in the desert at Burning Man is a full sensory experience. It's not just the art piece you're looking at, it's the sonic cacophony of myriad moving sound systems, the alkali dusty air, the silhouetted mountains in the distance, the wide-eyed friends and strangers around you, emotions altered by work, drugs and/or the journey to this spot.  
Maybe it's impossible to convey the Burning Man experience in a museum setting. Perhaps it's enough to display some interactive art for the virgins (like the glowing, moving shrooms of Shrumen Lumen… dude) and nostalgia for the burner veterans (wow, Michael Mikel's HellCo jacket and Cachophony Society's six-fingered neon hand…cool).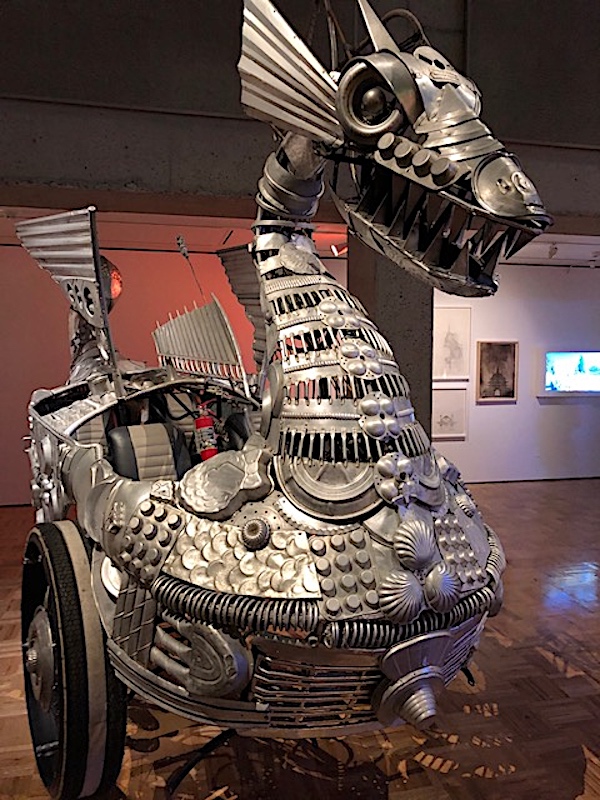 But it's just not the same without any kind of soundtrack—a notable omission that reflects OMCA collaborator the Burning Man Project's disdainful disregard for the DJs and sound camps that helped popularize the event—except for the narrator's voice on the Burning Man documentary. I kept waiting for a playa-inspired prank in the droning narration, but no, he played it straight and earnestly. 
The artists and theme camps that build Burning Man every summer are undeniably a major creative force in the Bay Area, which is still the cultural and artistic center for the event it birthed, producing incredible artworks of growing complexity and innovation. 
And the curators of this exhibit, both here and from the Smithsonian (who were all new to Burning Man), were smart to tap that amazing creativity by commissioning veteran artists to build original artworks for what became a traveling show, including the Five Ton Crane crew that built the Capitol Theater art car, the Paper Arch by Michael Garlington and Natalie Bertolli, and Best's Temple. 
In fact, the curators offered more support than most artists ever get from the Burning Man Project, which rarely fully funds even the projects it deems worthy of art grants, leaving crews to do big fundraisers and often struggle with debts long after their projects have burned to ash.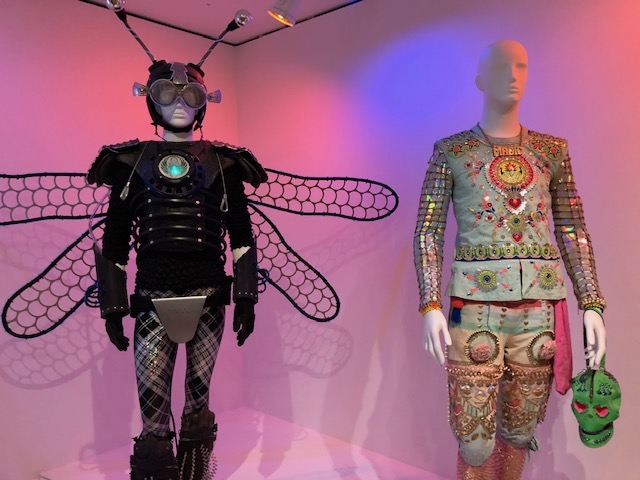 So it's great to see burner artists gaining a new patron and being able to show their work closer to home. The Capitol Theater—which combined a retro theater art car with an original silent film production featuring Bay Area burner luminaries as actors—was particularly impressive, marrying builder and performance art in a way that embodied Burning Man's participation principle more than any piece in the exhibit.
Temple of Reunion, like the Hayes Green Temple that Best built in San Francisco in 2005, was also an authentic example of a playa staple artwork recreated in the Bay Area for a wider audience to appreciate, to write messages on, to use as a place for reflection.
The temple's accessible placement outdoors in the Oakland Museum's courtyard, along with a scaled-down replica of Marco Cochrane's amazing "Truth is Beauty" sculpture—which debuted at Burning Man in 2013 and is currently at San Leandro Tech Campus—help open the exhibit up.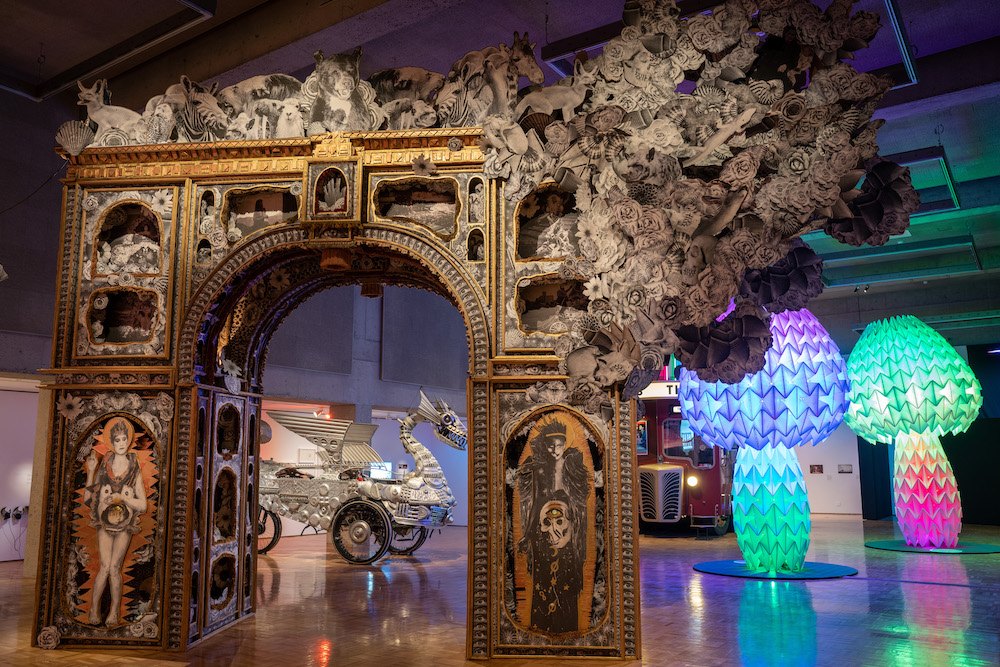 But overall, No Spectators suffers from some of the same problems that plague Burning Man itself. It lacks self-reflection and resists prompts and opportunities to evolve with our changing times. Burning Man brass buy into their own we're-changing-the-world bullshit while cultivating a velvet-rope elitism and cult-like devotion, seemingly unaware how off-putting and off-key that is to outsiders.  
Burning Man claims high-minded countercultural values—"radical inclusion, decommodification, radical self-reliance"—that its leadership rarely even tries to live up to. The event's cultural and artistic dynamism is delivered by attendees who pay for privilege to do so, in the context of a calcified event structure that hasn't significantly changed in decades, except to just grow bigger and bigger.  
As KQED's critical review of the exhibit pointed out, it would have been nice to see more than "a surface-level celebration of a cultural phenomenon with so many other angles worthy of exploration," such as why an event populated mostly by relatively affluent white people is relevant to the larger world. 
One of those angles was on vivid display this year when the Burning Man Project proposed to grow the event to 100,000 and loudly cried foul at the resulting federal permit conditions. They responded with an ambitious environmental pledge—but the whole saga was a top-down approach that belied its claim to "radical inclusion."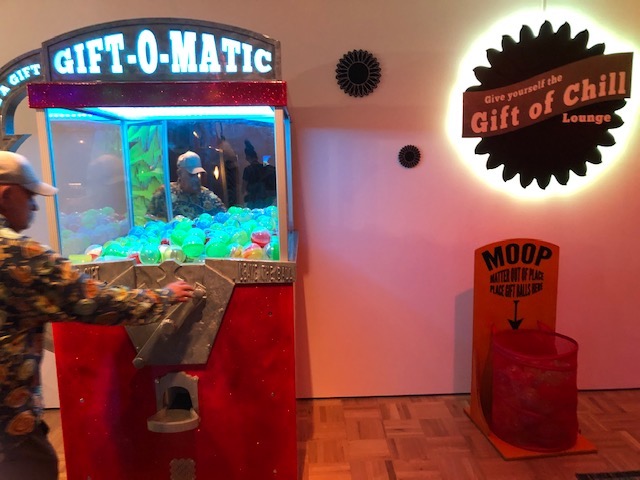 I've covered Burning Man as a journalist for 15 years now, sometimes sparking or feeding controversies that leaders of the event always try to gloss over or ignore. So I've come to expect very little in terms of true introspection or evolution from the six people who have run Burning Man since 1996, minus Harvey, who died last year.
They seem content to just stay the course, which has worked out remarkably well for them as Burning Man has grown from countercultural happening to a must-see bucket-list event for the mainstream. 
But that journey, and the many contradictions and critiques that it entails, could have been interesting material for an exhibit that wanted to do more than scratch the surface or sing Burning Man's greatest hits for the default world spectators. 
That would be art that illuminates, not just celebrates, what really happens at that thing in the desert and beyond.    
'NO SPECTATORS: THE ART OF BURNING MAN'
Through February 16, 2020
Oakland Museum of California
Tickets and more info here. 
Steven T. Jones is the author of The Tribes of Burning Man: How an Experimental City in the Desert is Shaping the New American Couterculture.