An idyllic Christmastime setting, a loving family, and the gift that keeps on giving grief. Gremlins, which celebrates its 35th anniversary this year, has all the makings of a Hallmark holiday movie — from hell.
In the film, written by Chris Columbus, directed by Joe Dante, and executive produced by Steven Spielberg, a teenager named Billy (Zach Galligan) receives an exotic mogwai creature named Gizmo (voiced by Howie Mandel) for Christmas.
It's cuter than a Cabbage Patch Kid but harder to handle than a Chia Pet, especially if you expose it to direct sunlight or overwater it. Or water it at all, for that matter.
Light kills the mogwai and water makes it aggressively reproduce. Worst of all, feeding its demon spawn after midnight turns them into a legion of sadistic reptilian monsters called "Gremlins."
The now cult comedy-horror classic (itself a twisted take on the traditional Christmas tale) gets its own perverted parody with Peaches Christ's "Femlins" (Sat/14 at the Castro Theatre, 3pm and 8pm).
In the San Francisco scream queen's riotous staged version, co-produced with Michael Varrati, the Billy character has been replaced by the made-up Phoebe Cracker (played by RuPaul's Drag Race Season 10 superstar Miz Cracker). The alien pet's name has been changed from Gizmo to "Jizmo" and gremlins are now "femlins," mischievous monsters dead set on destroying drag queens everywhere.
"Femlins," also starring RuPaul's Drag Race alums Detox and Phi Phi O'Hara, 2017's Grand Duchess of San Francisco Migitte Nielsen, and Peaches Christ herself, will be followed by a film screening of the special 35th-anniversary 35 mm print of Gremlins.
I spoke to Miz Cracker—the Seattle-born artist and activist who divides her time between drag, comedy, writing, and activism and bills herself as a "Woman's Lifestyle Brand"—about "Femlins," her increased feminism, and teaching the next generation of gender illusionists.
48 HILLS How did you join the cast of "Femlins" and what drew you to the project?
MIZ CRACKER Peaches Christ called me one day and said, "We've been trying to work together—How does this sound? I have a show based on Gremlins." The idea was so ridiculous, there was no way I could stay, "No."
48 HILLS What was your earliest experience of the Gremlins and Gremlins 2 movies?
MIZ CRACKER I first saw Gremlins shortly after I first saw ET. The '80s and '90s were a time for really scary children's movies. We're in the age of Pixar now, not Labyrinth. I was easily freaked out, so I was not the biggest fan of Gremlins at the time. But the images definitely did stick in my head.
48 HILLS How does making the main character a woman change things up in your opinion?
MIZ CRACKER Making the main character of a parody drag show into a woman is a classic move. The same thing was recently done with the musical Company. It just makes everything fresh and offers a new perspective.
48 HILLS Why are you excited to work with Phi Phi, Detox, and Migitte Nielsen, in particular, on this show?
MIZ CRACKER I'm really excited to work with the entire cast of "Femlins." They are part of the reason I decided to do the project. We all come from such different places, with different drag styles, so it will be fun watching us play off of each other.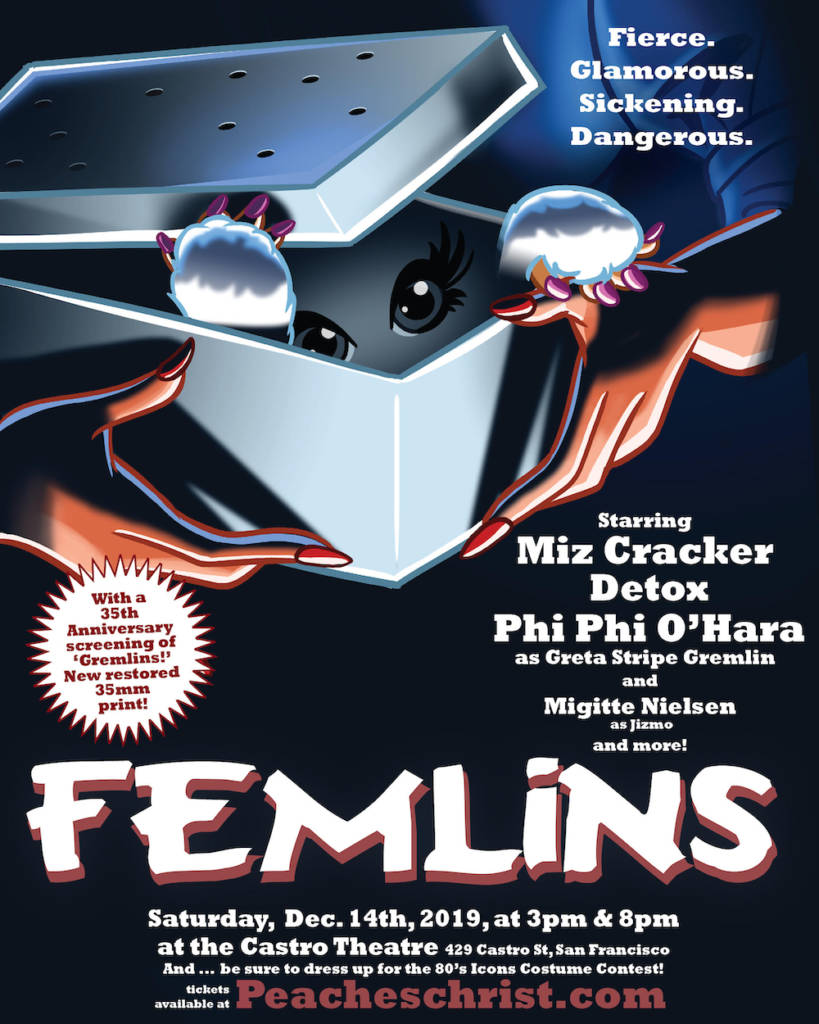 48 HILLS Why is "Femlins" the perfect way to spend the holiday season?
MIZ CRACKER We have so much to worry about these days, from politics to the environment. And now, with the holidays around the corner, we're about to spend a bunch of time with family. There's no better way to prepare for this scary and stressful holiday season than by seeing a hilarious show.
48 HILLS You bill yourself as a "Woman's Lifestyle Brand." What does this mean exactly?
MIZ CRACKER There's been a big shift in my drag toward creating things for women. Women are such a huge part of my audience and my life. It would be irresponsible not to acknowledge that by making performances, shows, and videos that challenge, celebrate, and play with everything a woman can be.
48 HILLS What's inspired your increased feminism?
MIZ CRACKER My feminism is inspired by the fact that I owe everything to women. From my mother and sister who helped shape who I am, to Katelyn, the woman who made my RuPaul's Drag Race audition video, I would be nowhere without the women figures in my life.
48 HILLS What can you tell me about your forthcoming solo show, "American Woman"?
MIZ CRACKER It's all about what people can do to be better allies to women. But it's important to know the show is not a downer. It's all about hope, laughs, and me making fun of myself in order to grow.
48 HILLS How can drag queens and gay men be better to women?
MIZ CRACKER There are a lot of ways that drag queens and gay men can learn to treat women with more respect. But the first way is simply to listen to what they're asking for. It's a start.
 48 HILLS I read that you also do drag lectures at universities across the country. What exactly are you teaching students?
MIZ CRACKER One of my favorite things to do is visit colleges and talk about drag, because young people are so fascinated it, but they don't know about the history that makes it great.
FEMLINS
Sat/14, 3pm & 8pm, $20-$130
Castro Theatre, SF
More info here.