Supervisor Shamann Walton announced Friday that he's asking the city to develop a reparations plan for the Black community.
"The effect of slavery still remains and still resonates in our policies," Walton said. "I am committed to create an advisory committee to develop a true reparations plan that will address the systemic inequities that continue to exist in our African American communities and neighborhoods."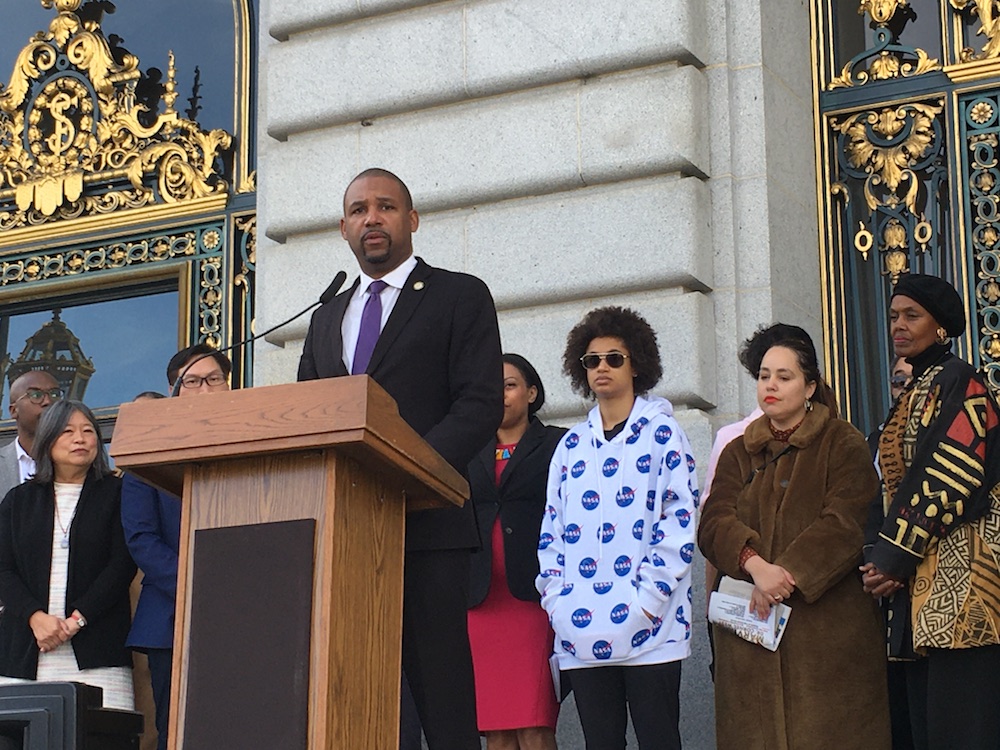 The committee will be led by Walton's office and consist of Black community leaders who will seek input from the Black community. The committee's task will be to determine which reparations are to be addressed first.
The plan will include prioritizing areas such as education, housing, violence prevention, workforce development, and alternatives to incarceration; this could then lead to further legislation.
The legislation creating the task force is likely to be introduced in the first week of February and is supported by Supervisors Hillary Ronen, Matt Haney, Gordon Mar, Dean Preston, Sandra Lee Fewer, and Ahsha Safai.
At a City Hall press conference, former District 10 Supervisor Sophie Maxwell echoed sentiments from many that reparations were long past due: "Pay back what you owe for 400 years of unpaid labor."
While San Francisco's total population has been steadily increasing, the city's Black population has decreased dramatically, from 13 percent in 1970 to less than five percent today. The economic inequality statistics are just as alarming: The average income Of SF's Black households is only $46,000, compared to $107,000 for white households.
The announcement comes just a few days after activists called for action after three black women were killed in the city within a month.Emma Hunt, Ronisha Cook, and Latanette McDaniel were all young mothers in their early thirties when they were violently murdered.
"This is the reason why reparations are needed," said community activist Geoffrea Morris at the press conference.
Last year, the supervisors voted to create San Francisco's first Office of Racial Equity, which will be headed by former District 5 legislative aide Shakirah Simley. The office will be tasked with developing a plan to address racial inequities in similar priority areas to the reparations advisory committee.
In 2006, the city passed the Slavery Disclosure Ordinance. The measure requires that insurance, financial and textile businesses that contract with the city disclose information regarding prior involvement in the slave industry. No businesses have opted into the voluntary fund to ameliorate the effects of slavery, according to the 2017 annual report.