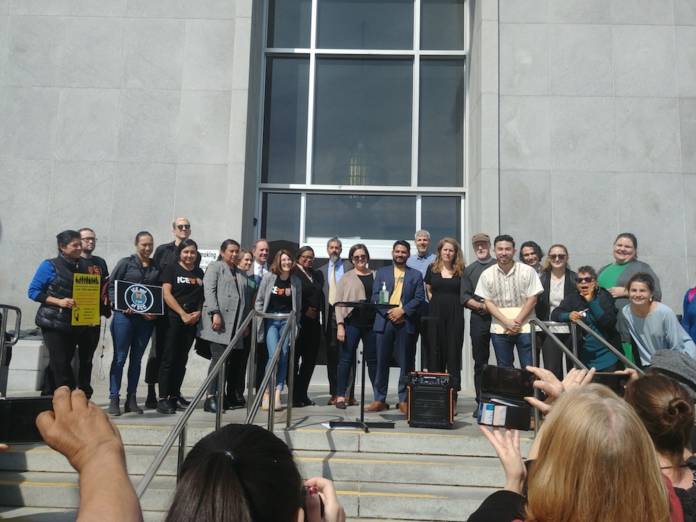 "ICE is not welcome here! ICE is not welcome here!"
The chant filled the air on Monday at a press conference arranged by immigrants' rights organizations from throughout Northern California and the San Francisco Public Defender's Office in response to the arrest of Alberto Uc Ponce by ICE agents outside the Hall of Justice in San Francisco last Tuesday.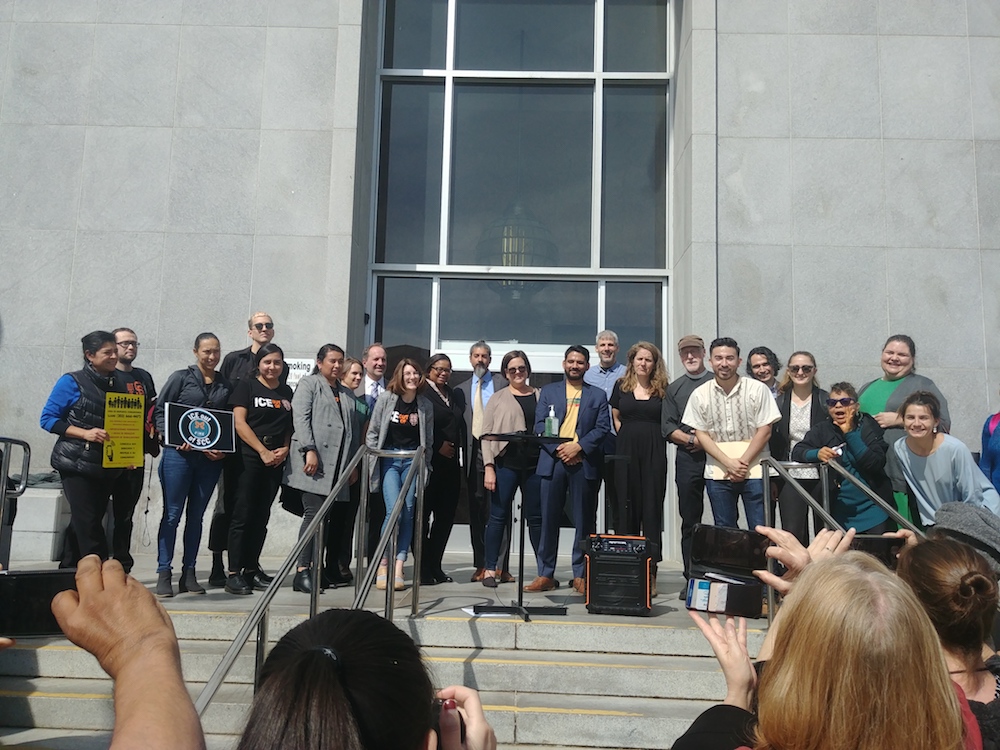 Speakers condemned ICE's detainment of Uc Ponce as he ascended the steps of the Hall of Justice at 850 Bryant Street as unlawful. In addition to lacking judicial warrants, or arrest warrants signed by a judge, they argued that ICE's arrest of Uc Ponce was in violation of AB 668, which prohibits civil arrests outside criminal courts, and in violation of SB 54, which prohibits the use of local or state resources to assist federal immigration enforcement, including courthouses.
"We are here today to denounce the tactics that ICE [Immigration and Customs Enforcement] is using that violate our community's due process rights and the ways in which ICE has continuously attempted to terrorize our people," said Abigail Salazar, coordinator for the San Francisco Rapid Response Network, which operates a hotline where people can report ICE activity, verifies rumors of local ICE activity, and provides emergency legal representation for undocumented immigrants detained by ICE.
The arrest Tuesday has sparked fear among undocumented immigrants in San Francisco, and many are afraid to access public services, including hospitals and schools, for fear of being approached by ICE. The apprehension to access medical care comes during a public health emergency brought on by the coronavirus.
"We have families calling us, 'is it ok to take my kids to school, or to the doctor?' It's inhumane that members of our community have to live this way, under terror," said Rene Saucedo, who represented Graton Day Labor Center and North Bay Rapid Response Network, immigrants' rights organizations that operate in Sonoma, Solano, and Napa counties.
The behavior by ICE apprehending immigrants outside courthouses is not unique to San Francisco. On February 18, two individuals in Sonoma County were approached by ICE outside of court on the way to their immigration hearings, detained, and ultimately deported. The ICE officials did not possess a judicial permit at the time of either arrest.
The SF Bar Association and its Justice and Diversity Center are concerned, according to Executive Director Yolanda Jackson.
"We care a lot about due process, and we care a lot about the rule of law, and what we're talking about today, both of those are being violated," said Jackson.
ICE arrests occurring outside of courts deter undocumented immigrants from showing up for mandatory immigration hearings, testifying as a witness in a trial, appearing in cases where they need a restraining order, or otherwise accessing the justice system, according to Jackson.
"Our courthouses should not be used as bait in enforcing our country's immigration laws," added Jackson quoting a 2017 statement by California Supreme Court Chief Justice Tani Gorre Cantil-Sakauye admonishing the US Department of Justice for allowing immigration agents to "stalk" immigrants in courthouses to make arrests.
Francisco Ugarte, managing attorney of the Immigration Defense branch of the Public Defender's Office, echoed Jackson's concerns around the unlawful actions of ICE, and expressed concern about the precedent that allowing such tactics could set.
"It's a very dangerous precedent that we have this police force showing up outside court houses and taking people away from their communities… it's mindboggling that they would try and attempt this. What's next, hospitals?" said Ugarte.
Ugarte said that despite the risk of setting a destructive precedent, it's too early to know conclusively whether ICE's tactic of making arrests outside courthouses will continue. He said it's an inefficient form of policing and primarily a tactic to drive fear into immigrant communities rather than a scalable strategy for ICE to implement widely.
Nonetheless, Ugarte promised that the Public Defender's Office will continue to act if ICE persists in using this courthouse ambush tactic to make arrests.
"We can't assume that ICE is changing their behavior. If they [ICE] continue to conduct operations outside of the courthouse, we will adjust our strategies and protect people's fundamental rights to attend court," said Ugarte.
"We do not want people to be afraid, or all of our work will go for naught. It's easy to say, but I'll say it again, do not be afraid," said Jackson.
If you want to help report ICE activity in your area, contact your local Rapid Response hotline. Find the hotline for your county at https://ccij.sfbar.org/materials/. To learn more about best practices for using the hotline as well as information around ICE's tactics for detaining immigrants, visit https://www.ilrc.org/san-francisco-rapid-response-network-lessons-learned-and-best-practices.
If you or a loved one held in immigration detention needs free legal help, call the San Francisco Public Defender's immigration hotline at 415-553-1428. For the public defender main office, which is staffed from 8-5, call 415-553-1671.